« Pittsburgh City Councilwoman Tonya Payne Against The Constitution | Main | Why the Barack Obama Birth Certificate Issue Is Legitimate »
November 26, 2008
HUGE Wrong ~ Vietnam Vet Branded a "Panhandler"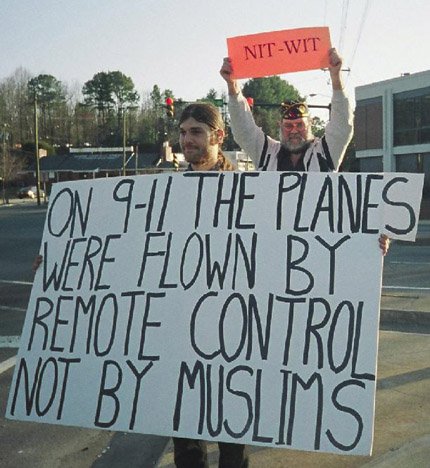 This photo was taken a few years ago of his encounter with a 9/11 Truther: ( H/T Michelle Malkin )
Vietnam vet branded "panhandler" for handing out memorial poppies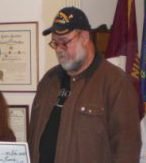 From Michelle Malkin blog

Big John is a Vietnam veteran and VFW leader who works tirelessly on charitable efforts for our troops. Last year, my family and I attended his Thanksgiving feast for wounded vets at the VFW in Arlington, VA. John's got a heart of gold and an infectious, can-do attitude.
Now, he's in trouble. Some petty bureaucrats have branded him a "panhandler" and repeatedly threatened him with arrest for handing out "Buddy Poppies" on the National Mall in Washington, D.C. The Rutherford Institute has come to his aid:
"A local veteran is speaking out after police threatened to arrest him for distributing 'Buddy Poppies' or memorial flowers at the National Mall in Washington D.C. Now the Charlottesville-based Rutherford Institute has stepped in and filed a first amendment lawsuit against the National Park Police.

Now the Charlottesville-based Rutherford Institute has stepped in and filed a first amendment lawsuit against the National Park Police.

John Miska enjoys volunteering and spends most of time helping injured veterans and distributing 'Buddy Poppies.'

"They're handed out as a remembrance of veterans sacrifice. The poppies are red representing the blood the soldiers shed and it's a reminder and it gives people pause to think," said John Miska, Veteran.

Recently the National Park Police threatened to arrest Miska for handing out his Poppies on the National Mall in Washington D.C.

"People see me standing there and they approach me and ask may I have a Poppy and I give them a Poppy. If people are moved to offer a donation we accept the donations," said Miska.

According to president of the Rutherford Institute Miska hasn't done anything wrong, he has only expressed his first amendment rights.

"People occasionally give him money. There's a statute it's a D.C. law that says you can't aggressively solicit money, but he doesn't do any of that. We feel it's a violation of the first amendment of the United States Constitution which guarantees you the right to assemble or guarantees you the right to free speech to hand out Buddy Poppies," said John Whitehead, President, Rutherford Institute.

Miska says this experience isn't going to stop him from his mission and that it will only encourage him to do more.

"I took an oath to the constitution to preserve protect and defend and I feel if you don't stand up for you rights you will lose those rights," said Miska.

CBS19 has tried contacting the U.S. Park Police, but they have not returned the phone call.

The Rutherford Institute is waiting on the government to answer the complaint. What happens next will depend on the U.S. Attorney General's response."
He let me know he's working on a Christmas party at Walter Reed for 300 wounded soldiers and their families and asked me to spread the word. Any cash donations or gifts would be most welcome.
"We will accept Christmas cards to hand out as well over the Holidays. They must be unsealed so they may be inspected. If someone wants to send a specific gift we will hand out tickets and draw by number to hand out gifts that we receive. They must be unwrapped and in original factory packaging. If someone wants to send wrapping paper and tape along with a note or card we will include that with gift. A suggestion would be a gift card to a major store, restaurant or gas station with a Christmas card.
Donations may be sent to
VFW Post 8208
PO Box 653
Ruckersville VA 22923
Place a memo note that donation is Christmas fund.
" We are a 501c19 Veterans Service Organization for tax purposes and will provide IRS donation letters upon request for tax returns."

.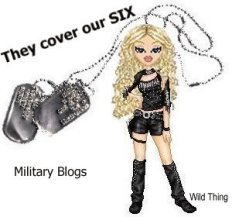 Wild Thing's comment...........
God bless Big John for his service and for all he has done to help our troops and Veterans since.
This is so horirble!!! Veterans do this all over our country, I always see them outside a store and buy a poppy from them to wear. It is something I always look forward to.

....Thank you Mark for the heads up about this.
Posted by Wild Thing at November 26, 2008 04:55 AM
---
Comments
I've met Big John. He drove the bus for us when we took a group of the wounded 173rd at Walter Reed out to lunch last year. He is a tireless supporter of our troops and spends so much of his time doing for the wounded at Walter Reed.
This isn't the first time he's been hassled for handing out poppies on the Mall.
Has crime dropped so dramatically in DC that they have to go after harmless Veteran supporters? I seriously doubt it.
Posted by: yankeemom at November 26, 2008 07:00 AM
---
This action by the U.S. Park Police is a sham. This is harrassment of a private citizen. I don't think it is much of a stretch to believe there is some Liberal agenda behind this.
In Flander's Field
by John McCrae
In Flanders Fields the poppies blow,
Between the crosses, row on row,
That mark our place; and in the sky,
The larks, still bravely singing, fly,
Scarce heard amid the guns below.
We are the dead.
Short days ago,
We lived, felt dawn, saw sunset glow,
Loved and were loved and now we lie,
In Flanders Fields.
Take up our quarrel with the foe
To you, from failing hands, we throw,
The torch, be yours to hold it high.
If ye break faith with us, who die,
We shall not sleep, though poppies grow,
In Flanders Fields.

Among all the flowers that evoke the memories and emotions of war is the red poppy, which became associated with war after the publication of a poem written by Col. John McCrae of Canada. The poem, "In Flander's Field," describes blowing red fields among the battleground of the fallen.
In February 1924, the VFW registered the name "Buddy Poppy" with the U.S. Patent Office. A certificate was issued on May 20, 1924, granting the VFW all trademark rights in the name of Buddy under the classification of artificial flowers. The VFW has made that trademark a guarantee that all poppies bearing that name and the VFW label are genuine products of the work of disabled and needy veterans. No other organization, firm or individual can legally use the name "Buddy" Poppy.
There is nothing new or dishonest about the DAV and the 'Buddy Poppy' and the park police should know this. Somebody has an axe to grind and are using the Veteran's as their sharpening stone.

Posted by: Mark at November 26, 2008 08:55 AM
---
Is this the same Park Police that investigated the Vince Foster "suicide"? Maybe they need to go to the dictionary and find the definition of criminal.
Big John and his VFW post are doing good work. I wonder if the Park Police have any type of charitable programs they support.
Posted by: TomR at November 26, 2008 11:53 AM
---
Another disgusting example of the living legacy that John Kerry and his Winter soldiers left us. Park police, wannabe's for the real police force? The Barney Fife syndrome!!! Imagine their howls of protest if they were publicly denigrated, had their own labeled and smeared for their charitable events. Respect , The condition of being honored, esteemed or well regarded. Way to go Park Police, you've just slithered in the gutter and don't deserve any respect, it's the difference between being a peace officer or a law enforcer. Big John is working on the peoples's property, honoring those who have fallen, those poppy's are essentially offered for free unless you feel like a donation, there are no obligations and John isn't taking donations for personal use, you are violating his and our basic rights CONGRESS!!!
"Alone and far removed from earthly care
The noble ruins of men lie buried here.
You are strong men, good men
Endowed with youth and much the will to live.
I hear no protest from the mute lips of the dead.
They rest: there is no more to give.
So long my comrades,
Sleep ye where you fell upon the field.
But tread softly please
March O'er my heart with ease
March on and on
But to God alone we kneel."
Audie L. Murphy, 1948
Posted by: Jack at November 26, 2008 01:23 PM
---
This country is sick, very sick.
Posted by: Les at November 26, 2008 02:55 PM
---
COMMON SENSE is ALL but gone... Reasoning before acting... HA! THANKS to ALL Veterans, past ,present and future, for without them we would be, and are, .... nothing.
Posted by: pontiff alex at November 26, 2008 05:39 PM
---
Yankeemom, oh wow othank you so much for sharing about meeting him. You are awesome Yankeemom, I love the things you do for our troops and Veterans so much.
Posted by: Wild Thing at November 26, 2008 07:21 PM
---
Mark, I love that so much, thank you.
Posted by: Wild Thing at November 26, 2008 07:23 PM
---
To, I agree, Big John and the others they are doing good work and should never be stopped.
Posted by: Wild Thing at November 26, 2008 07:27 PM
---
Jack, ditto this for sure!
"Park police, wannabe's for the real police force"

Thank you so much for the poem by Audie L. Murphy.
Posted by: Wild Thing at November 26, 2008 07:29 PM
---
Les, I agree, there is something terribly wrong in America, like you said it is sick. It breaks my heart when things like this happen.
Posted by: Wild Thing at November 26, 2008 07:31 PM
---
pontiff alex, your oso right, without our Veterans there would be no land of the Free, there would be nothing.
Posted by: Wild Thing at November 26, 2008 07:33 PM
---
Dear G_d, please tell me that this dip-weed, numb-nuts is not a Marine.
Posted by: Steve, Been Out Of Pocket at November 28, 2008 06:48 PM
---