« Why the Barack Obama Birth Certificate Issue Is Legitimate | Main | President Bush Visiting Troops At Fort Campbell, Ky »
November 26, 2008
British and Americans Targeted in Co-Ordinated Bombay Attacks ( info. and Photos )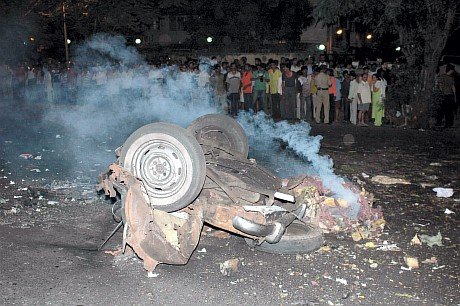 Remains of a taxi after terror attack at western express highway near domestic airport in Mumbai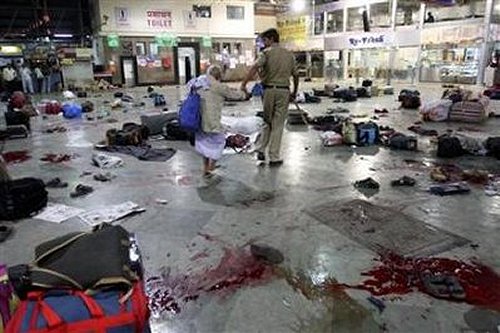 A policeman walks with an elderly man after shootings by unidentified assailants at a railway station in Mumbai
A policeman gives water to an injured child at a hospital in Mumbai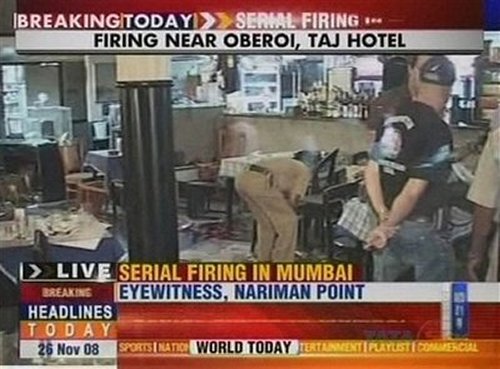 Police officers at the scene of a restaurant attack in Mumbai, India in this image made from television, Wednesday, Nov. 26, 2008. Gunmen targeted luxury hotels, a popular tourist attraction and a crowded train station in at least seven attacks in India's financial capital Wednesday, wounding 25 people, police and witnesses said. A.N Roy police commissioner of Maharashtra state, of which Mumbai is the capital, said several people had been wounded in the attacks and police were battling the gunmen. 'The terrorists have used automatic weapons and in some places grenades have been lobbed,' said Roy. Gunmen opened fire on two of the city's best known Luxury hotels, the Taj Mahal and the Oberoi. They also attacked the crowded Chhatrapati Shivaji Terminus station in southern Mumbai and Leopold's restaurant, a Mumbai landmark. It was not immediately clear what the motive was for the attacks.
(AP Photo/NDTV)

Wild Thing's comment........
Here is a link to the Oberoi, Mumbai Hotel webstie.

Terror attacks in Mumbai; 80 dead, over 250 injured
MUMBAI: Terror struck the country's financial capital late on Wednesday night as coordinate serial explosions and indiscriminate firing rocked eight areas across Mumbai including the crowded CST railway station, two five star hotels--Oberoi and Taj.
At least 80 people were dead and 250 injured in the terror attacks, hospital sources said.
Two terrorists were still inside the Oberoi Hotel and commando operation was on.
Terrorists hijacked white police jeep near Metro cinema in South Mumbai .
Firing was also reported near Maharashtra state assembly building in South Mumbai.
Armed with AK-47 rifles and grenades, a couple of terrorists entered the passenger hall of CST and opened fire and threw grenades, Mumbai General Railway Police Commissioner A K Sharma said.
The terror strike which began at 10:33 PM at Chhatrapathi Shivaji Terminus(CST), formerly known as the Victoria Terminus(VT), claimed 10 lives in the premises of the station alone, police said.
Three persons were killed in a bomb explosion in a taxi on Mazegaon dockyard road and an equal number were gunned down at Taj Hotel. The victims in the hotel were its employees.
The lobby of the Oberoi hotel was on fire and the hotel evacuated, eyewitnesses said.
Maharashtra DGP A N Roy said tonight's attack in "at least seven places" is a "terror strike."
Sharma said 30 persons were injured in the CST incident. Commandoes were rushed to the CST which wore a deserted look and train services suspended.
Maharashtra Chief Minister Vilasrao Deshmukh is cutting his Kerala visit and returning to Mumbai. He described the situation in Mumbai as "very serious".
Prime Minister Manmohan Singh has condemned terror attacks in Mumbai and assured Maharashtra government of all assistance.
The NSG commandos were on standby and national disaster response force unit is being rushed to Mumbai, the Ministry of Home Affairs officials said.
Some people were injured in the firing in Oberoi hotel, and taken to a nearby hospital in police vans and ambulance. Firing was also reported in Taj hotel.
Firing was reported at Colaba, Nariman Point and near Chhatrapati Shivaji Terminal, formerly Victoria Terminus and it was still continuing.
Firing was also reported at Cama Hospital in south Mumbai, police said, adding that a blast was reported in a taxi under a flyover in suburban Vile Parle. A bomb went off in a taxi in Mazegaon dockyard road.
SRPF personnel then entered the iconic BMC building -- just opposite CST -- to take aim at the assailants, BMC commissioner Jairaj Phatak said. "We fear some of the assailants are still inside the station and we want to catch them if they come out," a police official said.
Vikhroli police station senior inspector Habib Ansari was on his way to work from his Colaba home when he saw two armed men, with sophisticated weaponry, trying to run into bylanes near the Gateway of India.
"I rushed back to Colaba and all policemen, including GRP and RPF personnel, were called up," he added.
Bhisham Mansukhani, a journalist, was attending a wedding reception at the Taj's Crystal Room. "I was inside the bar when glass shards almost hit my eye," he said. "More than 200 people were escorted inside Chambers, a business centre inside the hotel," he added.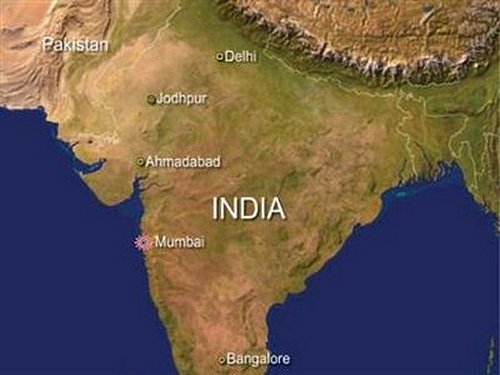 UPDATE:
A taxi filled with ammunition was found in the suburbs of Mumbai, India, IBN reported Nov. 26, adding that attacks could spread to the city's western suburbs. A boat filled with ammunition and explosives was found near the Gateway in Mumbai; the explosives used in the Mumbai attacks reportedly came in via the sea, IBN reported.
UPDATE:
From TimesOnline(UK):
Rhys Blakely in Bombay
Gunmen stalked a hotel in Bombay looking for British and US passport holders during co-ordinated attacks across the city that have left at least 18 dead.
A series of shootings and bomb blasts at luxury hotels and bars in the south of the city hit at least nine locations. Security sources said "a major terror attack" was unfolding.
Shootings were reported in the lobby of the five-star Taj Mahal Palace hotel in the Colaba area of south Bombay and at the nearby Leopolds bar, a popular destination with western backpackers. Witnesses described pools of blood and bullet scarred walls at both locations.
"Speaking via mobile phone, he said: "I was in the lobby of the hotel when gunmen came in and people started running … A gunman just stood there spraying bullets around, right next to me."
A witness at the hotel told a local television station: "They wanted anyone with British or American passports.
"They wanted foreigners."
It was feared that the death toll could rise significantly. The Times of India reported that more than 80 people had lost their lives.
Nearby, witnesses described a "high intensity" bomb blast at the Oberoi hotel, also in the south of the city, a regular meeting place for businessmen and wealthy tourists. Paramilitary forces were readying to storm the tower-block building, one of Bombay's best-known landmarks as smoke continued to pour from the hotel lobby amid fears that hostages were being held by gunmen inside.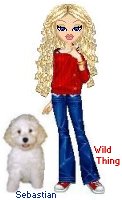 Wild Thing's comment.........
The attacks were targeting British and American Nationals. The man on TV in India said the places that were chosen by the terrorists are places that are frequented by Britich and Americans.
Posted by Wild Thing at November 26, 2008 03:47 PM
---
Comments
Barack Obama said that we have only one president at a time but has been doing everything that he can to undercut George Bush on the economic front. Let's see if the President-elect and future Commander-in-Chief has anything to say about terrorists targeting Americans and British nationals in India and what he will do to prevent and or punish those responsible. Maybe he will unconditionally sit down with the terrorists and see why they don't like us.
Posted by: Les at November 26, 2008 05:28 PM
---
ANOTHER senseless tragedy. it IS TIME to say 'eff' all the politico B.S., and giving our commandos ALL the resources and 'GO AHEADS' they need, DISPATCH with all haste the PSCHO vermin that perpetrate these atrocities.
Posted by: pontiff alex at November 26, 2008 05:31 PM
---
Les, I heard a little while ago, first Bush made a statement and then Obama did his.

I am getting sick of this. I know Obama had to say something but his press conferences every day this week are just too much.
Posted by: Wild Thing at November 26, 2008 07:04 PM
---
pontiff alex, yes, I wonder if this is the attack that being promised or if that one is yet to come. The vile terrorists make so many stupid vidoes, too bad we can't bomb the heck out of them while they are on camera making their threats.
Posted by: Wild Thing at November 26, 2008 07:08 PM
---
This is how democracy
/may1text/images/Vietnamshooting.jpg">
this one and all terrorists should be handled.
Posted by: Jack at November 26, 2008 07:37 PM
---
Now is the time for obama to show he has a pair or not and vote present again.
Posted by: Mark at November 26, 2008 08:01 PM
---
Jack, yep, and that solves the problem of taking prisoners and then lawyers getting them off because of it being a " religion" or being picked on in prison.
Posted by: Wild Thing at November 26, 2008 11:45 PM
---
Mark, yes he will be the one that gets credit or blame, he can't cop out with his "present" vote anymore.
Posted by: Wild Thing at November 26, 2008 11:49 PM
---
Best explanation (following 2 you tube videos) I've seen for the total media blackout of what is the single greatest news event and domestic threat -- let's call it OBAMAGATE -- since the outbreak of the American Civil War and for the sincere prayers of the American people that the United States Supreme Court -- let's call it OUR LAST HOPE -- now to have the courage to save our great nation as we have come to know it:
http://www.youtube.com/watch?v=1spPrzvYWRI
Posted by: Ted at November 27, 2008 02:04 AM
---