« Annual Event ~ UN and Palestinian People To Mourn 60 Years of Israel's Existence | Main | Bush Pardons 14 and Commutes 2 Prison Sentences »
November 25, 2008
Alan Colmes to Depart Top Rated Hannity & Colmes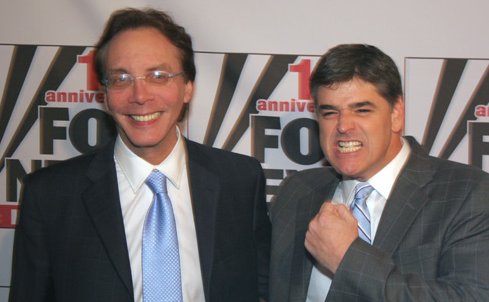 photo taken of Alan Colmes and Sean Hannity at FOX anniversary bash.

FOX News Channel's (FNC) Alan Colmes will relinquish his role as co-host of Hannity & Colmes at the end of the year.
In announcing his decision, Colmes said, "I approached Bill Shine (FNC's Senior Vice President of Programming) earlier this year about wanting to move on after 12 years to develop new and challenging ways to contribute to the growth of the network. Although it's bittersweet to leave one of the longest marriages on cable news, I'm proud that both Sean (Hannity) and I remained unharmed after sitting side by side, night after night for so many years."
Colmes will continue to have a presence on FNC as he will serve as a liberal commentator on a variety of FOX News programming, including Foxnews.com's The Strategy Room and continue hosting his radio program, The Alan Colmes Show on FOX Talk, a division of FOX News Radio. He will also begin developing a weekend program.
Shine said, "We're very sorry to see Alan reach this decision but we understand his desire to seek other creative challenges in his career. We value his incredible hard work in making Hannity & Colmes the most successful debate program on cable news and we're going to miss him on the show. Thankfully, he will begin developing a weekend pilot for us."
Wild Thing's comment.......
They should just let Hannity have his own show. He could just have various guest hosts each weak, there are plenty to pick from.
LOL Maybe Alan knew he was not up to defending Obama for 4 years against Hannity or Ann Coulter when she comes on the show. heh heh
Posted by Wild Thing at November 25, 2008 02:45 AM
---
Comments
But it was fun to see them banter. That's what made the show unique. But there's that Unfairness Doctrine that the other side has to have and the more liberal hosts will be getting on with the more liberal shows on radio and tv. They're just getting ready for the time that people like Beck, Limbaugh, Ingraham and Hannity don't have jobs anymore. Just because they suck, doesn't mean they can dictate terms to everyone. Sounds like a child having a temper tantrum. Wahh! you don't like my show? No, I don't like your Air America and your stupid propoganda.
Posted by: Lynn at November 25, 2008 04:48 AM
---
I'd like to see Carville myself. It would no doubt be entertaining. LOL Chrissie...who would want to defend anything/anyone from Ann for one segment not alone four years.
Posted by: James R McKenna at November 25, 2008 07:15 AM
---
Replaced by Beck. Not a tear here Chrissie, I won't have to tune in another channel now. His obtuse defense of everything left, his ambush tactics and total lack of objectivity won't be missed, maybe he can team up with Keith Olbermann. My suspicions are that Fox is downsizing and Alan's contract wasn't renewed. His at your throat demeanor chills any rational discourse from their guests.
Posted by: Jack at November 25, 2008 10:44 AM
---
Lynn, LOL yes that part I liked. Alan has gotten a lot meaner lately, not sure why his political party had won he should be happy.
Posted by: Wild Thing at November 25, 2008 07:53 PM
---
James R McKenna, hahahaha that would be funny. He is a live wire to watch. hahaa
Posted by: Wild Thing at November 25, 2008 07:56 PM
---
I for another won't be disappointed to see Alan go, bye Alan don't let the door hit you in the ass. The best one that I remember was recently when Dick Morris, had he been in the same room with Alan would have choked him.
Posted by: Mark at November 25, 2008 07:57 PM
---