« Victory In Iraq Day! Declared To Be November 22, 2008 | Main | Supremes To Review Barack's Citizenship »
November 20, 2008
4 Million May Try To Attend Mall For Inauguration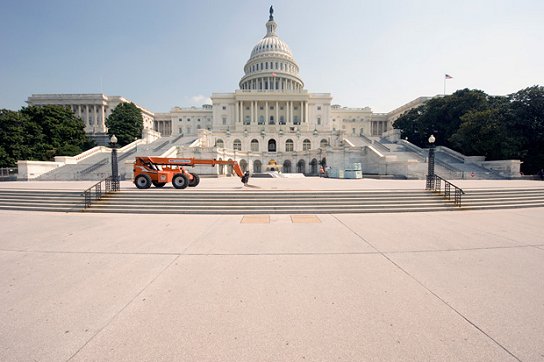 Can Mall Be Filled For an Inauguration? 4 Million May Try It.
By Nikita Stewart and Michael E. Ruane
Washington Post Staff Writers
District and federal officials are preparing for as many as 4 million people for the inauguration of President-elect Barack Obama, a crowd that would be three or four times larger than previous big events on the Mall.
Only a fraction of those people will be close enough to get a good look at the action. But officials are planning extra JumboTrons at the Mall and along the inaugural parade route so that spectators can feel a part of the historic day.
"The Mall actually may be the best seat in the house. . . . It'll kind of be like the world's biggest stage and auditorium on January 20th," said Mayor Adrian M. Fenty (D), adding that the crowd projections have emerged in briefings conducted by federal and local officials.
All plans are pending approval of the Presidential Inaugural Committee, to be set up by Obama, which determines the size and nature of the inaugural festivities, Fenty said. But District officials have met several times with the Secret Service and other agencies.
The Secret Service is taking the lead in overseeing security and other logistics. Even for a city that has hosted vast throngs for marches, protests, celebrations, funerals and inaugurations, this will be an unprecedented test of planning and resources. The question arises: Can the city handle it? Can millions of people fit downtown?
For example, Fenty said, officials expect people to camp overnight, starting Jan. 19, to get as close as possible to the swearing-in viewing area and parade route.
The next several weeks will be spent figuring out how to change the comprehensive playbook that has been used in the past.
"We have a great blueprint from years past, and we will follow that," the mayor said. "But we will start to make exceptions and deviations because, by everyone's estimation, we will have crowds that will be two, three, maybe even four times as large as the largest inaugural. . . . One of the biggest exceptions would be to open up the Mall."
Officials are talking about opening large sections of the Mall east of the Washington Monument, a space normally used for staging the many components of the inaugural parade, Fenty said. That would make the Mall a viewing area that experts said could accommodate several million people -- significantly more than in the past. Officials have not said where the parade groups will gather instead.
The changes would not affect the 240,000 people who will get free tickets in the space closest to the swearing-in ceremony.
The mayor said visitors will have a difficult choice between getting the best possible views of the swearing-in or the parade.
"The parade route will be completely filled way before the inaugural speech even happens," said Fenty, who was a D.C. Council member in 2005, the most recent inauguration. "That's something people will have to think about, whether they want to see the parade firsthand or see the inaugural swearing-in and speech. You can't do both."
Obama is known for choosing venues where he can address huge crowds. In August in Denver, he accepted the Democratic Party's nomination with a speech before 84,000 at Invesco Field. On election night, about 200,000 jammed Chicago's Grant Park for his victory speech.
"The word we're getting from them, nothing formal yet, is that they want to open this up to as many people as possible," Fenty said. "We will follow their lead."
The fact that Jan. 20, a federal holiday in the Washington area, falls the day after the Martin Luther King Jr. holiday means that the crowd's arrival might be spread over a four-day weekend. At the same time, the crowd will be packed with out-of-towners and many people attending their first inauguration, creating the potential for confusion.
Those who dare to drive downtown on Inauguration Day will face a monumental parking challenge.
The security zone, which has not been determined, could eat up much of the parking downtown, said Andrew Blair, vice president and secretary of the Washington Parking Association and president of Colonial Parking. The industry is preparing for caravans of buses, he said, adding that the Colonial-run parking lot at Robert F. Kennedy Memorial Stadium will have well over 800 buses.
For those who are making their plans ahead of time, there are 95,000 hotel rooms in the metropolitan area, tourism officials say, in addition to the thousands of basements, spare rooms and sublet homes and apartments that will be available for inauguration-goers. The city is accustomed to hosting 15 million visitors annually.
Security, emergency and logistical crews will be bolstered by about 5,000 members of the military and 4,000 additional officers from 93 law enforcement agencies across the country, officials have said.
Presidential inaugurations aren't just logistical challenges. They shape the start of an administration and provide a chance for the District to shine before a worldwide audience. A major mishap could tarnish the image of the city, the mayor and the organizers, and much is riding on success.
"This is a once-in-a-lifetime" experience, Fenty said.

And there is also this................
Soaring costs for inauguration could break the bank for D.C.
Soaring costs expected to accompany huge crowds in town for the Jan. 20 inauguration of Barack Obama could stick cash-strapped Washington, D.C., with a record-breaking bill for services.
Security and capacity measures recommended by the District's congressional delegate Eleanor Holmes Norton and others will almost certainly surpass the $15 million the federal government gives to the District each year to defray the cost of events, Norton said.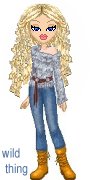 Wild Thing's comment........
If 4 million fill the Mall there won't be any room for Obama's brain dead to faint.
I would hate to go to something lilke this. Huge crowds can be very scary and there is no way to control a situation if something happens.
The photo above is the only one I could find but I am wondering how elaborate Obama will make it or will he do it in the traditional way. I hope he does NOT OBAMATIZE it!!!!
And as far as the cost, they should tell Obama to pay for anything above the normal cost for this with all the illegal money that was donated to his campaign. Problem solved.

....Thank you Les for sending me this article.
Posted by Wild Thing at November 20, 2008 04:48 AM
---
Comments
THE MOST PERFECT DAY FOR THE BIGGEST TERROR ATTACK IN THE UNITED STATES--- GREAT WAY TO GET RID OF OAMA AND HIS FOLLOWERS- THIS MAY PROVE A VERY INTERESTING INAUGURATION!!!
Posted by: Cheryl Zee at November 20, 2008 09:34 AM
---
The press is building this as a big deal. Never happened before, it is so big it put Jeremiah Wright out of business. But whats the big deal, this happens every day, so on January 20, another black family is moving into government housing.
Posted by: Mark at November 20, 2008 11:21 AM
---
Posted by: Les at November 20, 2008 04:09 PM
---
Cheryl, LOL, that is a thought.
I love snow and cold weather, but even for me I would hate to stand out in the cold for as many hours as the people that go to this will have to do. Even if we had won there is no way.
The only people I would do that for are our troops if it was a homecoming or something. I would do anything for them.
Posted by: Wild Thing at November 20, 2008 07:40 PM
---
Mark, LOL good one, and your right!
Posted by: Wild Thing at November 20, 2008 07:42 PM
---
Les, hahaha those are good ones.
Posted by: Wild Thing at November 20, 2008 07:43 PM
---
It's amazing how 4 million people without jobs can afford to travel to Washington to watch the coronation.
Posted by: BobF at November 20, 2008 09:51 PM
---
Perfect opportunity for the FBI to haul in their 'Top 10 Most Wanted' fugitives, and KFC vendors will gross 4 million x $10 buckets of fried chicken = $40,000,000?
- Colonel Lingus 2009
Posted by: darthcrUSAderworldtour07 at November 21, 2008 07:07 AM
---