« Barack Hussein Obama Saying Acorn and Friends To Shapre His Pres. Agenda! | Main | RNC New AD ~ " Guilt By Participation" »
October 12, 2008
Surprise Pumpkin Picker Piper Palin and Sarah Palin At The Way Fruit Farm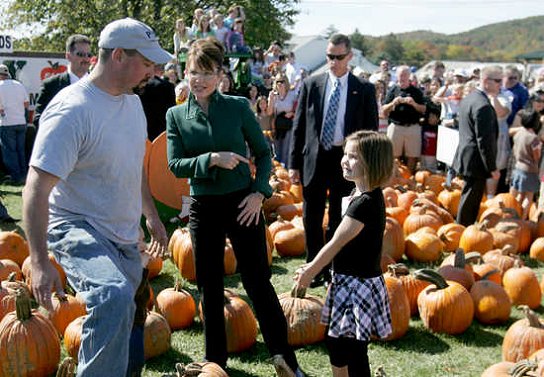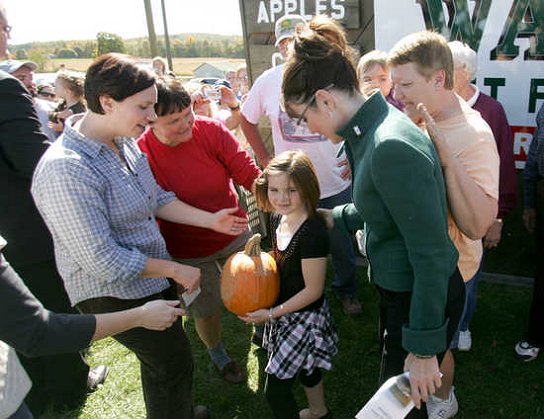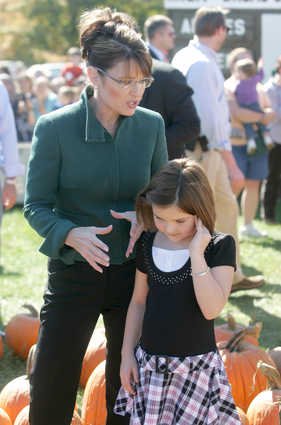 Palin mingles with crowd in unexpected visit to Way Fruit Farm

The Way Fruit Farm Fall Festival had a surprise pumpkin picker Saturday: Sarah Palin.
STORMSTOWN
The Way Fruit Farm Fall Festival had a surprise pumpkin picker Saturday: Republican vice presidential candidate Sarah Palin.
Palin made the unannounced visit with her youngest daughter, Piper, on her way from a rally in Johnstown to the University Park Airport, where her plane was taking off for Philadelphia.
The visit was kept secret until seconds before John McCain's "Straight Talk Express" bus rolled up and caught festivalgoers completely off guard.
"I saw the bus come up, took a picture of it," said State College resident Ty Arbutiski, who had come with his wife and kids to the festival. "The kids were still out petting the bunnies. I said, 'I'm going to go see if they're stopping,' ran up here and sure enough they did stop."
"I yelled to her, 'She rocks,' she waved to me and said 'Thank you,' and came over and shook my hand. So I'm a happy guy. I may never wash it again."
Even Way Fruit Farm's owner, Brooks Way, and the press had little advance notice.
Sarah and Piper Palin spent a few minutes picking pumpkins with Bellefonte Elementary School student Max Theuer, who Palin grabbed from the crowd while greeting people.
"I said, 'OK, I'll help,' " Max, 9, said. "I just pointed to a pumpkin."
Max picked out a plump, round pumpkin that Piper apparently wasn't satisfied with. After Piper whispered to her mother, Palin said: "An even bigger one? Piper!"
They ended up with two pumpkins, one for Piper and one for Max, before Palin greeted some in the crowd and then left.
"She asked, 'Would you like a pumpkin?' " Max said, who added that he "was kind of excited" about the experience.
"We were floored that she was so down to earth," said Mike Theuer, Max's father. "She paid literally out of her pocket."
Palin spent about 15 minutes at the festival before leaving for the airport. She was scheduled to drop the puck Saturday night at the Philadelphia Flyers game.
"I introduced her to my mom and dad," Brooks Way said. "They are fourth generation farmers. I'm fifth. My daughter Megan is sixth and my grandchildren Emma and Katie are seventh. She was impressed with that."
Brooks Way said he doesn't like to be political because that alienates him from 50 percent of people, and didn't say if he was a McCain-Palin supporter.
"I am a Republican, yes," he said. "I have not decided. But it's changing today. Have you noticed, there's no signs for either candidate. It will stay that way."
The fall festival takes place every year on the second and third Saturdays of October. And on this beautiful sunny fall day, it drew hundreds of people.
"Go get her, governor!" screamed a man in the crowd. "Hey," Palin said, then waved. "Thank you."
One mother of five tracked down an agent to tell him that she has a son with Down syndrome, as does Palin.
Palin spent a few seconds with them and others who snapped pictures and shook her hand.
She didn't field any questions from the press and didn't make any public comment. This was just a quick, drop-in visit, staff said.
Local Republicans had been pushing for Palin to make an appearance in Centre County on Saturday.
Friday afternoon, Fox Hill Road leading up to the University Park Airport was lined with "McCain-Palin" yard signs, and one local Republican committee insider said it was unclear how they got there, stirring the rumors of a surprise Palin visit.
"We saw her and were like, 'Oh my gosh, we love her!' " said Brenda Webb, who had arrived at the festival just before Palin.
"We've been watching her in the debates and everything," Webb said.
Her daughter, Moriah, and Moriah's friend, Ashley Reed, got to see in person the woman they've been so excited to watch on television, Webb said. "It's so exciting for them. They've been really interested, so it was great for them to actually meet her."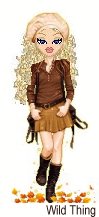 Wild Thing's comment...........
Sarah is such a great mom and so many of the expressions of Piper you can see Sarah in her. They are so much alike it is just adorable.
Posted by Wild Thing at October 12, 2008 05:55 AM
---
Comments
I just checked 'Mapquest' and they were about an hour away from me. Unbelieveable... How many politicians would make that kind of an effort so one of their kids could get a pumkin.
Posted by: Mark at October 12, 2008 07:25 AM
---
You won't see Obamanation buying pumpkins for his girls--they probably don't even hand out candy and little toys on Halloween either. They probably sit on the porch and tell the kids to "get off their lawn or they'll call the cops."
Just shows that McCain/Palin is for the family, not the Obama/Bidens.

Posted by: Lynn at October 12, 2008 08:08 AM
---
What a great First Family the Palins would be.
Posted by: TomR at October 12, 2008 11:27 AM
---
So cool. I wish I was there!
Posted by: Miss Chris at October 12, 2008 01:04 PM
---
Imagine, if it were the Clintons.The stage would have been set in advance for the photo op with Hillary berating the security and with the sycophants bussed there to enhance the event. Then they'd proceede to pinching the pumpkins and Bill would be pinching the girls. Awesome family,the Palin's, being on the road they surely missed the events at the Matanuska Fair at Palmer.
Posted by: Jack at October 12, 2008 01:59 PM
---
Mark, oh wow, can you imagine just running in to her like the people that just happned to be there. That would be so cool. I agree, this shows too what a great mom Sarah is, gosh Piper is just so adorable.
Posted by: Wild Thing at October 12, 2008 05:53 PM
---
Lynn, haha your right, good one.
I read someplace months ago that the Obama's don't give there kids Christmas presents. waaa that is awful, it isn't because they can't afford to it is just they won't do it.
Posted by: Wild Thing at October 12, 2008 05:58 PM
---
Tom, yes they would be awesome, I look forward to this happening.
Posted by: Wild Thing at October 12, 2008 06:00 PM
---
Miss Chris, me too what fun to just be there and they show up like that.
Posted by: Wild Thing at October 12, 2008 06:02 PM
---
Jack oh yess you so right. It would have been totally planned and a huge photo op. What a difference between them.
Posted by: Wild Thing at October 12, 2008 06:04 PM
---
Maybe it's me, but the Secret Service guy behind Palin doesn't seem to be looking at the crowd.
Posted by: Billy at October 12, 2008 09:00 PM
---
Hi Billy, yes his head is aim downward. But maybe it is just to throw people off, he does have sunglasses on and could be looking higher and around at the people. Good point you noticed though it could be.
Posted by: Wild Thing at October 13, 2008 12:34 AM
---
In a socialist welfare Obamanation, every day will be HALLOWEEN...tricks and treats!
Posted by: darthcrUSAderworldtour07 at October 13, 2008 01:10 PM
---