« Actor Robert Duvall Blasts Palin Critics | Main | Gov. Sarah Palin Had 3 Rallies In N.H. »
October 15, 2008
Sarah Palin Gets GREAT Repsonse In Gaffe Machine Biden's OLD Hometown Scranton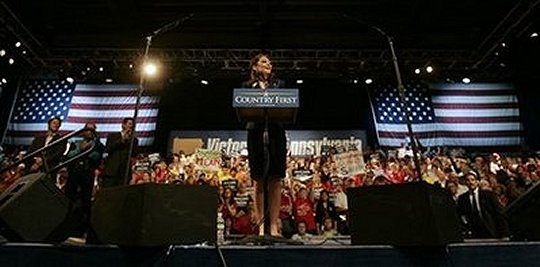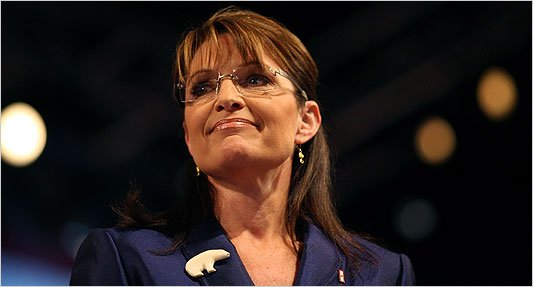 Sea of red to greet Palin in Scranton
Pennsylvania

An e-mail sent from the McCain-Palin campaign urges those attending to wear red to the rally.
"We want to flood the venue with red to show our strength and determination to turn Pennsylvania red on Nov. 4," the e-mail stated.
Red is the color used by political pundits to depict which states are Republican and blue is used to designate Democratic areas.
Carol Oleski, director of the Scranton office of Democrats for McCain, said the level of enthusiasm building up to Palin's arrival is "unbelievable."
"Absolutely, we will all be wearing red," Oleski said. "We were told 10,000 tickets would be available for the event and they are going out fast. I expect a majority, if not all of them, will go."
The Riverfront Sports Complex, depending on how it is configured, could hold up to 12,000 people.
Oleski said people from all areas have been calling for tickets. She said requests have come in from New York, New Jersey, Pottstown, Allentown and even California.
"Some people are actually flying in for this event," Oleski said. "Most of the ticket requests have come from surrounding counties, but I expect a lot of people from out of the area to be here."
Oleski said Palin's visit has excited the volunteers in the office who she said have long awaited the Alaska governor's arrival.
"We are all glad that Gov. Palin is giving this area the opportunity to see and hear her," Oleski said. "We feel this area is extremely critical to the outcome of this election."
Doors to the Palin rally open at 11 a.m. It is unknown exactly what time Palin will address the crowd.
Staunch Hillary Clinton supporter Lynette Long, a Bethesda, Md. psychologist, addressed a group at the Scranton office of Democrats for McCain on Monday.
Long, a vocal opponent of the Democratic caucus process that resulted in the nomination of Illinois Sen. Barack Obama, has become an avid supporter of the McCain-Palin ticket.
Long believes the efforts produced invalid results in the caucus states and the nomination of Obama as the Democratic candidate for the presidency is "against the will of the people."
Long has now endorsed the McCain-Palin ticket.
.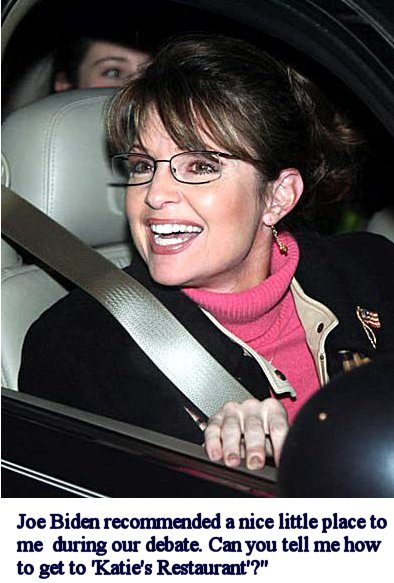 For those that may not know Katies place has been closed for something like 15 years. LOL Biden is a total idiot.
Governor Sarah Palin took the McCain-Palin campaign into Sen. Joe Biden's childhood city, pulling out all the stops at a rally in Scranton, Pennsylvania .
Scranton is Biden's hometown and Sen. Clinton has roots there as well.
Just before Palin took the state at the indoor recreation center, the lights were dimmed and red, white and blue spotlights pulsated through the arena. Queen's "We will Rock You" blared for a few minutes and then Palin entered to the "Rocky" theme. But there was more. Palin had a surprise guest. Country legend Lee Greenwood was in the house. After singing the Star Spangled Banner he launched into his hit "Proud to be an American", drawing huge cheers and a few tear-filled eyes.
.
..3 VIDEO'S OF LEE GREENWOOD SINGING AND EVERYONE JOINING IN!!!! AWESOME!!!!

Lee Greenwood sings National Anthem Rally
Lee Greenwood God Bless the USA
Her speech and some photos on the video of the crowd and signing a football

.

Palin said, "Joe Biden had said that there's no such thing as clean coal when we talked about clean-coal technology that's needed." The crowd booed. "Biden also has called environmentally friendly offshore drilling, he's called it raping the outer continental shelf," she said to more boos.
The crowd size was double of the crowd that showed up for Biden, Clintons rally.
Sarah Palin's campaigning is infused with contagious joy
I'm watching Sarah Palin address a campaign rally in Scranton, Pennsylvania, live on Fox News, and I can't recall ever seeing a GOP rally like this. The crowd is genuinely pumped, which is rare enough. But what's genuinely amazing is watching and listening to Gov. Palin. I can't recall ever seeing a politician who so clearly relishes campaigning. She's animated and enthused. I know she's speaking from a teleprompter, and she's probably delivered large chunks of this same speech before many times, but she's tuned in on every line.
She is simply infused with joy. And it flows off the stage, and it's picked up quite powerfully by the TV cameras.
On his best occasions, Reagan had this same quality, but it was more muted, more of a twinkle from behind his carefully maintained stage presence. With Gov. Palin, it's nearly continuous and much more obvious. And I think that's a big part of why she inspires the same harsh counter-reactions from political opponents that Reagan did — the same desperate need to ridicule and belittle, to delegitimize. (You'll see it in the comments to this post within minutes after it goes up, of course.) She has to be shouted down and scorned, because if people are allowed to listen to her, that damned joy might turn out to be ... contagious!
It's a quality that was almost entirely missing from the speeches of, for example, Hillary Clinton, who turned every speech into a siege and whose grim purpose was impressive but slightly scary. Bubba, however, could work himself into joy at the drop of a hat.
Sarah Palin is just haviing a grand old time. If she's afraid of looking foolish, or of her elitist critics, or of her ticket's chances on November 4th, then she's entirely suppressed those fears. I freely admit that with me as a listener, and probably most of the folks at this rally, she's preaching to the choir. But so, too, are lots of politicians, in most of their speeches. And they just don't come across with this same zest.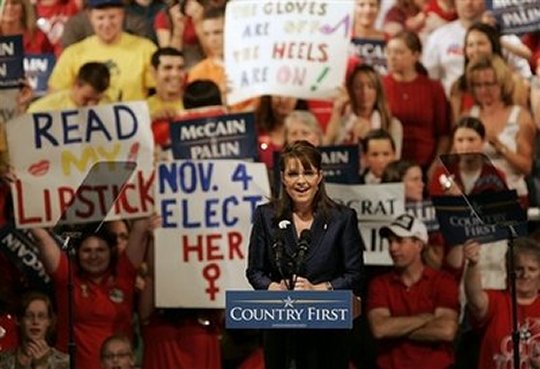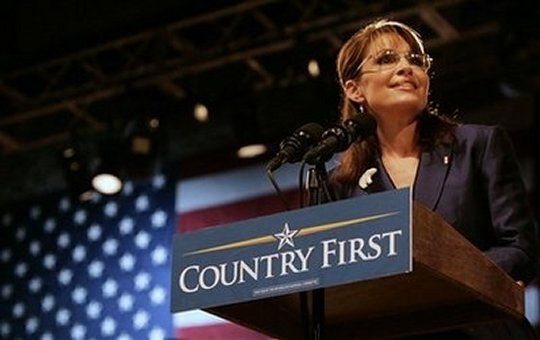 .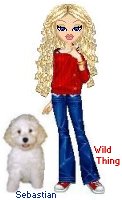 Wild Thing's comment.........
This is in contrast to the "big gun" rally on Sunday with Hillary, Biden, Bill, etc. that had 3000 people in the same venue IN BIDEN'S HOMETOWN!!!!
Sarah doubled the crowd size from what I have read.
Sarah Palin was also on the Rush Limbaugh show yesterday.
God bless you Sarah Palin!!
Posted by Wild Thing at October 15, 2008 05:55 AM
---
Comments
Can Sarah replace our US Naval Aviator that fails to ARM...ENGAGE...and FIRE at Obamessiah in tonight's last debate? Sarah has the RIGHT STUFF and will go after her ... kill!!! That's why we love her - big time!
Posted by: darthcrUSAderworldtour07 at October 15, 2008 08:26 AM
---
Hugh Hewitt explains Sarah's stage presence perfectly. She IS the McCain-Palin ticket. I love the fact she drew a bigger crowd in Scranton than Biden did.
Posted by: TomR at October 15, 2008 09:57 AM
---
Sarah is definitely the REAL DEAL!!!! And "Yes" darth, she should be heading the ticket!!! I think that Viet Nam and the years have softened McCain too much. He saw and experienced things in Viet Nam that 98% of Americans will never see or understand and I believe that he is trying too hard to prevent similar situations today. In the process, he is actually making us weaker!!! John has some very good ideas but he has to quit pussy-footing around with Obama. He needs to go for the throat with Obama and stop being polite or apologetic about it. He needs to be more like Sarah.......call a spade a frigging shovel!!!!!!
Sarah fully understands what is at stake and what the consequences would be. And in their hearts, so do most Americans but they are so caught up in Obama's suave political BS, that they have lost sight of how fragile our future truly is under his leadership. The "change" that Obama keeps shoving down everyone's throat will lead us to Socialism and Communism.
If McCain and Sarah don't win the presidential election it won't be because Obama is such a great person but rather because McCain failed to distance himself from Bush and convince the Country of his strengths!!! The majority of the Country hates Bush and they will do anything to get back at him for what they perceive to be the cause of all their problems instead of taking responsibility for their own actions. John Kennedy got it right when he said "Ask not what your country can do for you but what you can do for your country"!!! We need to stop relying on the government to solve our problems!!!!
If the Republicans fail to win this election, I pray with all that is in me that Sarah does not give up but instead forges ahead, preparing herself to become the 1st female president of the U.S. in 2012!! And she can do it too!!!!! I see Obama as another Jimmy Carter....a one-term wonder-lust who did more to hurt this Country than to help it. This will be to Sarah's advantage and not even Hillary will be able to beat her!!!!!!!!!
Posted by: John at October 15, 2008 11:06 AM
---
Again, thanks for posting these rallies. I'm such a Sarah Palin fan!!! And I have an 11 year old daughter who looks up to her and that makes me so happy. A truly great role model for our girls.
Posted by: Miss Chris at October 15, 2008 01:23 PM
---
Posted by: Les at October 15, 2008 04:22 PM
---
Awesome post WT. Got to watch her wow the folks in New Hampshire this morning, she is terrific, too bad she has to pack such a load. What was that song? The HOLLIES - He Ain`t Heavy He`s My Brother. Sarah is fresh and she's packing brother John right now, and he damned sure is heavy, it's dragging them both down. Like Les said he's not the best but he's the only choice we really have. (Darth...yes!!!)
Vote McCain not Hussein!!!
Posted by: Jack at October 15, 2008 05:29 PM
---
Great post Jack, vote McCain not Hussein. Yeah, she is a rea; treasure to listen to. Maybe he will come around, she has been an inspiration to everyone else. It's got to rub off on McCain, ...Right ?
Posted by: Mark at October 15, 2008 05:50 PM
---
Darth, heh heh maybe she will fire off some things from off stage.
Posted by: Wild Thing at October 15, 2008 05:50 PM
---
Tom, I agree, every so often I really like what Hewitt writes. He did good this time.
Posted by: Wild Thing at October 15, 2008 05:52 PM
---
John, I agree so much, well said.
I think Sarah has seen now the reaction to her, so even if she and John and America don't win. I too hope and pray she stays in politics and runs again for Pres.
Fingers crossed, and prayers being said Obama does not win.
Posted by: Wild Thing at October 15, 2008 05:57 PM
---
Miss Chris, how wonderful, I am so glad your daughter likes her too. That reflects a lot on you Miss Chriss. BIG smile.
Thank you for liking the rally posts I appreciate it.
Posted by: Wild Thing at October 15, 2008 06:01 PM
---
Les, thanks for the images, I agree Obama is like non other and those things about him everyone should be concerned about.
Posted by: Wild Thing at October 15, 2008 06:04 PM
---
Jack I love that song, thank you.
Yes Sarah sure got a fast education how Obama people can be so cruel.
Posted by: Wild Thing at October 15, 2008 06:07 PM
---
Mark, I agree I truly think the thinking and the way Sarah is will rub off on McCain.
Posted by: Wild Thing at October 15, 2008 06:10 PM
---
How does she look so good every time? I don't mean that in a lusting sort of way...she looks up beat, rested and full of life!
Posted by: Yatalli at October 15, 2008 11:09 PM
---