« "I am Joe" ~ New McCain Palin ad | Main | Retired Army Lt. Col. William Russell LEADS Murtha the Traitor in the Polls »
October 24, 2008
Republican HQ Manager's Home Shot Up Over McCain Signs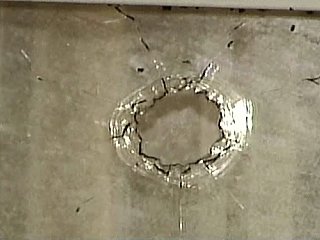 The home of a Central Florida Republican headquarters manager was shot up and damaged over his support of Sen. John McCain, the man told police.
Rog Coverely said several pellets pierced his Longwood home. Coverely showed several spiderwebbed-holes in the front windows of his home
The Republican manager said he is convinced he was targeted because of new McCain signs he added around his home.
"All I can tell you is this, I have a very good relationship with my neighbors," Coverely said. "I mow my lawn. The only thing that has changed is I have two McCain signs in my front yard."
Coverely said he has taken about 300 calls concerning stolen or vandalized McCain signs in the area.
"It says this campaign is getting vicious," Coverely said.
Coverely said it appears Democrats are becoming more aggressive in the county.
"I wouldn't say slipping, but I would say the Democrats have become far more aggressive in Seminole County because it is such a heavy Republican area," Coverely said.

Wild Thing's comment...........
I think there needs to be a thinning of the herd. ΜΟΛΩΝ ΛΑΒE

And there is this:
Police prepare for unrest on Election Day
Police departments in cities across the country are beefing up their ranks for Election Day, preparing for possible civil unrest and riots after the historic presidential contest.
Public safety officials said in interviews with The Hill that the election, which will end with either the nation's first black president or its first female vice president, demanded a stronger police presence.
Some worry that if Barack Obama loses and there is suspicion of foul play in the election, violence could ensue in cities with large black populations. Others based the need for enhanced patrols on past riots in urban areas (following professional sports events) and also on Internet rumors.
Cities that have suffered unrest before, such as Detroit, Chicago, Oakland and Philadelphia, will have extra police deployed.
In Oakland, the police will deploy extra units trained in riot control, as well as extra traffic police, and even put SWAT teams on standby.
"Are we anticipating it will be a riot situation? No. But will we be prepared if it goes awry? Yes," said Jeff Thomason, spokesman for the Oakland Police Department
Posted by Wild Thing at October 24, 2008 04:47 AM
---
Comments
The Obama people are using all underhanded methods to win this election. Threatening civil disobedience if Obama looses, hoping people will vote for Obama in order to keep the streets quiet.
I don't know why Blacks would be all upset if Obama looses. Didn't he have a White mother?
Posted by: BobF at October 24, 2008 08:09 AM
---
Obama the thug--! This is what the dumb asses of America want for leadership ! Give me a break!! Obama and his theives and thugs- stealing votes marking people- pushing people around-- Can't wait for that bullet to hit him between the eyes !! He has set civil rights back at least 50 years- who needs this piece of crap-- keep it up Obama we don't need or want your thug ways!! Watching you bury yourself is very interesting !
Posted by: Cheryl Zee at October 24, 2008 09:32 AM
---
I hope it doesn't come to violence and riots. I know some Obama supporters are advocating violence. We will just have to see how things play out.
I prepared several months ago. I stocked up on ammo. Other than a couple of apartment complexes there are no concentrations of Blacks near me. We have a decent Black mayor and we have a no nonsense police dept.
Posted by: TomR at October 24, 2008 10:57 AM
---
I'm ready and I fully expect a Mau Mau type of revolt if Obama loses. Be vigilant.
Posted by: Jack at October 24, 2008 02:34 PM
---
Well I still think 'winking at them' works well along with the B.R.A.S.S system. Ah, some things you never forget. Our local stores are having a sale on .30 cal. ammo and .306 so we are well prepared.
All ready on the right, all ready on the firing line. Watch your targets...
Posted by: Mark at October 24, 2008 03:37 PM
---
The United States will be in for a whole shift in acceptable criminal behavior if Obama becomes president. Let's see how quickly it takes for him to ask for the resignations of all 93 U.S. Attorney's and how many he replaces with what new mission. Of course, Obama's illegal campaign fundraising and ACORN's fraudulent voter registration will be off limts.
I'm sure that there will be no outrage or complaints from the MSM and Democrat controlled Congress.
Posted by: Les at October 24, 2008 06:48 PM
---
BobF, hahaha yes he sure did.
"I don't know why Blacks would be all upset if Obama looses. Didn't he have a White mother? "

I think Obama wants to forget that part, at least he sure has lived his life showing that. Including this white hating books he wrote.
Posted by: Wild Thing at October 24, 2008 07:23 PM
---
Cheryl, amen to that. What we need or at least what would be a good idea, is one of the media types to keep a record if possible of the various attacks, things done to cars, homes etc. All that are pro Obama stuff, I bet they find zero attacks from McCain supporters, I would be shocked if they found even one.
Posted by: Wild Thing at October 24, 2008 07:26 PM
---
Tom, I agree it is scary just to think about riots. I am ready, but that kind of thing is like some third world country type of thing.
We live in a very safe area, a small town, well pretty small, 52,000 population, like a small midwestern place. And where our home is the streets around our home are only with kids on bicycle's and people jogging by in the morning and early evenings. Very quiet streets almost like a norman rockwell kind of place. No mansions or fancy stuff but clean and "articulate". LOL sorry those two words now come to mind. hahahahaa
But even being here there is always a chance for people coming here from a big city like Tampa (only a little over an hour away) or something.
Posted by: Wild Thing at October 24, 2008 07:32 PM
---
Jack I think so too. If Obama does not win, the bigger cities have much to be concerned with. I saw another article telling people in larger cities to get groceries etc. to last a week and if something happens not to leave their homes till things calm down. I agree, the police don't need added problems if something happens.
I will never forget the riots in Los Angeles, huge fires could be seen miles away from the downtown area where Watts is located where the riots where happening.
Posted by: Wild Thing at October 24, 2008 07:35 PM
---
Mark, BIG smile..... I LOVE this..........
"All ready on the right, all ready on the firing line. Watch your targets"......one of my Marine Uncles used to say that all the time.
Posted by: Wild Thing at October 24, 2008 07:38 PM
---
Les, yes, we can pretty much count on ACORN never really being investigated. If they do it probably will be how they say it....."half assed" is the only expression I can think of that would apply to how half way it would be done.
Just like the investigation into Vince Fosters death, what a waste of time and money those investigations were. Just way too much pressure on weak people to do the right thing I guess.
Posted by: Wild Thing at October 24, 2008 07:43 PM
---