« Gov.Sarah Palin and Her Personal Faith ~ God Bless Sarah | Main | Gadhafi "Says Arab world campaign contributions "may enable him Obama to win U.S. presidency" »
October 20, 2008
Racist Obama Says He Wants An "African-American Senate Successor Appointed"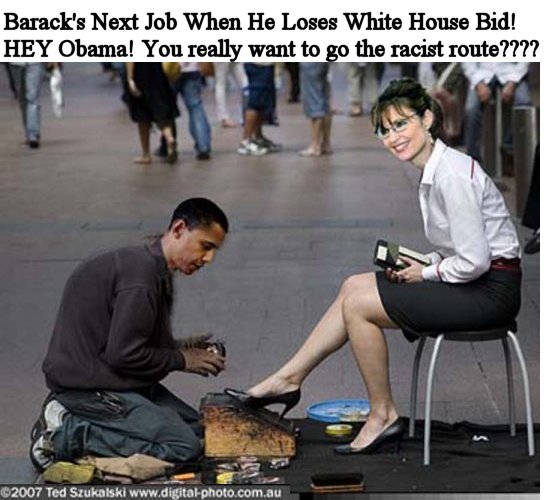 Obama Said To Want African-American Senate Successor Appointed
Sneed hears Barack Obama wants an African American to fill his U.S. Senate seat if he wins the presidency.
U.S. Rep. Jesse Jackson Jr. wants the spot.
That places Gov. Blagojevich, who is charged with selecting Obama's replacement, in a tricky place.
• To wit: Sneed hears Gov. Blago, who dismisses reports of a federal probe, wants to run for office again -- and believes replacing Barack with an African American is a smart political move. But he is being urged to select state Sen. Donne Trotter, a close friend of Obama mentor/Senate President Emil Jones, to fill the spot.
• Another dilemma: Sneed is also told U.S. Sen. Dick Durbin, who is this/close to Obama and was a major Obama supporter from the get-go, is pitching to have state veteran affairs chief Tammy Duckworth fill Obama's spot, and had the ear of Gov. Blago until recently. Blago is also a big Duckworth fan.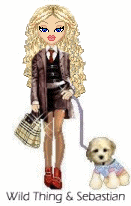 Wild Thing's comment..........
Can you imagine the fury that would surround the McCain campaign if John McCain was referenced as wanting a white American selected to take his seat by Arizona's governor if he were elected?
Posted by Wild Thing at October 20, 2008 05:45 AM
---
Comments
He finally found a job he's qualified for.

Posted by: Mark at October 20, 2008 07:12 AM
---
He's not qualified to shine her shoes. He has no experience at that either.
Posted by: Eden at October 20, 2008 07:18 AM
---
So, Obama wants America to resemble Zimbabwe? I'm sure he knows plenty of crooks he can choose from. Obviously blatant racism is OK if you are Black.
Posted by: TomR at October 20, 2008 10:23 AM
---
Rules for thee, not me.
Republicans cannot step one centimeter out of line without being vilified by the media.
Boy, they're sure working that white guilt thing for all they're worth, aren't they...
OBobo may very well get elected - seems a lot of folks are just plain stuck on stupid these days. And if he does (god forbid) I do believe that the O and the left will seriously overplay their hand and there will be a huge backlash. The game's changed now with the internet and bloggers. This is the frontline of the battlefield and we've just gotten started. And look how far we've come in so short a time. I mean, remember we shut down the Whitehouse's phone system with the comprehensive immigration fiasco.
Posted by: yankeemom at October 20, 2008 10:32 AM
---
Mark, heh heh yes this is much better for him.
Posted by: Wild Thing at October 20, 2008 05:19 PM
---
Posted by: Wild Thing at October 20, 2008 05:22 PM
---
Tom, amazing isn't it. I was shocked when I read this. We are seeing more and more obvious racist things happeneing and being said from Obama, his wife and their followers.
Posted by: Wild Thing at October 20, 2008 05:25 PM
---
Yankeemom, your so right, well said too. Thank you!
Posted by: Wild Thing at October 20, 2008 05:27 PM
---
Why shouldn't the potential first affirmative-action African-American racist president want to have his replacement be another affirmative-action African-American who is male? Not only a racist but a sexist too.
Vote for B. Hussein Obama and you get a "two-fuh", a Messiah and a dictator in the mold of his namesake, Saddam Hussein.
Posted by: Les at October 20, 2008 07:29 PM
---