« Happy 233rd Birthday To Our US NAVY | Main | It's not just ACORN It's Obama Tactics and His Campaign As Well! »
October 13, 2008
McCain/Palin Rally in Virginia Beach, VA. and Richmond, VA. and N.C.

Hank Williams Jr. may have a new number one fan: Republican vice presidential candidate Sarah Palin.
The country star, who is performing at a campaign event in Virginia for Palin and Sen. John McCain on Monday, got a call on his cell phone from Palin, according to CMT.com.
"Huge fan," Palin said, admitting that she owns all of Williams's albums. The two also bonded over one of their favorite shared pastimes, moose hunting.
"I hunt moose," Palin told him.
"I hunt moose, too," Williams said. "I have a house in Montana."
The Alaska governor promised to hang out with Williams and go moose hunting together after Election Day.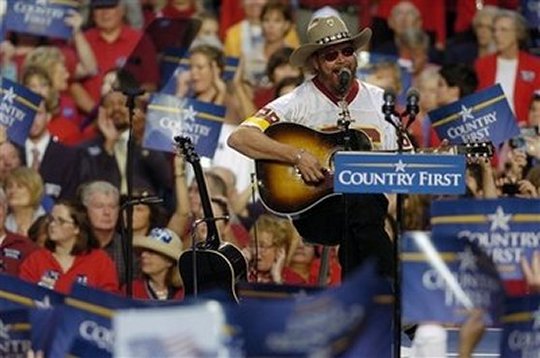 The rally with Sarah Palin was moved from the Arthur Ashe Center, which holds 6,000 to the racetrack complex in Richmond due to the tickets were over 28,000 and the crowd reached 30,000 according to the Washington Post which means it might have been even larger since as we all know the media keeps the number down when reporting the Republican ticket.
Hank Williams Jr arrived at rally with Sarah.

Hank Williams Jr is there to sing the national anthem, before introducing the Republican presidential candidate, Sen. John McCain, R-Ariz., and his running mate, Alaska Gov. Sarah Palin Monday, Oct. 13, 2008, during a campaign rally in Virginia Beach Va., held at the Virginia Beach Convention Center.
Sarah's singing the Anthem along with the crowd...she's so REAL!
Then he sings another song.......
Hank Williams Jr. song, "McCain-Palin Tradition"
The song rips Dems and summarizes Fannie and Freddie, Obama's ties to radicals, etc. Should be played as a campaign ad.
The above video has been getting a lot of hits and sometimes does not work. Below is an extra one from another source just in case.
Hank Williams, Jr. ....""Are you ready for some Sarah!" ( he sang it again at the close of the rally)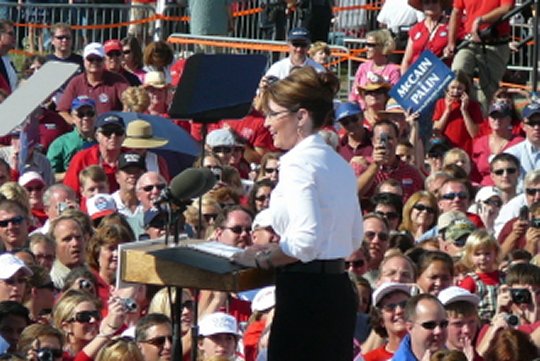 Sarah:
"We are looking to the future because thats where you find the solutions" - Sarah Palin

Sarah recognizes crowd yelling "ACORN" and adds............."And there is ANGER about Voter fraud".........Sarah gets loud applause.
She is a fantastic communicator.
Leading the crowd in "Drill, Baby, Drill!" chant.
Talking up nuclear and coal for energy.
Chiding Biden for saying "There is no clean coal."
Whether Biden approves or not, she and John McCain will develop clean coal technology, and drill safely for oil resources offshore.
"We will drill, and we will drill now!"
Crowd wild for her.
Now talking about children with special needs.
LOL , She should keep talking. The stock Market is above 9000 now nearing 9100. Update: went over 9100.
Sarah taking about having learned things when faced with having a special needs child.
Every child has something to give the world.
"There is the world's standards of perfection. Then there are God's." Crowd cheers.
Obviously, Sarah is way above Obama's "paygrade. "
"Trig is precios because he is vulnerable...we can learn from Trig...when we hold Trig we don't feel scared we feel blessed..."
Invoking Ronald Reagan and the forward march of freedom in the world.
Defends the Second Amendment by name. Crowd cheers!
"We believe in the promise of America."
"America is not something to apologize for. America is not the problem. America is the solution."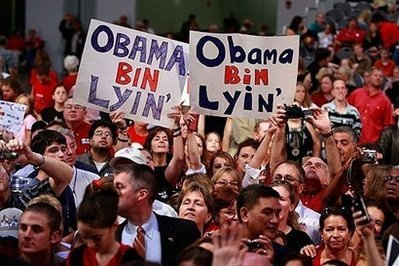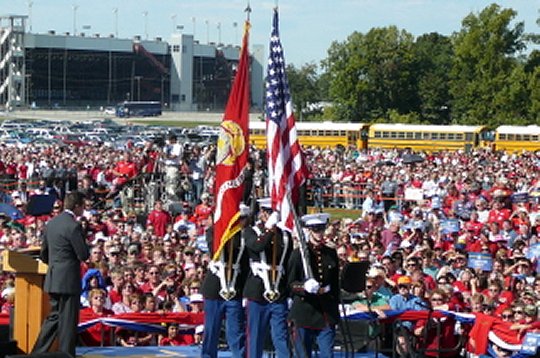 .

MCCain is here in Wilmington NC
McCain had 16,000 at his speech (according to Fox)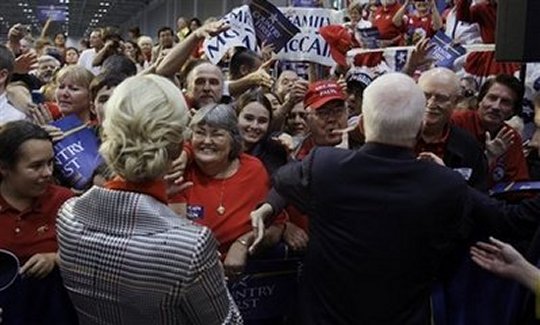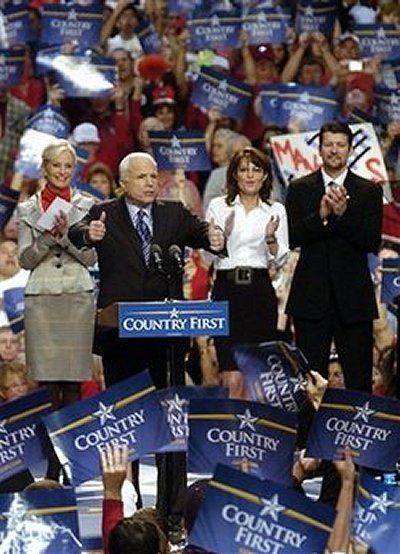 Republican presidential candidate, Sen. John McCain, second from left, flanked by his wife, Cindy McCain, left, his vice presidential running mate, Alaska Gov. Sarah Palin, second from right, and her husband, Todd Palin, right, addresses their supporters during a campaign rally at the Virginia Beach Convention Center in Virginia Beach, Va., on Monday, Oct. 13, 2008.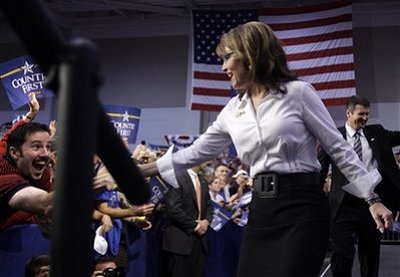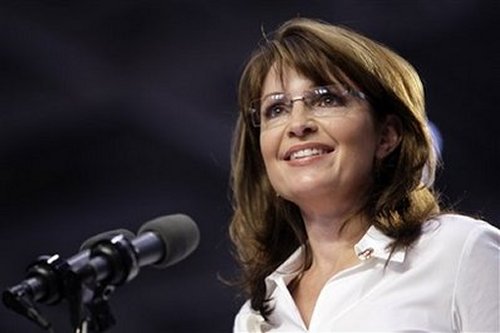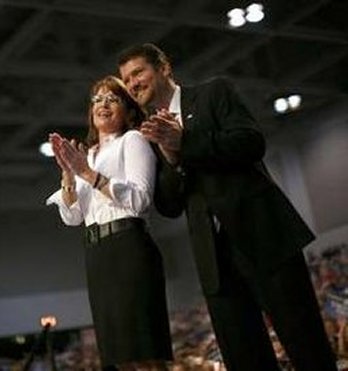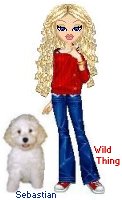 Wild Thing's comment........
This is the real America, this is what the founders meant to create. I combined the rallies that happened today.
Posted by Wild Thing at October 13, 2008 06:24 PM
---
Comments
Greatness may be before us. I remember hearing a story a few years back about Reagan. I found it on the web here: http://www.mpomerle.com/Politics/Thank_You_Ronald_Reagan.shtml
It reads: Congressman Dana Rohrbacher remembers a moment when he was a young campaign staffer back in California. You were giving a whistle stop speech, and there was a small group of blind children in the crowd. Their teacher asked if you could greet them.

Sure, you agreed, but not with the photographers or reporters around. After the press had left, Rohrbacher saw you go to the children and shake their hands. Then you knelt so they could "see" you by touching your face.

"What politician can you think of who would not have given a million dollars to have the press get pictures of him in a scene like that?" marveled Rohrbacher, "But not Reagan."
I think Sarah Palin is that type of politician. Surely, that can't be said of Obama/Biden.
Posted by: jim warren at October 13, 2008 06:52 PM
---
The Hank Williams video is no longer available. Did the communist YouTube yank it because it was pro-America? If so, maybe its high time that we figured out a way to eliminate YouTube.
Posted by: cuchieddie at October 13, 2008 07:17 PM
---
Sarah is so much in the character mold of Reagan it is uncanny. I bet Reagan would have been thrilled to know her. Sarah is the hope for our future.
Sorry Senator McCain. Most of the people at these rallies come to hear Sarah, and Cindy.
Posted by: TomR at October 13, 2008 08:40 PM
---
Jim, what a marvelous story about Reagan. Thank you so much.
I think so too about what you said about Sarah Palin. She has it in her that real person above all else.
Posted by: Wild Thing at October 13, 2008 11:20 PM
---
Cuchieddie, thanks for letting me know. I checked it out and also added an extra one just in case. They both work for me right now but who knows what happened. Maybe it was too many hits not sure.
Thanks agian for telling me.
Posted by: Wild Thing at October 13, 2008 11:39 PM
---
Tom, big smile I agree, Cindy and Sarah are the big draws and what they have to say. Both have spoken out too about Obama which is great.

Posted by: Wild Thing at October 13, 2008 11:41 PM
---
Has anyone ever wondered why it is always liberals (anarchists) who are demonstrating, destroying property, waving filthy signs, and making their children learn political songs for their messiah and why we Conservatives do not engage in those types of activities? It's quite simple, Conservatives are civilized.
Posted by: cuchieddie at October 14, 2008 05:37 PM
---
Cuchieddie, we sure are. The difference is night and day, good vs. evil. I can't stand them and want them to go away....... now!!!!!
Posted by: Wild Thing at October 15, 2008 12:42 AM
---