« More Of The Obama Rally In Miami | Main | Barack Hussein Obama Dictator Mentalilty Plans For Election Night »
October 23, 2008
Honoring the Marines of The Bombing of The Marine Barracks in Beirut
This month marks the 25th Anniversary of the bombing of the Marine Barracks in Beirut, Lebanon on 23 Oct 2008.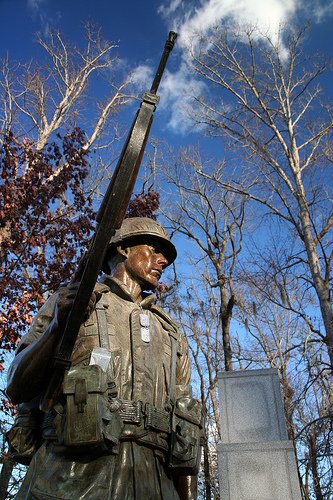 On Sunday, October 23,1983 at approximately 6:20 a.m. 241 Marines, sailors and soldiers were killed and hundreds of others were wounded or disabled.
This was the result of a suicide truck, laden with explosives carrying the equivilant of 20,000 pounds of TNT that detonated on the ground floor of BLT 1/8 headquarters barracks in Beirut, Lebanon. The largest non-nuclear explosion of its time.
Other servicemen from 1982-1984 perished from sniper fire and other atrocities.
Others died years later or are permantly disabled as the result of their wounds. This makes a total of 270 Marines, sailors and soldiers that died during a peacekeeping mission.

We honor the memory of those Marines who paid the ultimate price on that dreadful day.

....Thank you Mark USMC and Steve, USMC for sending this to me.
Posted by Wild Thing at October 23, 2008 03:47 PM
---
Comments
Thank you Chrissie and Steve, it seems like only yesterday, when the shocking news arrived, I was angry then and I still feel the same way. Rest In Peace my fallen brothers.
Make no mistake I hate all you effing ragheads!!! Lebanon allowed its self to be controlled by the International Terrorist Organization of Hezbollah. How soon every one has forgotten the Marine Barracks Bombing and US Embassy attack in Lebanon?
Obama will set and talk to these subhuman beasts, unconditionally!!! R he 1? I want someone who will give them notice that a nuke is on the way to Mecca and Medina or Tehran if they injure one more US service member, one more civilian or attack one more U.S. facility that includes any and all Americans anywhere.
The 24th Marine Expeditionary Unit (MEU) is one of three Marine Air/Ground Logistics Task Forces that routinely deploys from Marine Corps Base Camp Lejeune, North Carolina to the Mediterranean Sea aboard amphibious ready group shipping. In 1982, it was renamed as the 24th MAU (Marine Amphibious Unit) and was deployed twice to Lebanon as part of an international peace-keeping force. Where were the rest of the UN's peace keepers? France had some of their tropps there also. What was the American response?
"On 28 November, the U.S. government announced that the USS New Jersey would be retained off Beirut although her crew would be rotated. On 14 December, the New Jersey fired 11 projectiles from her 16-inch guns at hostile positions inland of Beirut. This is the first 16-inch shells fired for effect anywhere in the world since New Jersey ended her time on the gunline in Vietnam in 1969. On 8 February 1984, New Jersey fired almost 300 shells at Druze and Syrian positions in the Bekaa Valley east of Beirut. Some 30 of these massive projectiles rained down on a Syrian command post, killing the general commanding Syrian forces in Lebanon and several other senior officers. This was the heaviest shore bombardment since the Korean War."
Was Reagan to blame? Not really, I blame SECDEF Weinberger who didn't want to get involved in Lebanon in the first place and talked Reagan out of it. As a result the troops that survived were pulled out. It is the United States who was there to protect the freedoms of the people of Lebanon, perhaps they do not value the sacrifice of United States blood in Lebanon in October 1983 when the Marine Barracks were bombed and 241 US Service men died and hundreds injured.

As it gets harder to respect our elected officials, I still honor those who have put America First, Cowboy's if you will, my heroes have always been Cowboys too.
If Obama gets the presidency you can be assured if he reacts at all to an outside threat he'll put American service members subordinate to the UN, I reject that with every fiber of my being.
Posted by: Jack at October 23, 2008 04:49 PM
---
Jack thank you, I added Mark to it too. I got their emails at different times today.
Jack WOW I love that video, thank you so much.
Thank you too for the information in your comment. I agree with you about Reagan, he was the kind of man that would have thought differently then Weinberger and I think too he talked Reagan out of it.
Posted by: Wild Thing at October 23, 2008 06:21 PM
---
The Title
It Can Not be Inherited
Nor Can it Ever be Purchased
You or No One Alive
can Buy It for Any Price
It is Impossible to Rent
and It Can Not be Lent
You Alone and Our Own
have Earned It
with Your Sweat, Blood and Lives.
You Own It Forever The Title "United States Marine"
In Honor of Our Fallen
and Disabled Brothers

Posted by: Mark at October 23, 2008 07:23 PM
---
Mark that is fantastic, thank you so much.
Posted by: Wild Thing at October 23, 2008 09:44 PM
---
Thanks Mark, that says it all. As a dogface I was honored to be in a unit that supported elements of the 1st Marines, the 3rd Marines and elements of the 26th regiment, they were always short on water, food, ammo and fuel. They took very good care of us too. My primary job was support of the 101st Airborne as they took over Marine positions but we served them all. You call we'll haul!!! The Marines have a very special place in my heart.
We had a split company, one platoon Phu Bai serving the Ashau, the rest at Quang Tri, I was far too busy to go anywhere but on the road or stay at camp and work around the clock, twice a month someone would go to Danang, I'd send my AWOL bag along and they'd fill it with good booze for me, I do like the stuff, beer was in high demand and when we did get it, it was some nasty stuff, Falstaff or Carlings in rusty cans with green soldered seems and rationed to 1 can per. I swear, I could have traded a bottle of Silver Fox for the entire DMZ and made some happy Marines in the process. Who knows what a good bottle would have brought. No ladies of the evening up there:)
BTW, I've lost more than one jug of Old Granddad to the nation's finest, they earned every drop. Great guys!!!
Semper Fidelis Gentlemen.
Posted by: Jack at October 23, 2008 10:04 PM
---
A cousin of mine had just left Lebanon not a few days before the bombing. I remember crying my eyes out when I heard what had happened because when you are a part of the Marines, even if just a family, you are part of a special family. Marines take care of each other.
I have never met a more wonderful group of people than those who were Marines (not to knock any of the other services--they are just as great).

Posted by: Lynn at October 24, 2008 04:17 AM
---
When our C-5 Galaxy squadrons landed in Cyprus for airlift support, they were informed that when these islamofascists also bombed the French Foreign Legion barracks that same time, at least the Frenchies returned fire and responded! This goes down in the same fashion as Carter's botched rescue mission to rescue the Iranian US Embassy hostages in 1979... MOSSAD and the Israelis do it RIGHT WT!!!
Posted by: darthcrUSAderworldtour07 at October 25, 2008 08:42 AM
---