« Todd Palin the "First Dude" 'On the Record' Tonight | Main | Obama Tried To Stall GI's Iraq Withdrawl »
September 16, 2008
Rangel Being ( Maybe) Being Told To Step Down From Committee Chair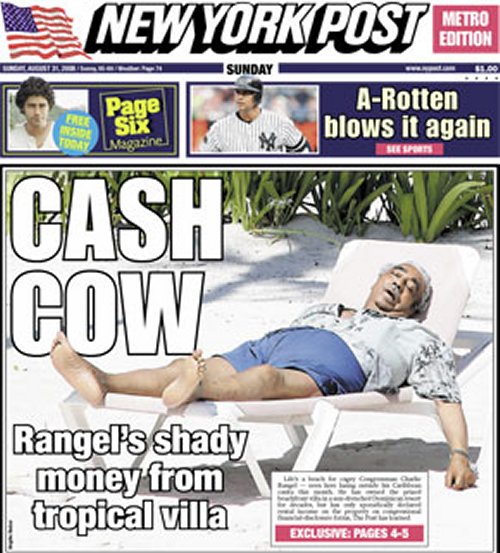 Pelosi Asks Rangel To Step Down From Committee Chair

House Speaker Nancy Pelosi yesterday privately pushed Rep. Charlie Rangel to give up his chairmanship of the influential House tax-rules committee amid explosive revelations that his personal tax filings were riddled with errors and omissions, a wellplaced source said.
Rangel, the Democratic chairman of the Ways and Means Committee, has been resisting growing calls to step down from the high-profile leadership role since The Post reported the Harlem congressman failed to disclose rental income from his Dominican Republic beach home.
Rangel subsequently admitted owing at least $10,000 in back taxes and became a target of Republican political attacks.
One member of the New York congressional delegation who supported Pelosi's decision said, "You have to have one standard - you can't have one for [Republicans] and one for us."
Rangel himself remained mum on his sitdown with Pelosi after exiting a later, separate meeting with fellow Democratic committee members.
"I am unable to say anything," he said before bizarrely rattling off his name, rank and serial number from his Korean War days. "Do to me what you want, I'm not talking."
The 76-year-old politician smiled when asked if he was still chairman of the powerful tax panel.
Pelosi later denied through spokesperson Nadeam Elshami that she has asked Rangel to step aside.
And a committee member, Rep. Sander Levin (D-Mich.), asked if Rangel was still in charge, replied, "You're damn right he's the chairman."
But in an indication that Rangel may have to fight to keep his position, he scheduled an emergency meeting with the New York delegation today, a source said.
Meanwhile, Rangel was still using his leadership position as an inspirational tale for kids at Harlem's Democracy Prep Charter School yesterday.
"It was that education that took a 23-year-old high-school dropout to the Ways and Means Committee," he said.
Rangel's lawyer said the congressman would hire a forensic accountant to review his tax filings over the past 20 years.
He also may have to account for why he didn't properly disclose the sale of a Washington, DC, home in 2000, the various values he placed on his former Sunny Isles, Fla., condo, and the wild fluctuations he recorded for his personal investments.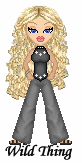 Wild Thing's comment..........
Rangel stepping down? I'll believe it when I see it.
What crooks the dems are if even the NYSlimes points it out. And whatever happened to William Jefferson, D-Freezer, and his 90K graft money?
Culture of Corruption.
Most Ethical Congress in History.
Right, Queen Nancy?
And speaking of corruption I wonder when will Reid have the courage to fire Senator Dodd from the banking committee? He received sweetheart loans from banks over which he supposedly had oversight. He received hundreds of thousands in campaign donations—more than any other senator— from Fannie Mae and Fannie Mac. He needs to leave that committee. The corrupt son of a corrupt father.
Posted by Wild Thing at September 16, 2008 04:45 AM
---
Comments
If Charlie steps down will Pelosi elicit William Jefferson to replace him? Don't ever remove the corrupt just move them around, the need all they have to maintain the majority.
Posted by: Jack at September 16, 2008 11:51 AM
---
Just one more example of Congressional and MSM double standard. Democrat corruption - let it slide. Republican corruption - force the bastard to resign. Sarah Palin should remind voters of the Rangel corruption and Pelosi/Democrat lack of action as they decide who to vote for in congressional elections.
Posted by: Les at September 16, 2008 04:18 PM
---
I don't remember what I was watching but their was a comment yesterday that Charlie Strangle (americans),Rangel should not be blamed as the IRS code is so written that nobody can understand it. Amazing, isn't it congress that writes the code? Didn't Rangel have a part in it? Just asking.
Posted by: Bob at September 16, 2008 05:07 PM
---
Jack, yes that might be what they will do. sheesh
Posted by: Wild Thing at September 16, 2008 06:31 PM
---
Les, I agree and my feeling is they will let it slide and very little punishment for Rangel.
Posted by: Wild Thing at September 16, 2008 06:33 PM
---
Bob good one, I am not sure if Rangle had a part in writing it or not.
But yes the left will make that kind of excuse, anything they can to help him get away with this.
Posted by: Wild Thing at September 16, 2008 06:34 PM
---