« Lady Rothschild takes down Wolf Blitz! A MUST SEE | Main | Vandals Strike GOP Sarasota, Florida Headquarters »
September 18, 2008
Angry Old Salt ~ Nick Dimitri ~ Celebrates 50 Years In ShowBiz Today
Angry Old Salt........he says his impression of a liberal. hahaha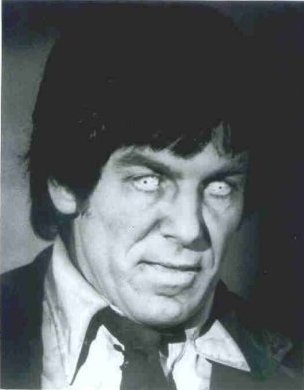 A little time out from politics and a special day for Angry Old Salt.

Today 50 years ago Nicholas ( Angry Old Salt ) entered his career as a stuntman and actor. He went into this career after he finished serving in the US Navy and his first job was a show called " Rat Patrol" starring Christopher George.
His specialities were explosions ( being the person inside in the explosion and set on fire) , car chases, high falls, fights, helicopter stunts hanging from the chopper, goiing from one chopper to a plane, dragged by horses, running on top of moving trains, stunts in water and motorcycle stunts, stair falls and many other things.

He used his first and middle name in his career since the last name is too long and hard for some people to pronounce. haha
His Bio and list of some of the work he has done.
http://us.imdb.com/name/nm0227313/
He has had 11 operations each one on his knees, and elbows over the years. He still goes to the gym 3 days a week and it now takes him about 45 minutes to get as he puts it the ole body able to move in the morning.
During his 50 years as an actor and stuntmen there were 2 years where work was slow so he joined the carpenters union and worked building sets at the studio's.
Some of his favorite people he worked with and became good frieinds with over the years were Elvis ( they also played football together on a football team that a lot of the guys were in at one of the parks in the Los Angeles area. James Garner a really great guy, Dean Martin from his work on Matt Helm and several others.
He was a double for action actors Sean Connery and William Smith among others.
He later became a regular in many of Arnold Schwarzenegger's films, and doubled for the one arm man in the big screen version of "The Fugitive" movie with Harrison Ford.
I have no idea who does these things but when I typed Nick Dimitri into google tons of pages came up. I showed it to Nick and he was amazed that people did things like that about stuntmen/actor.
I wanted to do something on here for Nicholas for this special day. Thank you all for this little time out on a special day. ---- Wild Thing

The Rat Patrol ( intro theme ) TV series in the 60's

They filmed most of The Rat Patrol at Edwards Air Force Base in Calif. And several other locations in Calif.
The series was supposed to appear set in North Africa during World War II, this series chronicles the adventures of a 4-man team of commandos within the Long Range Desert Group

This one is a TV show called " Norliss Tapes" with Roy Thinnes and Angie Dickinson . Nick plays the husband of Angie and he is an artist that goes over the deep end seeking a way to stay alive forever. giggle So he creates a monster and that has to have blood. Kind of a scary movie back then and Nicholas said he had a lot of fun with the part he played.

From the classic horror film The Norliss Tapes, this scene is the finale, where the Demon Sargoth comes to life, only to be trapped in the blood circle of fire. You can see that he is very bummed.
They had contacts on his eyes that made it almost impossible for him to see, so when they broke for lunch, Angie lead him to the lunch wagon and helped him pick out his lunch. haha
Nick kids that the way they had him made up made him look like a Democrat. heh heh

The Final Fight from the movie of 1975, ¨Hard Times¨, starring Charles Bronson
Charles Bronson as Chaney, a street fighter who travels to Louisiana during the Great Depression to make his living in illegal boxing matches. This kind of fighting for money in streets and warehouses was done a lot during that era during the Depression.

Steven Seagal in Out For Justice, Bar Scene!
" 48 Hours"
Nick is the cowboy that is sitting at the table that tells Eddie Murphy off.

The Fall Guy ( TV show series )
Angry Old Salt did several of the stunts on the into and also worked most of the shows
This was funny when he did this ad ( he is on the left). Nicholas has never smoked.Only in this ad. haha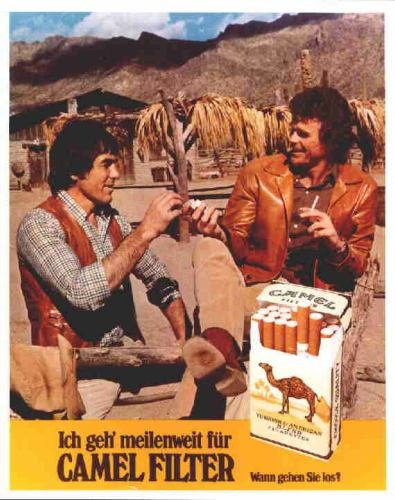 Nick and Elvis on the set of " Kid Galahad"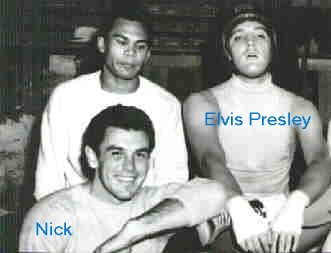 Posted by Wild Thing at September 18, 2008 02:07 PM
---
Comments
Congratulations Nick!!!
Loved the Rat Patrol series and enjoyed those other flicks too. I spent a lifetime at Ft. Irwin the summer of '67. Worked all night long at a hanger at Edwards, pulled the engine and replaced it on a 5 Ton tractor before heading back to Ft. Lewis up highway 97. After Irwin, Edwards was heaven:).
Filming must have been miserable for you out there in the Mojave Desert, It sure was for me, all the night critters wanted to snuggle with you on the ground and every morning you had to roll over to get the sand off your face before you could open the eyes. Snakes, Horned toads, Gila Monsters, Tarantulas, land tortoises and those wonderful ants, none out in the day and all out at night. Lovely place!!!
Thanks for keeping us mesmerized.
Posted by: Jack at September 18, 2008 03:21 PM
---
Happy 50th Nick. I too enjoyed Rat Patrol. Great show. I checked out your bio, impressive, and guess that I saw you many times. Enjoy the day and watch out for those scary liberals and Dems.
Posted by: Les at September 18, 2008 03:32 PM
---
Congratulations Nick. Sounds like a great career. I certainly enjoyed a lot of those movies and serials.
Posted by: Mark at September 18, 2008 03:59 PM
---
Lots of old timers in the "Hard Times" clip! Thanks for sharing those.
Posted by: yatalli at September 18, 2008 04:32 PM
---
Congrats, Nick! I've seen just about everything you've been in and didn't realize it! I'm going to have to go back and revisit some of them now!
Stunt men (and women) command some of the longest lines at the horror/sci-fi film conventions I attend, the fans appreciate what they go through to help bring the characters they love to life.
Thanks for all your great work!
Gregor
Posted by: gregor at September 18, 2008 04:34 PM
---
Congratulations for 50 years of work and bringing enjoyment to others.
Bob A.
Posted by: Bob at September 18, 2008 04:41 PM
---
WOW...50 years!! A career to be proud of. Thank you for bringing so much enjoyment into our lives. I loved the Rat Patrol and wish it was still on. Plus to top it off, a Navy Veteran too.
Posted by: BobF at September 18, 2008 06:25 PM
---
What a neat post. That had to have been a fun and interesting career Nick. You sure got to meet some of my favorite celebs like James Garner, Dean Martin and Elvis. Ya sure met a good gal in Wild Thing also. I bet Hollywood had a better quality of celebs in the 60's and 70's
Your monster still looks better than some Dems.
Congratulations on your fifty years. Post here once in a while so we hear from you first hand.
Posted by: TomR at September 18, 2008 07:44 PM
---
Makes me plum proud to know that my buddy Nick did all that cool shit... And looked good doing it too... Congrats Nick, and I CAN pronounce your last name.. :)
Posted by: TexasFred at September 18, 2008 10:26 PM
---
Congratulations to a true bad ass!
Posted by: Brad at September 19, 2008 12:02 AM
---
Thank you everyone soooo much. I just showed this to Nick and he was so surprised. He didn't know I was going to do this.
You ALL are so awesome!
(( hug ))
Chrissie

Posted by: Wild Thing at September 19, 2008 01:13 AM
---
Chrissie has really surprised me and you all sure have been great about this. Thank you all of you.
This really has touched me that you guys took time to say something like this. From an old sailor that loves my country to Chrissie and my friends on here thank you.
Posted by: Angry Old Salt (Nick) at September 19, 2008 01:29 AM
---