« McCain - Palin 08 Our Awesome Military and America | Main | Photos From The Announcement For Republican VP »
August 31, 2008
To All Our Friends In Gustav's Path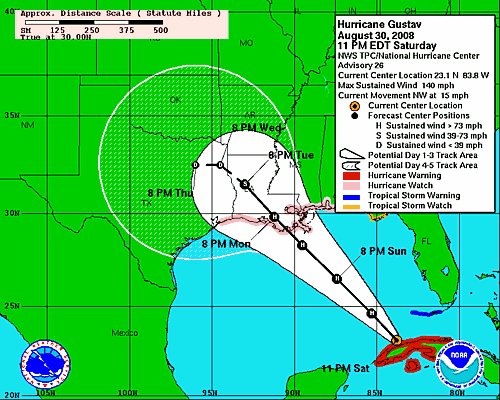 Extremely dangerous Hurricane Gustav blasted across Cuba's Isle of Youth and toward the mainland with 150-mph (240-kph) winds and lashing rains on Saturday as forecasters said it could grow into a catastrophic Category 5 .
Tropical Depression

39 mph
34 kts Minimal
Tropical Storm
39 - 73 mph
34 - 63 kts Minimal
Hurricane 1
(Weak) 74 - 95 mph
64 - 82 kts 28.94" or more
980.02 mb or more 4.0' - 5.0'
1.2 m - 1.5 m Minimal damage to vegetation

Hurricane 2
(Moderate) 96 - 110 mph
83 - 95 kts 28.50" - 28.93"
965.12 mb - 979.68 mb 6.0' - 8.0'
1.8 m - 2.4 m Moderate damage to houses

Hurricane 3
(Strong) 111 - 130 mph
96 - 112 kts 27.91" - 28.49"
945.14 mb - 964.78 mb 9.0' - 12.0'
2.7 m - 3.7 m Extensive damage to small buildings

Hurricane 4
(Very strong) 131 - 155 mph
113 - 135 kts 27.17" - 27.90"
920.08 mb - 944.80 mb 13.0' - 18.0'
3.9 m - 5.5 m Extreme structural damage

Hurricane 5
(Devastating) Greater than 155 mph
Greater than 135 kts
Former DNC Chairman Don Fowler while talking to U.S. Rep John Spratt (D-SC) on a commercial flight laughing that Hurricane Gustav will hit New Orleans during the RNC convention. You can't hear Spratt but he chuckles along.

I know there is Tom, SSgt Steve, and Cheryl, are in Texas. And then there are those that do not comment but write to me that come to TW that live in Texas, LA and areas in the path of this monster hurricane. You are in my thoughts and prayers. stay safe.
Posted by Wild Thing at August 31, 2008 05:50 AM
---
Comments
MOST DEFINITELY!!!!!
Stay safe friends and to my family in Texas, as well, the Augsburgers, take care. I love you more than life itself. (my late fathers cousins family)
It's funny how if Gustav had hit last week, the dummys would have gone ahead with their convention. Why should it bother them? They're in Denver.
But if the Republicans have theirs, oh my God, all heck will break lose and they'll say we hate the people of New Orleans all over again. But we are the greater party and we ARE willing to shove it back a week to show we DO care.
I read what Michael Moore said and I don't appreciate it one bit. What a monstrous thing to say.

Posted by: Lynn at August 31, 2008 07:27 AM
---
I read where in that same conversation they called Sarah Palin, a 'Dan Quayle on steroids'... And that they used Hurricane Katrina as a political football and milked it all they could. Of course this conversation will not be made public except on You-Tube.
Speaking of Quayle, he was a good man, smart but didn't have the killer instinct. When Lord Bentzen said he knew john kennedy and your no John Kennedy, Quayle should have replied, Yeah your right, I wouldn't have cancelled the Air Strike on the Bay of Pigs invasion and we would still have Cuba.
From what I have been reading Sarah Palin is no Dan Quayle, who I think is a good man but no politician. Sarah Palin is a quick-study, has a good sense of her surroundings, especially when those surroundings are hostile and most of all is a fighter, she will fight and hard. She didn't get to be Governor by being a 'wallflower' So the dems can poke fun, now, but lets wait until the gloves come off and see who is the one left standing. My money is on Governor Palin. And we will all see how she got the nickname the Baracuda.
Posted by: Mark at August 31, 2008 08:47 AM
---
We will be OK here in North Texas. It is the people on the Gulf Coast that we worry about. I think Cheryl is one of those. We will send some prayers their way.
The media completely overlooked the Mississippians and Cajuns during Katrina and the Texans during Rita. These Americans rode out the storms, started rebuilding and continued on with their lives while the media played on the whining of New Orleans losers. Only politicians and the media can make a natural disaster into a political situation.
Posted by: TomR at August 31, 2008 10:49 AM
---
To all of those in the path of Gustav, be safe and no matter what happens, you are not alone and the country is with you. The Dems sick view and glee of how this will hurt the Republicans and their convention speaks for itself.
I'm sure if Barack Obama was President, and being a big wind himself, that he would sit down unconditionally with Gustav demanding he not hit populated areas and do any damage. Gustav would back down under such great leadership of hope, change, and unity.
Posted by: Les at August 31, 2008 11:39 AM
---
Lynn good grief, that Michael Moore is horrible.
Posted by: Wild Thing at August 31, 2008 09:47 PM
---
Mark, LOL that would have been great if 'Dan Quayle would have said that. I agree he was a good man.
Regarding Palin that is very true, there is no way a person accompolishes what she has by being a 'wallflower'.
Posted by: Wild Thing at August 31, 2008 09:52 PM
---
Tom, Cheryl wrote me that she was evacuating and missed all of us here.
"Only politicians and the media can make a natural disaster into a political situation."

AMEN and DITTO that!
Posted by: Wild Thing at August 31, 2008 10:01 PM
---
Les, good one about Obama hahahahahahahahahaha
Posted by: Wild Thing at August 31, 2008 10:03 PM
---