« Gitmo Jury Gives Bin Laden Driver 5 1/2 Years | Main | Character Counts But Not To Democrats and John Edwards »
August 08, 2008
Russian Army Moving Against Georgian Forces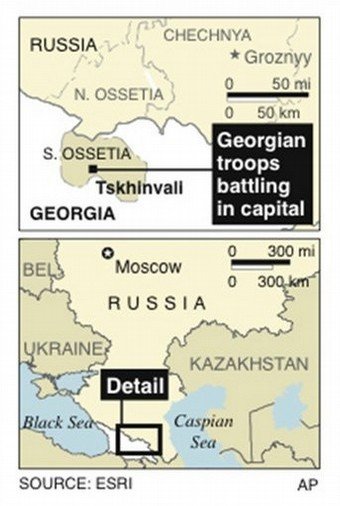 Russian Army Moving Against Georgian Forces Controlling Capital of Breakaway Province South Ossetia
Reuters reports the Pentagon says it has had contact with Georgian officials but have not received a request for assistance..
Parts of Russia's 58th Army — including 150 tanks and armored vehicles — reportedly were moving Friday on the capital of South Ossetia after Georgian troops entered the city in an attempt to crush separatist forces seeking to control the breakaway province.
Kakha Lamaia, a member of Georgia's National Security Council, told Reuters the two countries are "very close" to war, if not already at war.
"If it's not war, then we are very close to it," Lamaia said. "The Russians have invaded Georgia and we are under attack."
President Bush and Russian Prime Minister Vladimir Putin reportedly were discussing the Georgia crisis after attending the opening of the Beijing Olympic games.
Russian Foreign Minister Sergey Viktorovich Lavrov told Reuters that he is "receiving reports of ethnic cleansing in villages of South Ossetia."
Fighting escalated between Georgian and Russian forces escalated earlier in the day with Georgia claiming to have downed four Russian combat warplanes, and Russian planes bombing the Vaziani airbase outside the Georgian capital of Tblisi.
Russian Ground Forces spokesman Col. Igor Konashenkov said that 10 Russian peacekeepers were killed and another 30 wounded durring Georgian shelling of their barracks.
Georgian officials denied firing on the Russian forces.
Russia's Foreign Minister Sergei Lavrov said that Moscow was receiving reports that villages in South Ossetia were being ethnically cleansed.
"We are receiving reports that a policy of ethnic cleansing was being conducted in villages in South Ossetia, the number of refugees is climbing, the panic is growing, people are trying to save their lives," he said during televised remarks in Moscow from Russia's Foreign Ministry.
Georgian troops launched their offensive to regain control over the South Ossetia.
Georgian President Mikhail Saakashvili accused Russia, which has close ties to the separatists, of bombing Georgian territory.
Saakashvili also said it was in the United States' interest to help his country.
But Russian Prime Minister Vladimir Putin said the Georgian attack will draw retaliation and the Defense Ministry pledged to protect South Ossetians, most of whom have Russian citizenship.
Russia's Channel 1 television earlier showed a convoy of Russian tanks that it said had entered South Ossetia. The report said the convoy is expected to reach the provincial capital within a few hours.
There has been no immediate comment from Russian officials.
Separatist officials in South Ossetia said 15 civilians had been killed in fighting overnight. Georgian officials said seven civilians were wounded in bombing raids by Russia.
Georgia declared a three-hour cease-fire to allow civilians to leave Tskhinvali. Georgia's Interior Ministry spokesman said troops were observing the cease-fire, which began at 3 p.m. local time (7 a.m. EDT).
A spokesman for President Bush said Russia and Georgia should cease hostilities and hold talks to end the conflict. NATO Secretary General Jaap de Hoop Scheffer said he is seriously concerned about the fighting and that the alliance is closely following the situation.
Georgia, which borders the Black Sea between Turkey and Russia, was ruled by Moscow for most of the two centuries preceding the breakup of the Soviet Union. The country has angered Russia by seeking NATO membership — a bid Moscow regards as part of a Western effort to weaken its influence in the region.
Saakashvili long has pledged to restore Tbilisi's rule over South Ossetia and another breakaway province, Abkhazia. Both regions have run their own affairs without international recognition since splitting from Georgia in the early 1990s and built up ties with Moscow.
Relations between Georgia and Russia worsened notably this year as Georgia pushed to join NATO and Russia dispatched additional peacekeeper forces to Abkhazia.
The International Committee of the Red Cross said it is seeking to open a humanitarian corridor to guarantee safe access to Tskhinvali. Maia Kardova, ICRC spokeswoman in Tbilisi, said military vehicles are being given priority on the main road leading to the South Ossetia capital and this is making it difficult for rescue vehicles to get through.
Saakashvili urged Russia to immediately stop bombing Georgian territory.
"Georgia will not yield its territory or renounce its freedom," he said.
A senior Russian diplomat in charge of the South Ossetian conflict, Yuri Popov, dismissed the Georgian claims of Russian bombings as misinformation, the RIA-Novosti news agency reported.
Russia's President Dmitry Medvedev later chaired a session of his Security Council in the Kremlin, vowing that Moscow will protect Russian citizens.
"In accordance with the constitution and federal law, I, as president of Russia, am obliged to protect lives and dignity of Russian citizens wherever they are located," Medvedev said, according to Russian news reports. "We won't allow the death of our compatriots go unpunished."

More....................
Russian jets bomb Georgian airbase - Tbilisi
TBILISI, Aug 8 (Reuters) - Russian jets bombed the Vaziani military airbase outside the Georgian capital Tbilisi on Friday, a senior Georgian security official told Reuters.
"No one was wounded but some buildings have been destroyed," said Kakha Lamaia. The airbase is some 25 kilometres (15 miles) from Tbilisi.
"They have declared war against us," said Lamaia. (Reporting by Matt Robinson, editing by Tim Pearce)

Reuters reports Turkey has agreed to supply Georgia with electricity amid the conflict...
Unofficial separatist sources have claimed that if the conflict was protracted they would be prepared to sabotage the Baku-Supsa pipeline that runs between Azerbaijan and Turkey through Georgia and is a key provider of energy for the EU and the United States *snip* FoxNews reports parts of Russia's 58th Army — including 150 tanks and armored vehicles — reportedly were moving on the capital of South Ossetia after Georgian troops entered the city.
AFP reports Georgia has lost control of parts of the South Ossetian rebel capital of Tskhinvali amid Russian bombardment ... "hundreds of civilians" killed in Tskhinvali."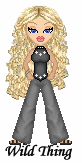 Wild Thing's comment.............

Russia is starting to act like the old USSR. Since then, Georgia has shot down 4 Russian military aircraft, and Russia has retaliated by sending a column of 150+ tanks into Georgia.
We have a military presence in Georgia, and they are an ally.
This could get real ugly, real fast.
We not only have military personel in Georgia, we have had personel at the Vaziani training center since 2002.
Marines and Georgians move to the Field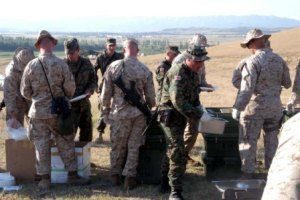 VAZIANI TRAINING BASE, Georgia-Hungry Marines and Georgians finally arrive at the end of the chow line giving them their first hot meal of the day and allowing them to continue their conversations over dinner.

....Thank you John 5 (VN 69/70) for sending this.

Posted by Wild Thing at August 8, 2008 01:55 PM
---
Comments
At some point, the Russian army will run out of civilians to kill, and then go home.
Posted by: Rhod at August 8, 2008 04:49 PM
---
Rhod, good one, yes that is what will happen.
Posted by: Wild Thing at August 8, 2008 05:56 PM
---
Holy Bill Clinton Batman!!! Didn't that excursion into the Balkans under Weasyly Clark's command put a stop to this? Guess not, better call on the mighty UN to stop this. World court, the Hague, Hell the Russians are the World Court, ever since Churchill, Roosevelt and Truman gave them Europe at Yalta and Potsdam they have run roughshod over their neighbors. With Iran in their back pocket Putin figures, rightly so, that the Dems will do nothing, so there will be more murders in the name of Communism and Islam. It doesn't seem to matter that American lives are once again in the crosshairs.
Posted by: Jack at August 8, 2008 06:34 PM
---
And they say we're the ones guilty of empire building. I don't think so!!!!!
We ain't buying up everything in sight that ain't nailed down. Puddin pants is a communist through and through. Why do you think he liked Bubba and not Bushy?
Posted by: Lynn at August 8, 2008 06:38 PM
---
"...But W looked into my eyes and saw my soul Lynn!" - Vlad Impaler Putin, USSR/CCCP/KGB 2008
PS: The Russians don't PC around, eh? Must be an Uncle Joe Steel Stalin thing?
Posted by: darthcrUSAderworldtour07 at August 9, 2008 01:55 AM
---
Jack, yes so much for American lives, the left could care less.
Posted by: Wild Thing at August 9, 2008 05:23 AM
---
Lynn, good name for him and yes he sure is a total communist.
Posted by: Wild Thing at August 9, 2008 05:25 AM
---
Darth, I will always wish Bush had not said that. haha It bothered me then just as it does now. deep non communist sigh from me
Posted by: Wild Thing at August 9, 2008 05:27 AM
---