« Marxist Obama: GOP Detractors 'Take Pride in Being Ignorant' | Main | Pelosi Privately Tells Dems They Can Back Drilling »
August 06, 2008
RNC Delivers Tire Gauges to Obama Press Corps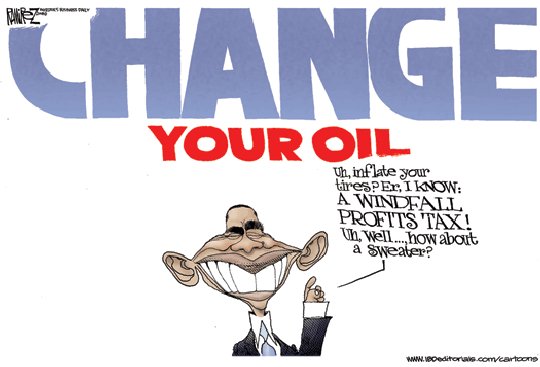 RNC Delivers Tire Gauges to Obama Press Corps

When the Obama press corps arrived at the Elkhart, Indiana, Jameson Inn where the campaign is staying tonight, Obama staffers were on hand to distribute room keys - and a small white envelope from the RNC.
That's right, the Republican National Committee.
Inside the envelope addressed to individual members of Obama's regular traveling press, was a small tire gauge labeled "Obama's Energy Plan" along the side, and a note that joyously read, "Happy Birthday, Barack Obama!"
The RNC along with the McCain campaign seized upon Obama's advice to a voter last week to properly inflate her tires to increase fuel efficiency, and have managed to create a sideshow to mock Obama's "judgment" and "experience" when it comes to energy policy.
The RNC doubled down on their humorous assault tonight with its "gift" to the press corps. "We hope you'll enjoy this complimentary tool related to Barack Obama's energy plan - your very own tire gauge. Because, instead of actually increasing America's domestic oil supply, this is how Obama thinks you should try to alleviate your pain at the pump," the note read.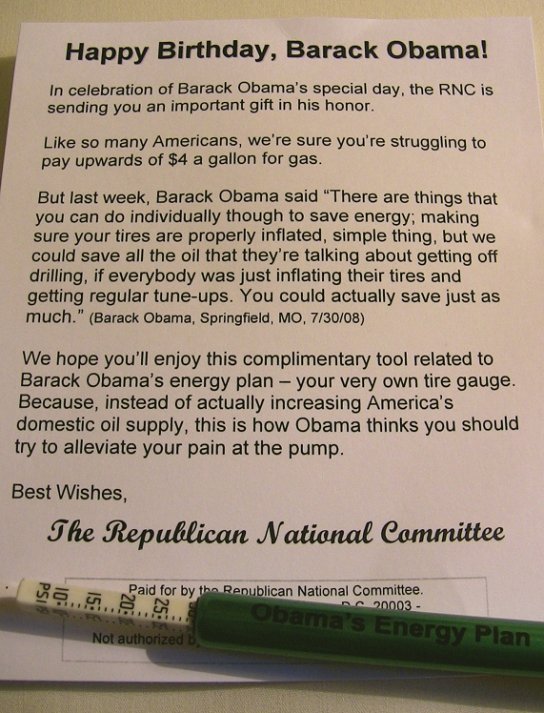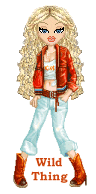 Wild Thing's comment.......
LOL this is funny, great idea! hahahahaha
I've never seen such a huge chip-on-the-shoulder, take- offense mentality like the one B. Hussein Obama has.. And I think the majority of the American people are getting increasingly sick of it.
Posted by Wild Thing at August 6, 2008 03:50 AM
---
Comments
That is funny! Now he can shove one of them up his you know where! We already knew that you should keep your tires inflated! That's mechanics 101! What does he think we are, stupid?
And taxing big oil to give the middle class a 1000 tax break is NOT going to work. That peanut farmer tried that and all we got was gas lines and higher interest rates and taxes. I don't think we really ever recovered from that. Oh sure, we had some good years during the Reagan administration, but we've never been the "same" as we were before that damn peanut farmer.
Posted by: Lynn at August 6, 2008 04:34 AM
---
Thanks for your blog post!
Here is why I oppose Obama.
Obama SUPPORTS The US Paying a "Global Tax"
Obama OPPOSES Traditional Marriage
Obama SUPPORTS Partial-Birth Abortion
Obama OPPOSES Domestic Oil Production (or did he just flip to McCain's position on that?)
Obama SUPPORTS Doubling the Capital Gains Tax
It's ALL true...research it...or see for yourself at http://DiscoverObama.com
Posted by: Robert at August 6, 2008 05:44 AM
---
Didn't we see a picture of Obama peddaling a bicycle with a low rear tire. Guess he needs one of those gauges.
This is a funny retort by the RNC. Too bad they weren't more serious about running Congress when they had the majority.
Posted by: TomR at August 6, 2008 10:27 AM
---
As RT said, Hindsight's 20/20, we got to work with what we have now. If they stick to this agenda we can take back the House or the Senate, and with good luck both. But 2006 is history and we can't change that.
What we can change is the make up of the congress.
Posted by: Mark at August 6, 2008 12:49 PM
---
Lynn...."That's mechanics 101", exactly,yes I honestly think Obama, Pelosi, Reid etc. think we are all stupid.
Posted by: Wild Thing at August 6, 2008 05:42 PM
---
Posted by: Wild Thing at August 6, 2008 05:46 PM
---
Tom, LMAO yes we did, I posted one on here and I have seen others online too.
I agree Tom, it is really bad timing and too late for it too.
Posted by: Wild Thing at August 6, 2008 05:50 PM
---
Mark, we have been getting voting stuff in the mail at home and I have been saving it to see who is more conservsative. I really want to vote to get our people in there.
Posted by: Wild Thing at August 6, 2008 05:53 PM
---