« Obama Hits Back At Jerome R.Corsi's and His Book | Main | Jeff Beatty a REAL Hero vs. Hanoi John Kerry a Traitor! »
August 15, 2008
Poland says "Yes" to American Missile Defense ~ Putin Doesn't Like It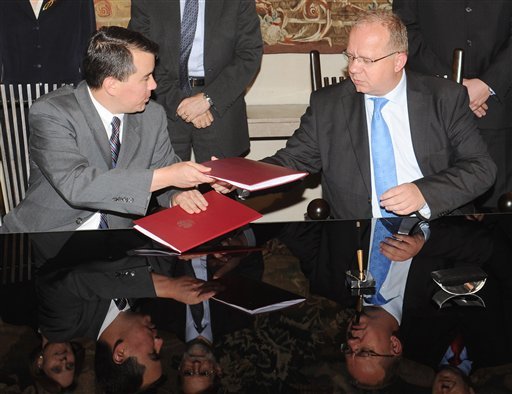 Chief U.S. negotiator John Rood, left, and Polish negotiator Andrzej Kremer exchange documents they just signed on an initial agreement on conditions for placing a U.S. missile defense base in Poland, in Warsaw, Poland, Thursday, Aug.14, 2008. (AP Photo/Alik Keplicz)

U.S., Poland Reach Agreement on Missile Defense
The U.S. and Poland signed a preliminary accord today that will allow for 10 U.S. interceptor missiles to be based in the eastern European country, completing a defense system that Russia opposes.
The U.S. has agreed to Polish requests including modernization of its armed forces in exchange for the location of the missiles, Polish Prime Minister Donald Tusk said in an interview with private broadcaster TVN24 this evening.
``We are now harvesting the fruit of many months of hard work,'' said Polish Foreign Minister Radoslaw Sikorski at a joint press conference with U.S. Undersecretary of State John Rood in Warsaw. ``Only people of ill intent should fear this agreement.''
Talks on locating part of the planned missile-defense shield on Polish territory made headway yesterday in the wake of the Georgian conflict.
The Russian incursion heightened Poland's security concerns and ``made the Polish government a little more willing to conclude a deal,'' said Wade Boese, research director at the Arms Control Association, a non-partisan group in Washington. ``It may also have made the Bush administration more willing to meet the Polish demands.''
White House View
In Washington, White House spokeswoman Dana Perino said the purpose of the system ``is to protect our European allies from any rogue threats such as a missile from Iran'' and ``in no way is the missile defense aimed at Russia.''
Perino said she ``couldn't say'' whether Russia's attacks in Georgia spurred today's final action on the agreement.
Poland and the U.S. have been holding talks on establishing an American base in Poland for more than 18 months. While the U.S. signed a final agreement last month with the Czech Republic on locating a radar base there, the Polish government held out for additional security assurances.
The Polish government said before the current round of missile defense talks that the Georgian conflict had underscored its arguments in favor of more security guarantees.
Sikorski confirmed that Russian Foreign Minister Sergei Lavrov had called off a visit to Warsaw, planned for next month. He said he had received the information before an agreement had been reached with Rood over missile defense and said he thought the Russian decision had been made ``in connection with Georgia.''
Russian Criticism
Russia has sharply criticized U.S. plans to place elements of the defense shield in the two former Soviet satellite states, saying they threatened its national security. The Russian government has repeatedly warned it would build up military defenses along its frontiers if the project went ahead.
Sikorski will talk to Secretary of State Condoleezza Rice next week to find a date for signing a final contract, which also has to be ratified by the Polish parliament, he said today. If completed, the agreement will allow for the deployment of 10, two-stage missile interceptors made by Orbital Sciences Corp., based in Dulles, Virginia.
The missile shield may still encounter resistance from U.S. lawmakers. Congress, controlled by Democrats, has mandated that the interceptors' effectiveness be proven through tests and that the Polish and Czech Republic parliaments approve the deals before U.S. funding for the programs is approved, Boese said.
New President
``We're still talking a number of years before any interceptors can actually be deployed, and in the meantime you're going to have a new administration that could rethink the whole plan,'' Boese said.
The Pentagon wants to start construction in Poland by July next year in order to have an initial capability to defend against Iranian missiles by April 2012, according to U.S. Missile Defense Agency briefing charts.
According to Tusk, the U.S. agreed to initially station one battery of Patriot air defense missiles on Polish soil with potentially more to follow. This would be good news to Lockheed Martin Corp. and Raytheon Co., as the two companies are the top contractors on the Patriot missile program.

Wild Thing's comment.........
This'll make Putin wet his KGB issued panties.
I think Russia will come to regret the day that they decided to invade Georgia.
Posted by Wild Thing at August 15, 2008 03:48 AM
---
Comments
Like I said many times in the past, the Cold War Soviet BEARS do not fear anybody nor any country.
They are fearless. They don't have a GOD nor an Allah. Stalin was responsible for the deaths of 50 million enemies of the state between 1930 and 1950... More than Adolf Hitler (9 million). Glad the Poles realized this, but the Eurabian Europeons could care less. They are big time cowards WT! The Cold War BEAR just went into hibernation some time ago, but now he's out!
Posted by: darthcrUSAderworldtour07 at August 15, 2008 06:10 AM
---
PUTIN THINKS HE IS A GREAT MAN-- HE IS A POS-- HE IS GOING TO FIND OUT THE WHOLE WORLD WILL CONDEM HIM-- HE SHOULD BACK OFF NOW AND AVOID ANY FURTHER INSANITY- A SHIT STARTER ACTING LIKE THE OLD RUSSIANS IN THE EARLY 60'S ALWAYS WANTING TO SCARE THE WORLD!! NOW GO POUT CUZ WE HAVE A MISSLE BLOCKADE GOING UP-- TOO BAD YOU DON'T OWN THE WHOLE WORLD- AND YOU NEVER WILL!!! WWWWAAA!!!!!
Posted by: Cheryl Zee at August 15, 2008 08:47 AM
---
Personally I have never trusted anything Russian, you can track their movements against the civilized world throughout modern history. Pick any hotspot. They sided with Egypt, Nasser was their puppet, the Suez war was prosecuted with Soviet aid and munitions, pick a year, '48, '56, '67, 1973–74, and 1982 Russia was behind them. Korea was a proxy war, still is, Russia was the silent partner of China. Vietnam was Russian and Chinese supported and supplied too. Russia has supplied and backed Castro in his influence of all of South America, Don't forget Kerry's role either. I fully support the move in Poland and would like to see the same for the Ukraine. As for the Euro's, after saving their asses in two world wars they continue to crap all over us, pull our troops off their soil and repatriate our dead and let them enjoy the sharia law, Islamo-fascism and Communism they so richly deserve.
Posted by: Jack at August 15, 2008 11:13 AM
---
Sadly, a President Obama and a Dem Congress can kill the deal. The former Soviet controlled Eastern Europeans have shown more guts than the protected and blind Western Europeans. Georgia, Poland and the Czech Republic have already proven to be far better allies than any of our NATO pals.
Posted by: TomR at August 15, 2008 12:12 PM
---
'I think Russia will come to regret the day that they decided to invade Georgia.'
The only thing many Russians and especially Putin and Co. regret is the break up of the former Russin empire. Some people called it the Soviet Union, but it was nothing less than an empire of conquest. Quite ironic, that the Russian empire was taken over by the underclass, which turned around and put their own boot on the necks of their conqored neibors. This emperial sentement is alive and well in Russia and they are cold harted bastards that feel not the love for friends, only the spite of conquest.
Posted by: Odin at August 15, 2008 02:31 PM
---
Darth, yes I sure can see that now more then ever. It sure makes it hard to even have talks with people and a country like that. There is no opening and if there is it is based on their lies.
Posted by: Wild Thing at August 15, 2008 05:47 PM
---
Cheryl, he sure is, he has a tremendous ego, too bad it is not backed up by doing what is right instead it is built on his KGB mentality.
Posted by: Wild Thing at August 15, 2008 05:51 PM
---
Jack, thanks so much for the information. I agree too, I will never forget their involvment in the Vietnam War, and never forgive them for it.
Posted by: Wild Thing at August 15, 2008 05:55 PM
---
Tom, yes your right and that concerns me. The article said it is not immediate and that is something else that is concerning. If it comes to be under Obama and like you said the leftie Congress they will stop the whole thing.
Posted by: Wild Thing at August 15, 2008 05:57 PM
---
Odin, thank you. Yes I was only hoping, but you are so right about what you said.
Posted by: Wild Thing at August 15, 2008 06:01 PM
---