« Faith Is A Very Special Dog | Main | Obama Notes 'tragic' US Past »
August 13, 2008
Pelosi Indicates Openness To Offshore Drilling Vote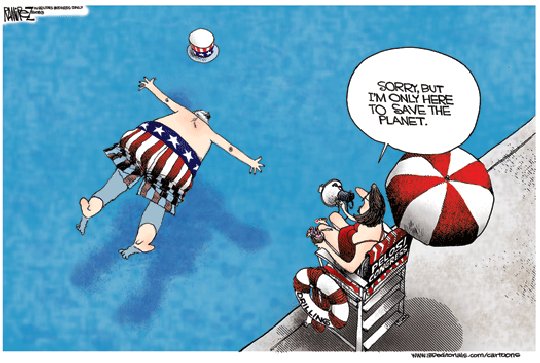 Pelosi indicates openness to offshore drilling vote

House Speaker Nancy Pelosi on Monday night dropped her staunch opposition to a vote on offshore oil drilling in the House.
Republicans, reacting to high gas prices, have demanded a vote on additional oil exploration in the Outer Continental Shelf, where drilling is currently blocked by a moratorium.
Until now, Pelosi (D-Calif.) has resisted the idea as a "hoax." But in an interview on CNN's Larry King Live, she indicated that she was open to a vote.
"They have this thing that says drill offshore in the protected areas," Pelosi said. "We can do that. We can have a vote on that."

She indicated such a vote would have to be part of a larger package that included other policies, like releasing oil from the Strategic Petroleum Reserve, which she said could bring down prices in a matter of days.

"But it has to be part of something that says we want to bring immediate relief to the public and is not just a hoax on them," Pelosi continued.

She even indicated that she might support a package that includes drilling. She said her decision on whether to support such legislation would depend on how the policies are packaged.

"It's not excluded, let's put it that way," Pelosi said.
In a year in which Republicans expected to take a beating at the polls, their support for drilling in protected areas has been a sudden bright spot. They have relentlessly demanded a vote on drilling as Democrats rearranged House business to avoid such a vote.
But the pressure has only grown. Republicans demanded a drilling vote before the House went home for the summer recess, and when that didn't happen, some stayed behind in the chamber to protest.
A bipartisan group in the Senate came up with a plan that would include drilling, and Democratic presidential contender Sen. Barack Obama (D-Ill.) has said he's "willing to consider" it.
And Democrats realize that it will be difficult to end their legislative year in September without a vote because the offshore drilling moratorium must be renewed every year.
Pelosi had previously said she would allow a vote on drilling and then backed off. On July 30, the last day Congress was in before the August recess, she was interviewed by the Capitol Hill press corps. She was asked if she could envision a vote on drilling in new areas this year, and she answered, "Of course."
But her aides later released a statement saying she was not announcing a change in her stance on a drilling vote.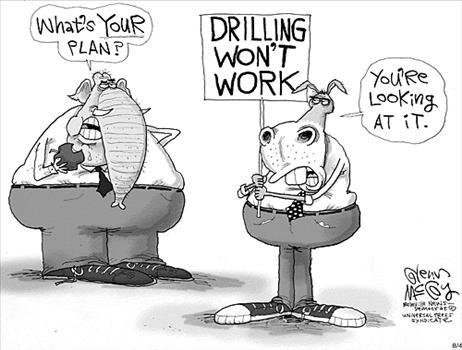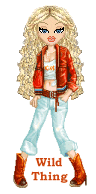 Wild Thing's comment..........
"She indicated such a vote would have to be part of a larger package that included other policies, like releasing oil from the Strategic Petroleum Reserve, which she said could bring down prices in a matter of days."
This way Pelosi and her fellow-traveling comrades can cripple our reserves intended for military and defense.
Luckily, GOPers in both houses are too smart for that.
Oh, wait, Lindsey Graham et al. will go for it if it includes some 50 mile drilling restrictions.
Nancy does nothing without a reason.
Possible scenariio--Dems are getting creamed by drill now demands from public. Five Repubs. of the wonderful NEW gang of ten, rushing to be bipartisan (Chambliss of GA, Graham, & 3 others) are agreeing to offshore drilling--50 miles out, only 4 states, allowing all sorts of orgns. to have a say. In other words, just enough of a come on to take away a winning Repub. cause and to get the drilling question off the backs of vulnerable Dems. This paper/bill still says no ANWR, no reopening of drillrigs shut down since Katrina that are closer in than fifty miles, etc.
Why wouldn't Nancy agree to a vote on a bill that, in effect, gives nothing, but looks like they are for drilling?
In a letter to House Minority Leader John Boehner, R-Ohio, House Speaker Nancy Pelosi, D-Calif., said Republicans have been obstructing Democratic bills aimed at lowering gas prices through releasing oil from the Strategic Petroleum Reserve, investing in alternative fuels and conservation and cracking down on oil speculators.
"While a very small band of your colleagues remain on the House floor to discuss gas prices, their constituents deserve to know why their representatives in Congress have failed to support serious, responsible proposals," she wrote. "Using yesterday's solutions to today's problems will not allow us to achieve energy independence."

Hoyer disappointed over Boehner's 'hang Pelosi' comment, calls for apology
When asked about an idea floating around that Pelosi call a special session only to vote on issues like childrens' health insurance and other Democratic agenda items, Boehner became indignant.
"She's gonna bring us back and not deal with [offshore drilling]? The American people are gonna hang her."
Tell Hoyer I am part of the American public that will 'Hang Her,' if she calls back the House and they end up doing nothing to address the concerns of the public! Noose = vote and people WILL vote against this freak witch.
There, now Boehner doesn't need to apologize for speaking the truth.
Posted by Wild Thing at August 13, 2008 04:47 AM
---
Comments
If Pelosi calls a special session of the House and does not adress drilling, or loads it down with excessive restrictions, she will decide some elections for Republicans.
Posted by: TomR at August 13, 2008 11:50 AM
---
The best thing that Nancy Pelosi could do to address the energy crisis would be to volunteer her head to be the drill bit on the first offshore oil rig under new oil drilling legislation. The hardness of her head would cut through the sea floor to the oil reserves quicker than any existing drill bit.
Posted by: Les at August 13, 2008 01:25 PM
---
The next best thing she could do would be to paint a face on her ass and walk backwards, it would be a hell of an improvement.
and what Moron parents name their kid 'Steny' what is that some kind of joke ? With a name like Steny they knew immediately he had two career choices a fighter or politician, he sure aint no fighter.
Posted by: Mark at August 13, 2008 05:40 PM
---
There's going to be so many restriction on this, it's not even going to be funny. Just keep us dependent on foreign oil! Thanks a bunch you stupid dunderheaded dummys.
Posted by: Lynn at August 13, 2008 07:53 PM
---
Tom, I agree so much, if she does this she better not add one single thing to it. Not one thing.
Posted by: Wild Thing at August 14, 2008 12:18 AM
---
Posted by: Wild Thing at August 14, 2008 12:24 AM
---
Mark, LOL these are hilarious.
Posted by: Wild Thing at August 14, 2008 12:26 AM
---
Lynn, yes she will load it up big time if they don't slam her down about it. She is so horrible.
Posted by: Wild Thing at August 14, 2008 12:28 AM
---