« Vets For Freedom Pete Hegseth Good One! | Main | Hostage Rescue from Columbia ~ 3 U.S. Defense Department Contract Workers and Others »
July 03, 2008
Jodie Evans Code Pink co-founder is Obama Bundler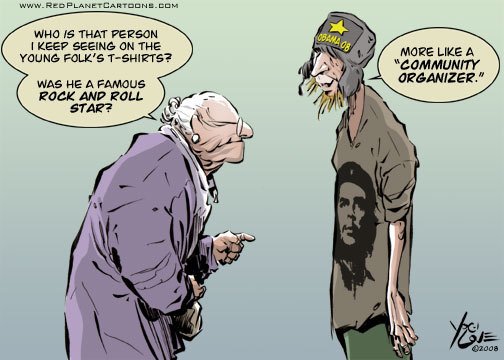 B. Hussein Obama met with his terrorist supporting fundraiser, Jodie Evans, at a $5 million Hollywood fundraiser held last week at the Dorothy Chandler Pavillion on Tuesday, June 24.
It was a big middle finger to the veterans and military families who have urged Obama to renounce Evans, Obama met with Evans and was photographed with her at the fundraiser.

Code Pink 'Bundles' for Barack
Human Events
The co-founder of the radical anti-war group Code Pink has "bundled" more than $50,000 for Sen. Barack Obama's presidential campaign, and pro-troops groups are demanding that he return the money.

Jodie Evans, a Code Pink leader, gathered at least $50,000 from friends and associates and donated it to Obama's presidential campaign, according to information compiled by the nonpartisan watchdog group, Public Citizen.

Evans and her son, a student who lives at her Southern California address, each also gave the maximum individual allowable donation of $2,300 to Obama's campaign.
The donations have raised questions about Obama's association with the more radical elements of his base. Code Pink has harassed, vandalized and impeded military recruiters across the United States in a campaign it calls "counter-recruitment." The group also gave $600,000 to the families of Iraqi terrorists in Fallujah, whom it called "insurgents" fighting for their homes.
Families United for Our Troops and Their Mission, Move America Forward, Military Families Voice of Victory, The Band of Mothers and FreeRepublic.com, issued a statement this week saying Obama should cut ties to his radical bundler.

Obama's campaign did not respond to repeated attempts to get comment on the latest controversy to hit his campaign.
Evans said in an interview last month on June 3 that al Qaeda leader Osama bin Laden had a 'valid argument' for attacking America on Sept. 11, 2001.
When Obama launched his presidential campaign in February 2007, he turned to Jodie Evans, who had just returned from Cuba as a guest of the Castro government where she was protesting against America, to co-host his first big Hollywood fundraiser. He also tapped Evans to bundle between $50,000 and $100,000 for his campaign. Evans personally gave the legal maximum, $2300, to Obama's campaign.
Evans' fellow co-founder of Code Pink, Fidel Castro groupie Medea Benjamin, describing in great detail Evans' meeting with Obama last week:
"Last night Code Pink co-founder Jodie Evans was at a Hollywood bash for Barack Obama. And it was pretty interesting because there was Jodie going up to get her picture taken with Barack Obama. And I don't know if you've seen but some of these right wing groups have been trying to say that Barack Obama is really a communist because he gets money from people like Jodie Evans.

"So Jodie went up to shake his hand and the first thing he said to her without her saying anything is, "I know you Jodie, and Code Pink. And I know that you want me to end this war and bring all the troops home and I am going to do that."

"And he said, "I know that you want there to be no permanent bases in Iraq and I want that too."

"And she said,"But we don't trust you because you just put these policy advisors who are leftovers from the Clinton administration who are not antiwar."

"He said, "Don't worry, I have other advisors and I want to end this war in Iraq."

"And then she said, "But we're worried because you aren't standing up against the FISA bill and for our rights not to be illegally spied on."

"And he said, "I am going to vote against that bill."

"Of course we wanted him to do more, we wanted him to filibuster but he's not willing to do that. She pushed him on that.

"But I bring this up because we have the ability to push from the inside and the outside. And its being right here at this kind of place and places like this around the country that are the antidote to the people that are pushing Barack Obama to be quote centrist, which means a warmonger.

"So we have to keep this fight up. Not just because we want to see this Marine recruiting station closed. But because we want this message to reverberate in the presidential elections and the congressional elections.

"We want Nancy Pelosi to hear it. We want Barack Obama to hear it. We want all of those who are in power now and might have even more power come November to know that we are serious about ending this occupation and this war."
Jodie Evans' record as an anti-American activist is well-known. She travels the world, meeting with the likes of Hugo Chavez and representatives of the so-called Iraqi resistance. In 2005, she had this to say about the terrorists killing and maiming American troops:
"We must begin by really standing with the Iraqi people and defending their right to resist. I can remain myself against all forms of violence, and yet I cannot judge what someone has to do when pushed to the wall to protect all they love. The Iraqi people are fighting for their country, to protect their families and to preserve all they love. They are fighting for their lives, and we are fighting for lies."
Barack Obama has no problem meeting with her, accepting her money and enlisting her aid in his campaign.
Whether he does exactly as she wants when she wants is beside the point. The point is Evans has the blood of American soldiers on her hands--and Obama embraces her without reservation. And he wants to be commander-in-chief.

Here is Jodie Evans official page on Barack Obama's campaign website .
One last quote :

"if justice is to ever come to the people of Iraq, the people we call insurgents will have to be recognized as the ones who are actually defending their homeland."
Jodie Evans sees her savior in Barack – and Michelle – Obama.

Posted by Wild Thing at July 3, 2008 02:47 AM
---
Comments
Rope, tree, no instructions needed. How much of that Communist money went from Obama to Clinton? Medea Benjamin and Jodie Evans are no higher on the evolutionary ladder than that evil Lynne Stewart, other than age the seditious and treasonous bitches could all could be from the same litter.
Posted by: Jack at July 3, 2008 04:05 AM
---
Remember that Code Pinkos are an Obamanation!
These hygienically challenged Amazons are pro-Obamacons too? Pink Zebras, eh?
Posted by: darthcrUSAderworldtour07 at July 3, 2008 05:24 AM
---
That web page is sick and childish. Obama's web site is cultish.
None of these women have volunteered to live in one of the Third World socialist countries they support. Some psychological dysfunction drives them to attack the country they live in and try to change it to one of the septic tank systems that so many others have died trying to escape.
Posted by: TomR at July 3, 2008 09:57 AM
---
These traitors and their savior, Barack Hussein Obama, are the HIV/AIDS of civilized society.
Posted by: Les at July 3, 2008 06:37 PM
---
WHY do we have to have such ignorant people in the US-- She should go live in France or - some other POS country-- !!She has a few screws missing if she thinks Obama is anybody's saviour- what an airhead!! I can't stand these anti- American people!! They should haul their ass!! Obama too-!!
Posted by: Cheryl Zee at July 3, 2008 06:37 PM
---
Jack ditto that, they are a lot alike with that horrible Lynne Stewart.
Posted by: Wild Thing at July 4, 2008 12:13 AM
---
Darth, good one..."Pink Zebras".
Posted by: Wild Thing at July 4, 2008 12:14 AM
---
Tom I agree it is certainly not what someone running for President would or should allow. That website is just what you said.
I will never understand the logic or thinking process in people like these in the post. If they get what they want they will not like it at all.
Posted by: Wild Thing at July 4, 2008 12:21 AM
---
Les they sure are, lots of brain damage they have and they don't know it...yet.
Posted by: Wild Thing at July 4, 2008 12:23 AM
---
Cheryl, I love how you put that. hahaha and I agree totally. Why do we have to have these people that think like this living here.
Posted by: Wild Thing at July 4, 2008 12:25 AM
---