« The Nobama Girl Sings About Obama | Main | Smokey Robinson On Being Black »
July 06, 2008
Iron Maidens Rock for The Troops In Iraq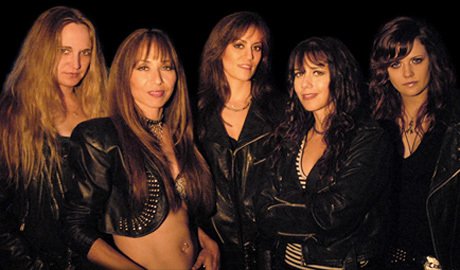 Iron Maidens Rock for Iron Soldiers at Contingency Operating Base Speicher, located near Tikrit, Iraq.
The Iron Maidens World's Only Female Tribute To Iron Maiden performing "The Number Of The Beast" intercut with the original band Iron Maiden.
By Pvt. Alisha Nye
14th Public Affairs Detachment
The Iron Maidens, the world's only all-female Iron Maiden tribute band, rocked an Independence Day concert held at Contingency Operating Base Speicher, located near Tikrit, Iraq.
The band consists of Aja "Bruce Chickinson" Kim on vocals, Sarah "MiniMurray" Marsh and Heather "Adrienne Smith" Baker of guitars, Wanda "Steph Harris" Ortiz on bass, Linda "Nikki Burrain" on drums and, for a limited time only, Guillermo, who is temporarily filling in for Heather Baker.
The Southern California band started in 2001. However, the band was not always strictly female.
"There was already a tribute band with half women and half men," Marsh said. "I saw an ad in the paper around the same time Linda was looking for a project and we thought it'd be cool to make it all-female. So, we fired the guys."
"It was a much more appealing package," McDonald agreed.
The key was finding the right females for the part.
"We knew the girls in LA that would be able to play this type of music," explained McDonald. "It's a very intense music."
It helps, said Marsh, that the members of the band have all been playing Iron Maiden songs since high school.
"It just feels so natural," Ortiz said of playing the metal music.
"It's the only kind of music that really moves me," Kim added.
Since the band launched in 2001 they have slowly gained international recognition and have won awards in categories such as Best Tribute Band and Best in Category (vocals, guitar, bass, drums) from the Rock City News Awards, the LA Music Awards and All Access Magazine Awards Show.
The Iron Maidens brought, in full force, the talent that helped them with these awards to COB Speicher, July 4.
"We've always wanted to come and play in Iraq," Marsh said. "We weren't going to let anything stop us."
That is why they have Guillermo, explained McDonald. He is filling in for Heather Baker, who was unable to make it.
McDonald and Guillermo play in another band together.
"When it came to filling in the position really quickly, I knew he's really talented," said McDonald.
With Guillermo filling in, the band was able to perform without missing a beat. An ability, said Kim, that was just as important to the band as it was to the Soldiers in their audience.
"It's just amazing," said Kim of performing for the troops. "It's not like I would have ever dreamed."
Kim said she didn't think the band would get so close to the Soldiers and it overwhelmed her how excited the Soldiers were to see the Iron Maidens.
"As we encounter all of these wonderful people, it makes me want to stay longer and make them happier," she said.
With the diligence and determination put forth to perform, the Iron Maidens gave Soldiers 90 minutes of time to have fun, rock out and forget where they are for a little while. With all the rocking out going on, the Soldiers gave the Iron Maidens something in return - a sense of thanks.
"Seeing their faces, seeing how excited they were to see us and them thanking us – there's really no thanks necessary," Kim said. "They're the ones that need to be thanked."

Posted by Wild Thing at July 6, 2008 03:45 AM
---
Comments
Only 4 Babylons? Where's the other ... 68 at?
Posted by: darthcrUSAderworldtour07 at July 6, 2008 06:16 AM
---
Sounds like the girls gave the troop a really super time in Tikrit.
Posted by: Lynn at July 6, 2008 07:12 AM
---
YOU GO CRAZY - GIRL!! THAT IS A LITTLE OVER THE TOP FOR ME-- BUT WAY BETTER THAN HO DISSIN RAP - and KILL WHITEY IN THE HOOD--LMAO-! THE DANCING DEMONS LOOKED LIKE THEY WERE ENJOYING IT! OMG!!LOL
Posted by: Cheryl Zee at July 6, 2008 01:42 PM
---
Posted by: Wild Thing at July 6, 2008 05:10 PM
---
Lynn, yes it does. I had never heard of them before. But they are pretty good.
Posted by: Wild Thing at July 6, 2008 05:11 PM
---
Cheryl, yes the troops love this stuff.
Posted by: Wild Thing at July 6, 2008 05:16 PM
---