« B.Hussein Obama's Vision For The Lincoln Bedroom | Main | Raider Soldiers Celebrating Independence Day »
July 06, 2008
Cast From TV Show "The Unit" Visit The Troops
.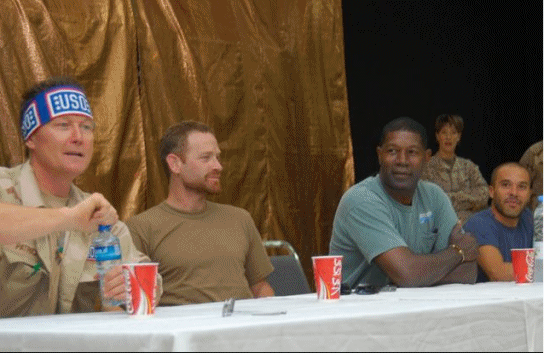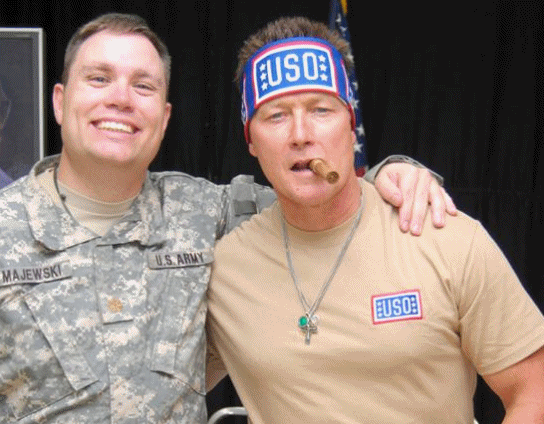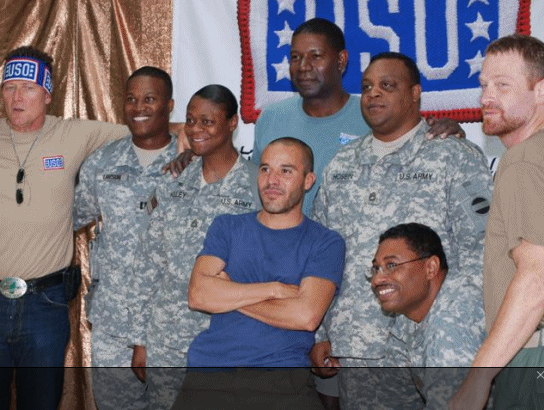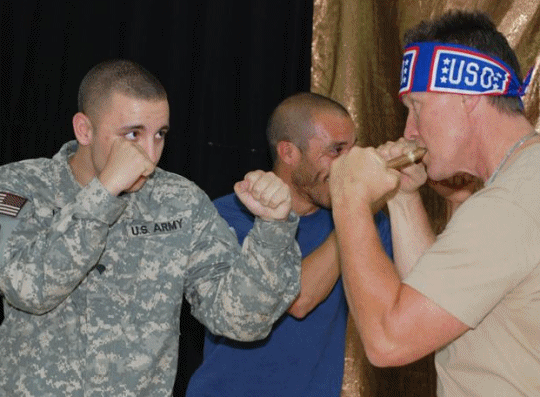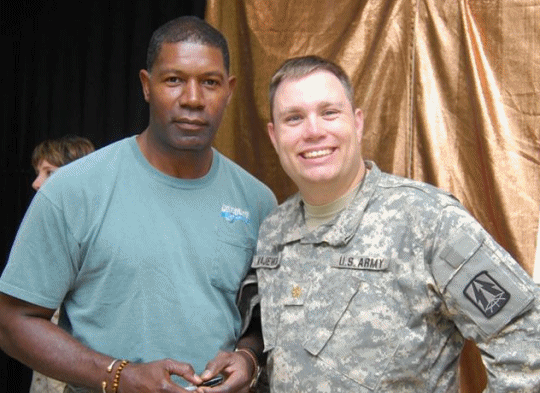 Dennis Haysbert, Robert Patrick and Max Martini, three of the stars of CBS' The Unit, went on a tour of American troops stationed in Kuwait and Iraq . They went to Kuwait and Iraq, where they got to mix it up a bit with airmen, soldiers, sailors and Marines based there.
CBS 46 News reported that Dennis Haysbert, who stars as Jonas Blaine on The Unit, said it was wonderful to be able to spend time with the real men and women their characters are based on. Aside from his character on The Unit, Haysbert also gained widespread recognition for his portrayal of Senator-turned-President David Palmer on several seasons of FOX's hit drama, 24.
For his part, Robert Patrick (Colonel Tom Ryan on The Unit), who is an active member of the United Service Organizations or USO, reportedly remarked that he was glad for the opportunity to meet the real-life soldiers. Patrick first caught the public's attention for going toe-to-toe with Arnold Schwarzenegger as a humanoid T-1000, a souped up version of a Terminator, on Terminator 2: Judgment Day.
Then the actors descended on Camp Liberty in Iraq, where they held a meet, greet and photo session with the soldiers stationed there.
Inspired by the book "Inside Delta Force: The Story of America's Elite Counterterrorist Unit" by Eric Haney, "The Unit" follows the undercover missions and personal lives of a covert team of Special Forces operatives that travel around the globe and routinely risk their lives. Headquartered on the fictitious Fort Griffith, the task force is composed of six trustworthy, brave and dependable soldiers whose reliance on each other creates a unique brotherhood. Broadcast worldwide, the highly-watched series is a hit with the general public and the military.
"It's one thing to portray a member of the U.S. military on television, but it's another thing to meet and hang out with our service men and women," says Haysbert. "Not only do we consider it an honor to depict them in the series, but also a privilege to help share their important work with the world. We're really excited about this USO tour and can't wait to bring a touch of home to them."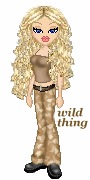 Wild Thing's comment........
Additional video of LIVE shots...... here is a LINK to the VIDEO of their visit

I am so glad the cast of this TV show "The Unit" went to visit the troops. It is an excellent TV show and one of my favorites.
Posted by Wild Thing at July 6, 2008 04:55 AM
---
Comments
A few patriotic actors are not Hollyweirdos! Like in your Bob Hope days Wild Thing!!!
Posted by: darthcrUSAderworldtour07 at July 6, 2008 05:57 AM
---
It's nice to see more famous people heading over there. The troops deserve to have some fun and know that we support them. The USO does good work. I wish all of Fakeywood would go just once and give the troops a good time. I double dog dare those actors who have never gone to look past themselves and stop living just for themselves for once and give back. It's us ordinary folks and the troops who give them their paychecks. Without us, there is no them.

Posted by: Lynn at July 6, 2008 07:05 AM
---
That's so cool! I watched the first season and really liked it but then found that it was hitting too close to home as I adopted more and more troops in the 'Stan. Too real...I've found that I can't watch war movies so much anymore. "Letters from Iwo Jima" was my last. (And I refuse to watch the present liberal drivel coming out of Hollywood. Sam Goldwyn once made the comment, "If you have a message, send a telegram" Heh)
Robert Patrick rode in Rolling Thunder's Run to the Wall on Memorial Day. He was all over the place that weekend, taking pictures and all.
Posted by: yankeemom at July 6, 2008 08:10 AM
---
I kept thinking Patrick looked familar, but couldn't place the face. I never saw any Arnold films so that was no good. But X-files, that's where I remember him from, John doggett.
Posted by: Mark at July 6, 2008 11:29 AM
---
Darth, yes there are a few around, wish there were more.
Posted by: Wild Thing at July 6, 2008 04:02 PM
---
Lynn, DITTO, I dare them too. Sure it is dangerous to go over there but heck that is part of the excitment too of going and they will be protected pretty much anyway.
I agree the actors need to get out of their me me me me me stuff and go and thank those that fight for our freedom.
Posted by: Wild Thing at July 6, 2008 04:09 PM
---
Yankeemom, I understand what your saying, I am weird I guess it works in reverse with me. haha I feel closer to our troops when I can watch war films and TV shows with a military theme.
Thanks so much too for sharing about Robert Patrick and Rolling Thunder that is fantastic. I wish more of showbiz people would do things like that and appreicate what our troops, veterans and all our military has done for them.
Posted by: Wild Thing at July 6, 2008 04:16 PM
---
Mark, thanks I had forgotten that he was in that.
LOL I watch things and then ask Nick, where have I seen that guy before. hahaa
Posted by: Wild Thing at July 6, 2008 04:20 PM
---
"The Unit" is an excellent TV show that pays tribute to the men and women and their families who see to it that we live safer lives in a world filled with crazy people. It's refreshing to see and hear these actors interact and encourage the troops in a positive way. The Dems like John Murtha, Nancy Pelosi, and Harry Reid are chronic complainers with nothing good to say or do except put the country in a funk and depressed state.
Thanks to the actors from "The Unit". They did good.
Posted by: Les at July 6, 2008 05:40 PM
---
Watch Newt's 'Rediscovering God In America' presentaion on www.intouch.org WE THE PEOPLE can make a difference in our decaying society NOW!
Posted by: darthcrUSAderworldtour07 at July 7, 2008 12:56 AM
---
Les, yes it feels good to see guys from action military type shows going to see our troops. Something kind of special in that.
Posted by: Wild Thing at July 7, 2008 03:37 AM
---
Darth thanks for the heads up about that, I will check it out.
Posted by: Wild Thing at July 7, 2008 03:38 AM
---