« Obama: 'If They Bring a Knife to the Fight, We Bring a Gun' | Main | John Kerry Keen To Be US Top Diplomat »
June 16, 2008
Ohio Judge Proud of Che Guevara and Obama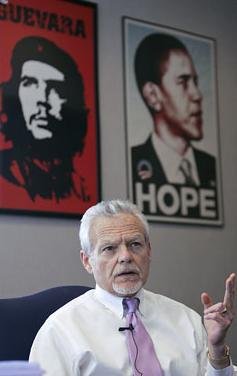 Lourain County Common Pleas Judge James Burge speaks in his office in Lorain, Ohio as posters of Che Guevara and Barack Obama hang on his wall.
Ohio judge: State must change lethal injection law
ELYRIA, Ohio
A judge in Ohio says the state's method of putting prisoners to death is unconstitutional because two of three drugs used in the lethal injection process can cause pain.

Lorain County Common Pleas Judge James Burge said Tuesday the state's lethal injection procedure doesn't provide the quick and painless death required by Ohio law.

Burge said Ohio must stop allowing a combination of drugs and focus instead on a single, anesthetic drug.

The ruling is likely be appealed to the Ohio Supreme Court.

Ohio has executed 26 inmates since it resumed putting prisoners to death in 1999.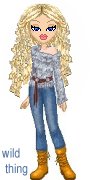 Wild Thing's comment........
Note the poster behind the Judge and it is in his own office. Yep this is in America, times sure are changing. Good grief! ( shaking my head)
Posted by Wild Thing at June 16, 2008 02:45 AM
---
Comments
The Three Stooges. The asshole at the desk is trying to count up to three, and he's stumped at "two". He also doesn't understand that Che was a fan of the death penalty, preferably with a bullet behind the ear.
Posted by: Rhod at June 16, 2008 05:18 AM
---
I'm sure the Judge knows what a butcher Che really was, but like all the left they never acknowledge the atrocities perpetuated by the enemies of this nation or freedom loving people, they revere them. To show a picture of both Che and Obama on the same wall should be a warning to any and all who understand the bloody history of Communist revolution.
Posted by: Jack at June 16, 2008 10:17 AM
---

Val over at Babalu blog had T-shirts with a picture of Che with a bullet hole in his head with a blood line down over his face with the words "STILL DEAD", 2 words say it all...
Posted by: Tincan Sailor at June 16, 2008 04:46 PM
---
Posted by: Wild Thing at June 16, 2008 06:32 PM
---
Jack yes isn't that something. He is making a statement using his wall in his office by what he has done.
Posted by: Wild Thing at June 16, 2008 06:35 PM
---
Tincan Sailor that is great.
Posted by: Wild Thing at June 16, 2008 06:38 PM
---
Some judge, but this is the same area Kucinich is from so it is no surprise.
Posted by: Mark at June 16, 2008 08:04 PM
---
Mark I forgot about that, thanks. That adds to the why of all of this for sure.
Posted by: Wild Thing at June 17, 2008 12:05 AM
---