« Barack's Black Power Black Fist Buddies | Main | Catholic Church To All Rev. Pfleger To Return »
June 10, 2008
Medal of Honor to Private First Class Ross Andrew McGinnis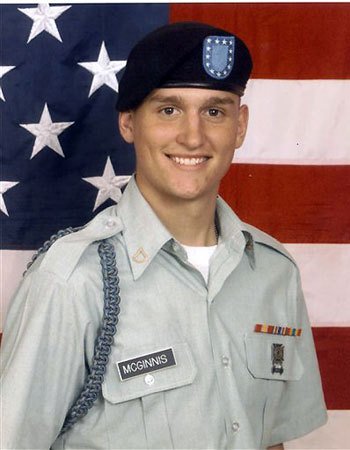 Spc. Ross A. McGinnis Medal of Honor recipient
Army Pfc. Ross A. McGinnis packed only 136 pounds into his 6-foot frame, but few have ever matched his inner strength.
McGinnis sacrificed himself in an act of supreme bravery on December 4, belying his status as the youngest soldier in Company C, 1st Battalion, 26th Infantry Regiment, attached to the 2nd Brigade Combat Team, 2nd Infantry Division.
The 19-year-old amateur mechanic from Knox, Pa., who enjoyed poker and loud music, likely saved the lives of four soldiers riding with him on a mission in Baghdad.
McGinnis was manning the gunner's hatch when an insurgent tossed a grenade from above. It flew past McGinnis and down through the hatch before lodging near the radio. His platoon sergeant, Sgt. 1st Class Cedric Thomas of Longview, Texas, recalled what happened next.
"Pfc. McGinnis yelled 'Grenade! … It's in the truck,'" Thomas said. "I looked out of the corner of my eye as I was crouching down and I saw him pin it down." McGinnis did so even though he could have escaped. "He had time to jump out of the truck," Thomas said. "He chose not to."
Thomas remembered McGinnis talking about how he would respond in such a situation. McGinnis said then he didn't know how he would act, but when the time came, he delivered. "He gave his life to save his crew and his platoon sergeant," Thomas said. "He's a hero. He's a professional. He was just an awesome guy."
Three of the soldiers with McGinnis who were wounded that day have returned to duty, while a fourth is recovering in Germany.
For saving the lives of his friends and giving up his own in the process, McGinnis earned the Silver Star. His unit comrades paid their final respects in a somber ceremony here Dec. 11.
McGinnis was born June 14, 1987, and joined the Army right after graduating from high school in 2005. He had been in the Army 18 months and made his mark even before his heroic deed.
"He was a good kid," said C Company's senior enlisted soldier, 1st Sgt. Kenneth J. Hendrix. "He had just gotten approved for a waiver to be promoted to specialist." He also appeared on the Nov. 30 cover of Stars & Stripes, manning his turret.
Besides his military accomplishments, McGinnis leaves his friends and family with memories of a fun-loving, loyal man.
Pfc. Brennan Beck, a 1-26 infantryman from Lodi, Calif., said McGinnis made others feel better. "He would go into a room and when he left, everyone was laughing," Beck said. "He did impersonations of others in the company. He was quick-witted, just hilarious. He loved making people laugh. He was a comedian through and through."
While having a witty side, McGinnis took his job seriously.
He was not a garrison soldier. He hated it back in garrison," Beck said. "He loved it here in Iraq. He loved being a gunner. It was a thrill; he loved everything about it. He was one our best soldiers. He did a great job."
Beck has memories of talking all night with McGinnis about where they wanted their lives to go, and said McGinnis always remembered his friends. "When I had my appendix removed, he was the only one who visited me in the hospital," Beck said. "That meant a lot."
Another 1-26 infantryman, Pfc. Michael Blair of Klamath Falls, Ore., recalled that McGinnis helped him when he arrived at Ledward Barracks in Schweinfurt, Germany.
"When I first came to the unit, … he was there and took me in and showed me around," Blair said. "He was real easy to talk to. You could tell him anything. He was a funny guy. He was always making somebody laugh."
McGinnis' final heroic act came as no surprise to Blair. "He was that kind of person," Blair said. "He would rather take it himself than have his buddies go down."
The brigade's senior noncommissioned officer, Command Sgt. Maj. William Johnson, also had high praise for McGinnis. "Any time when you get a soldier to do something like that - to give his life to protect his fellow soldiers - that's what heroes are made of," Johnson said.
It also demonstrates, Johnson continued, that the 'MySpace Generation' has what it takes to carry on the Army's proud traditions.
"Some think soldiers who come in today are all about themselves," Johnson said. "I see it differently."
Words from his Mother:
McGinnis' mother said her son drew a soldier in kindergarten when he was supposed to picture what he wanted to be when he grew up.
"Ross decided at a very young age that he wanted to join the Army," she said.
On his 17th birthday -- the first day he was eligible -- Ross McGinnis stepped into the recruiting station and joined the Army through the Delayed Enlistment Program, she said.
Statement from the Father of of SPC Ross A. McGinnis, December 23, 2006
When the doorbell rang Monday evening December 4th, about 9:30, I wondered who would be visiting at this hour of the evening. But when I walked up to the door and saw two U.S. Army officers standing on the patio at the bottom of the steps, I knew instantly what was happening. This is the only way the Army tells the next of kin that a soldier has died.
At that moment, I felt as if I had slipped off the edge of a cliff and there was nothing to grab onto; just a second beyond safety, falling into hell. If only my life could have ended just a moment before this so that I would not have to hear the words they were about to say. If only I could blink myself awake from this horrible dream. But it wasn't a dream.
As the officers made their way into our living room, I rushed back into our bedroom and told my wife Romayne to get up; we had company. And they were going to tell us that Ross is dead. I knew of no other way to say it.
We rushed back out to meet the officers, and then the appointed spokesperson recited the standard message that Private First Class Ross A. McGinnis had been killed in action in Baghdad, Iraq, that day. They could tell us nothing more except that Army regulations required that the family be notified within 4 hours of the event. They offered their sympathy and support, and the Chaplain prayed for our strength in the days to come, and then they left us alone in shock, grief and disbelief.
In the days that followed, we were informed of the details of his death. The entire world probably knows those details now, since there was so much excitement about his heroic deed. Hundreds of family, friends and acquaintances offered us their words of prayer and comfort. But only time will take the edge off the knives that have wedged into our hearts.
Ross did not become OUR hero by dying to save his fellow soldiers from a grenade. He was a hero to us long before he died, because he was willing to risk his life to protect the ideals of freedom and justice that America represents. He has been recommended for the Medal of Honor, and many think that he deserves to get it without the typical 2 years that Congress has required of late. We, his parents, are in no hurry to have our son bestowed with this medal. That is not why he gave his life. The lives of four men who were his Army brothers outweighed the value of his one life. It was just a matter of simple kindergarten arithmetic. Four means more than one.
It didn't matter to Ross that he could have escaped the situation without a scratch. Nobody would have questioned such a reflex reaction. What mattered to him were the four men placed in his care on a moment's notice. One moment he was responsible for defending the rear of the convoy from enemy fire; the next moment he held the lives of four of his friends in his hands.
The choice for Ross was simple, but simple does not mean easy. His straightforward answer to a simple but difficult choice should stand as a shining example for the rest of us. We all face simple choices, but how often do we choose to make a sacrifice to get the right answer? The right choice sometimes requires honor.
Our Bible tells us that God gave up his only son to die for us so that we may live. But Romayne and I are not gods. We can't see the future, and we didn't give our son to die, knowing that he will live again. We gave him to fight and win and come home to us and marry and grow old and have children and grandchildren. But die he did, and his mother, dad and sisters must face that fact and go on without him, believing that someday we will meet again. Heaven is beyond our imagination and so we must wait to see what it's like.
God bless everybody that has comforted us in our time of grief. But we must not forget the men and women who are still putting their lives on the line; we must keep them in our prayers and keep reminding them with gifts and letters that they are loved and that we want them to return safely to their families.

His family has suggested for anybody who wishes to make a memorial donation to send something to a service member overseas, a veteran or local service member and present it as a gift from PFC Ross McGinnis.
Gifts to his unit may be sent to:
SFC Cedric Thomas
1st Platoon, C/1-26 IN
Task Force Blue Spader
APO AE 09390-1537
Posted by Wild Thing at June 10, 2008 03:27 PM
---
Comments
What have we done to deserve men like this?
Posted by: OINK at June 10, 2008 07:20 PM
---
OINK, I know what you mean.
Posted by: Wild Thing at June 10, 2008 07:28 PM
---
He did what he had to do. He knew he had to. He saved his buddies willingly and that's what is so special about these kids. They'll do whatever is necessary without question.
God bless McGinnis and his family. He's a true hero.
Posted by: Lynn at June 10, 2008 08:14 PM
---
Another tale of courage and sacrifice by our troops. Ross McGinnis exemplifies what serving America is about. It is our duty as Americans to never forget these sacrifices.
His father made a statement that I think is great, "Heaven is beyond our imagination and so we must wait to see what it is like".
Posted by: TomR at June 10, 2008 09:46 PM
---