« Soros Down To TWO Paid For Candidates ~ Hillary Announces Campaign Is "suspended" | Main | Guantanamo Arraignment »
June 07, 2008
Legendary Sportscaster Jim McKay Dead at 86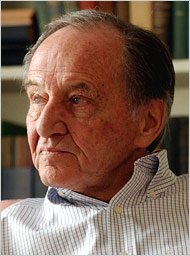 Born James Kenneth McManus
September 24, 1921(1921-09-24)
Philadelphia, Pennsylvania
Served in U.S.Navy, 1943-46

Jim McKay, the veteran and eloquent sportscaster thrust into the role of telling Americans about the tragedy at the 1972 Munich Olympics, has died. He was 86.
McKay died Saturday of natural causes at his farm in Monkton, Md.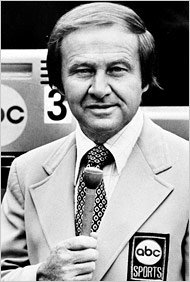 He was host of ABC's influential "Wide World of Sports" for more than 40 years, starting in 1961. The weekend series introduced viewers to all manner of strange, compelling and far-flung sports events.
McKay also covered 12 Olympics, but none more memorably than the Summer Games in Munich, Germany. He was the anchor when events turned grim with the news that Palestinian terrorists kidnapped 11 Israeli athletes. It was left to McKay to tell Americans when a commando raid to rescue the athletes ended in tragedy.
"They're all gone," McKay said.
The terse, haunting comment was replayed many times through the years when the events of Munich were chronicled.
"I had to control myself. I was full of emotion," McKay recalled. "But when you are a professional, it is important to communicate what it is like, to capture the moment."
Sports, McKay said, lost its innocence that day.
"Jim was at his best during what had to be his most difficult assignment, hosting with skill and sensitivity ABC's blanket coverage of the 1972 Munich Olympics hostage crisis," President Bush said in a statement. " We are also grateful for Jim's service to his country as a Naval officer aboard a minesweeper during World War II."
He won both a news and sports Emmy Award for his coverage of the Munich Olympics in addition to the prestigious George Polk award.
A veteran of the U.S. Navy in World War II, McKay was the first on-air television broadcaster seen in Baltimore. He worked at CBS Sports briefly, but did his most memorable work at ABC Sports when it dominated the business under leader Roone Arledge.


Wild Thing's comment.......
Jim McKay was so good and he will be missed. He was such a huge part of sports and the Olympics too.
Posted by Wild Thing at June 7, 2008 07:44 PM
---
Comments
What a great man he was and I'll never forget his coverage of the 1972 Munich Olympic Massacre by islamo terrorists Black September! Losing Jim is like experiencing ".... and agony of defeat!" Jim wasn't egotistical nor about himself. RIP Jim.
Posted by: darthcrUSAderworldtour07 at June 8, 2008 12:20 AM
---
I always looked forward to the Wide World of Sports and Jim's voice. Me and my dad would spend Saturday afternoons together watching whatever sports were on the show each Saturday. Jim was plain and simple Jim. Never flowery or putting something into his announcements that didn't need to be there. He was patient, eloquent, kind. He had a job to do and he did it his way. I wish some other reporters and commentators would follow in his lead.
Jim was one of the best. I'll miss him. God Bless his family.
Posted by: Lynn at June 8, 2008 11:44 AM
---