« Police Shut Down Artist's 'Assassination' Show | Main | Barack Obama Image Makers -- "A Face in the Crowd" ? »
June 05, 2008
UPDATE: Hillary Clinton To Drop Out Of Race On Friday NOPE Now It Is Saturday! LOL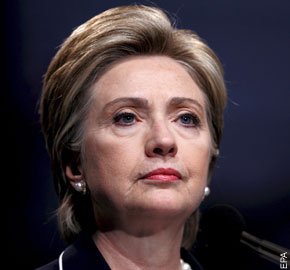 Sen. Hillary Clinton will drop out of the race for the Democratic presidential nomination Friday
Sen. Hillary Clinton will drop out of the race for the Democratic presidential nomination Friday, The Post has learned.
Her decision ends speculation about what she would do after Sen. Barack Obama captured the nomination yesterday.
Last night, a defiant Clinton conceded nothing to Obama.
In a speech at Baruch College, Clinton said she needed time to consider her next move.
Clinton ran down the list of every state she has won, trumpeted the nearly 18 million people who voted for her in this year's contests and demanded that her supporters be given "respect."
Clinton also said she had won the "swing states" needed to get the 270 electoral votes to capture the White House, as her supporters broke into chants of, "Yes, we will!" - a dig on Obama's slogan, "Yes we can!"
But today party leaders began calling for Clinton to drop out, hoping that such a move would encourage party unity.
"I don't see why we don't get on with it and endorse [Obama]," said Rep. Charles Rangel, a Clinton supporter. He said it was only a matter of time before he and other Clinton supporters formally back Barack.
Senate Majority Whip Dick Durbin, an Obama supporter, said Clinton's non-concession "creates a pretty delicate situation here, an awkward situation."
"I don't want to push her. Nobody is going to push her," Durbin said on MSNBC. "But the sooner she does, I think the more likely we're going to be organized and ready to win in November."
There were signs aplenty earlier in the day that Clinton was closing shop. She began bidding campaign staff members farewell, and a number were told not to come to work after Friday. Last paychecks were expected to go out June 15.
Obama, meanwhile, began focusing on who will join his ticket in the fall. His campaign said the vetting of potential running mates was to be managed by a three-person team of Caroline Kennedy, former Deputy Attorney General Eric Holder and longtime Washington insider Jim Johnson.
Clinton has told lawmakers privately that she would be interested in the vice presidential nomination.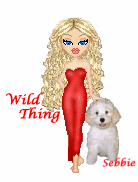 Wild Thing's comment........
This is in the news, but since I don't trust the Clinton's I will wait and see if it happens. Just one of those trust but verify thingie's. haha
UPDATE
From Talking Points Memo
Dear XXX,
I wanted you to be one of the first to know: on Saturday, I will hold an event in Washington D.C. to thank everyone who has supported my campaign.
Over the course of the last 16 months, I have been privileged and touched to witness the incredible dedication and sacrifice of so many people working for our campaign. Every minute you put into helping us win, every dollar you gave to keep up the fight meant more to me than I can ever possibly tell you.
On Saturday, I will extend my congratulations to Senator Obama and my support for his candidacy. This has been a long and hard-fought campaign, but as I have always said, my differences with Senator Obama are small compared to the differences we have with Senator McCain and the Republicans.
I have said throughout the campaign that I would strongly support Senator Obama if he were the Democratic Party's nominee, and I intend to deliver on that promise.
When I decided to run for president, I knew exactly why I was getting into this race: to work hard every day for the millions of Americans who need a voice in the White House.
I made you -- and everyone who supported me -- a promise: to stand up for our shared values and to never back down. I'm going to keep that promise today, tomorrow, and for the rest of my life.
I will be speaking on Saturday about how together we can rally the party behind Senator Obama. The stakes are too high and the task before us too important to do otherwise.
I know as I continue my lifelong work for a stronger America and a better world, I will turn to you for the support, the strength, and the commitment that you have shown me in the past 16 months. And I will always keep faith with the issues and causes that are important to you.
In the past few days, you have shown that support once again with hundreds of thousands of messages to the campaign, and again, I am touched by your thoughtfulness and kindness.
I can never possibly express my gratitude, so let me say simply, thank you.
Sincerely,
Hillary Rodham Clinton
Posted by Wild Thing at June 5, 2008 02:45 AM
---
Comments
The Democrats really showed the country (world for that matter) what they mean by one man/woman, one vote, and every vote counts. Maybe instead of primaries in 2012 the Dems will select their presidential candidate by only counting the votes of the DNC chairman and all the super delegates.
I'm really going to miss the coronation of Hillary Clinton and watching Bill Clinton walk two steps behind her.
Posted by: Les at June 4, 2008 08:18 PM
---
Les, LOL yes that might as well be the way Democrats get to vote.
Posted by: Wild Thing at June 5, 2008 12:16 AM
---
Hellary will NOT be the VP for Obamessiah...Her base will sabotage the elections (pro-Clinton media)and MCCAIN will be our 44th president, but Hitlery will be BACK in 2012....Book this deal! She will do more damage to Obamessiah and McCain as a NY senator!! I believe she will be able to keep her campaign contributions from 07-08 as well...
Posted by: darthcrUSAderworldtour07 at June 5, 2008 12:20 AM
---
This is the nastiest election yet. The spoiled brats have come to play and Hitlery is upset because she didn't win. Wah! I don't win at everything either, but I don't throw a temper tantrum and try to force myself on someone who doesn't want me.
If Obamanation were to pick her, we can rest assured McPain will win. Too many have said they would not vote for that ticket. But what he picks his muslim buddy, Keith "Pork Chop" Ellison? That would be worse. Two black muslims trying to ruin a christian nation. He'd be best picking a white, middle of the road moderate, but he won't. He's too stupid to think of that.
And Hitlery will not concede unless he picks her. She's the meanest woman on the face of the planet.
Posted by: Lynn at June 5, 2008 08:35 AM
---
I guess that Hillary never had that smoking gun. Probably now the two Dems will kiss and make up, but I don't see her really supporting Obama. If he gets in the White House he has a shot at eight years, pretty much negating any further chance for Hillary. She has to know ths and figures she has another shot in 2012 if McCan wins. She may be a clandestine saboteur to the Obama campaign.
Posted by: TomR at June 5, 2008 10:58 AM
---
I don't trust either of them either..It ain't over til it's over.
I'll be happy when I see her drop off the planet
Posted by: DD2 at June 5, 2008 07:08 PM
---
Darth, yes I just can't see him picking her either. He doesn't want ole Bill hangning around either.
Posted by: Wild Thing at June 5, 2008 07:51 PM
---
Lynn....."She's the meanest woman on the face of the planet" I think so too. She is like a oh what was her name Leona Hemsley. Hillary is the Leona Hemsley of politics. haha
Posted by: Wild Thing at June 5, 2008 07:53 PM
---
Tom, if I catch it when she speaks I want to see how tight her jaw is hahaha like gritting her teeth but smiling. heh heh
I think they pretty much hate or dislike each other a lot. Obama would have to have a food taster if she worked too close to him anyway.
Posted by: Wild Thing at June 5, 2008 07:56 PM
---
DD2, I would vote for that!!! You bet! And throw Bill in with that too.
Posted by: Wild Thing at June 5, 2008 07:58 PM
---