« Hero Lt. Col. Allen West's Response to Black Conservatives Voting For Obama | Main | Obama: 'If They Bring a Knife to the Fight, We Bring a Gun' »
June 15, 2008
Happy Fathers Day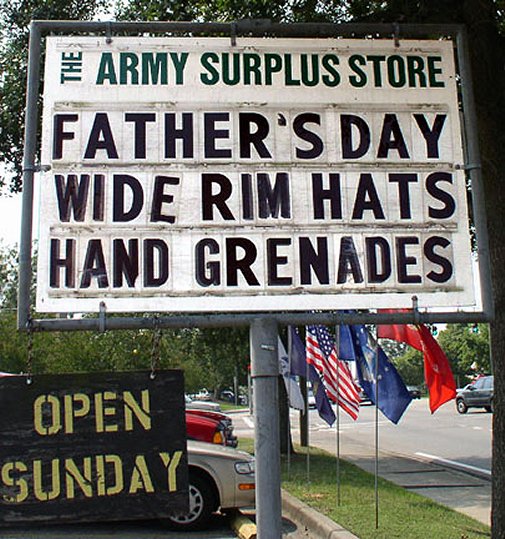 I Love this, it is an actual sign. HAPPY FATHERS DAY!

.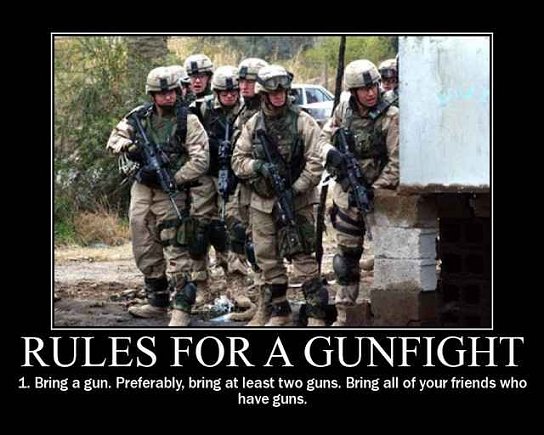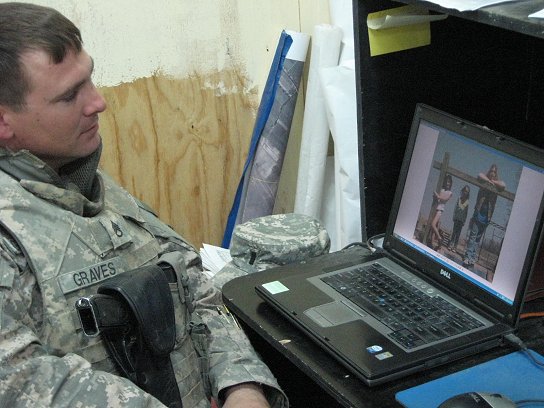 Marine, Soldier, Deployments - Dad Through It All

By 1st Lt. George Fowler
1123rd Transportation Company, 1/152nd Cavalry Regiment, 1st Sustainment Brigade
CAMP TAJI, Iraq – Alone with his thoughts, Staff Sgt. Andy Graves, a Paragould, Ark., native, sits quietly in the "Snack Shack" during his guard shift reminiscing. Presently Graves is a squad leader for the 1123rd Transportation Company, an Arkansas National Guard unit, 1/152nd Cavalry Regiment, an Indiana National Guard unit, 1st Sustainment Brigade, in support of Multi-National Division-Baghdad,
His eyes did not always reflect a digital pattern. His military career dates back to 1995, when he enlisted in the Marine Corps out of high school. Deciding to jump behind the wheel, he enlisted as motor transportation operator and enjoyed life at his first duty station in Okinawa, Japan. While there, he went to Norway twice for cold-weather survival training and to Estonia once for the Baltic Challenge until bidding farewell to the Marines in 1999.
"The Marines were the best time of my life," he recalls.
Despite leaving the Corps, Graves could not put serving his country behind him. A couple months later he enlisted in the Arkansas Army National Guard under the 875th Combat Engineers in Little Rock, Ark. He attended the engineering advanced individual training in 2000 and, ironically, admitted he joined the guard because, "(well) they never go anywhere."
In February of 2003, Graves was pulled out of the 875th with only a day's notice to report to the 1123rd Transportation Company.
"They never go anywhere," consequently landed him in Iraq twice while assigned to the 1123rd Transportation Company.
He spent from April 2003 until April 2004 in Iraq running transportation missions and instead of returning to the engineers he remained with the 1123rd; where he was activated to deploy with the 39th Infantry Brigade Combat Team in 2007. When asked about both deployments, Graves calmly replies, "It's just another deployment."
Yet through the years, deployments, and long training exercises, Graves has the support any Soldier should from his loving wife, Chasity, and his three daughters, Sydney, Madeline, and Adrian. Despite the "Army" way of life his family has become accustomed to, he was able to be home for the birth of his youngest daughter.
"He's not only my dad, he's my hero," says Sydney, the youngest of three girls.
When not serving his country, Graves' enjoys spending some good old fashioned quality family time camping and boating back in Arkansas. He already has plans in the works upon his return in January.
"The thing I miss most during this deployment are my wife and my kids," concludes Graves.


.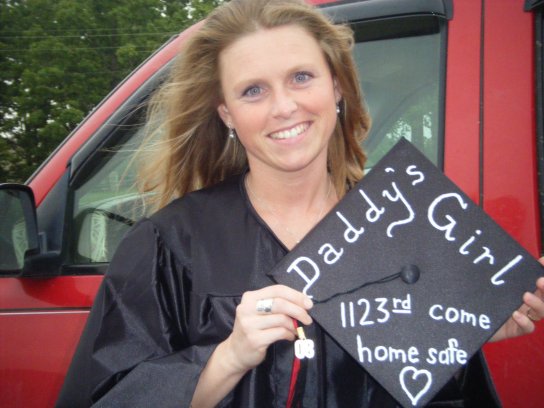 Susan D. Tyree, of Brooklyn, Ark., and daughter of Sgt. 1st Class Michael Mizell, a Bay, Ark., native, shows off her patriotic support at her graduation from Arkansas State University here May 10. Mizell is assigned to the 1123rd Transportation Company, 1st Battalion, 152nd Calvary Regiment, 1st Sustainment Brigade, in support of Multi-National Division- Baghdad, as a platoon sergeant.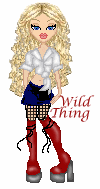 Wild Thing's comment........
Happy Father's Day to all of you that are Dad's!
As we celebrate our Fathers on this Father's Day, please take a moment to say a prayer of thanks to all our "fathers" presently deployed.
And let's also remember all those children of the fallen who feel the pain of that loss particularly painful today. To them, I offer my most sincere gratitude and prayers.
God Bless all our fathers in harms way or away from home as they serve our country. Thank you for all you have sacrificed.
Posted by Wild Thing at June 15, 2008 03:55 AM
---
Comments
Happy Father's Day to all, and what great 'Founding Fathers' we had, eh? Sacrifice, Selflessness and Love for God, Country and Family!
Posted by: darthcrUSAderworldtour07 at June 15, 2008 05:29 AM
---
Happy Fathers Day. I wish I had taken it a bit more seriously when my Dad was alive.
Posted by: TomR at June 15, 2008 12:15 PM
---
Happy Father's Day. Thank you all. Past and present for making this day possible. I helped raise a half dozen brothers and a daughter. I pity the poor child who hasn't that support. Having no sons of my own I have always been partial to this tune, it's for you Chrissie. (((Big Hug)))
Posted by: Jack at June 15, 2008 02:54 PM
---
Thanks, Chrissie. So far I haven't heard from those three soldiers you know...typical...What I really want, though, for Father's Day, is some pineapple hand grenades like the ones we trained with way back when. They were made in 1944. I think the day is coming when I might need them.
Posted by: Rhod at June 15, 2008 03:16 PM
---
Darth, yes our Founding Fathers were awesome, we are very fortunate.
Posted by: Wild Thing at June 15, 2008 05:27 PM
---
Tom, I know what you mean, always know though because of what you have done in your life there are a lot of Dad's that were able to see their families again.
Posted by: Wild Thing at June 15, 2008 05:37 PM
---
Jack, I love this song. It is so perfect and so much of it are like things that happened. haha Thank you Jack and I was a Daddy's Girl. giggle
He always called me his Pal. He was my Hero.
Thank you so much Jack!!!
Posted by: Wild Thing at June 15, 2008 05:40 PM
---
Rhod thanks for the update, I was wondering if they had checked in lately and how they are doing.
Rhod, giggle...."pineapple hand grenades"....I am laughing here but actually it would be a good idea to have them again. We sure are living in unsure times.
Posted by: Wild Thing at June 15, 2008 05:45 PM
---