« America The Beautiful ~ Elvis | Main | Alaska Gov. To Sen. Reid: Start Drilling in ANWR! »
June 25, 2008
Fallujah Security Strengthen in Numbers

Fallujah Security Strengthen in Numbers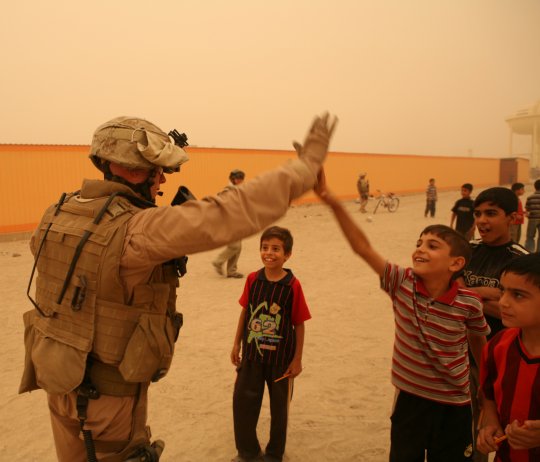 DOD
Cpl. Jonathan C. Austin, communications chief and convoy commander with Company B, Iraqi Transition Team 8, Regimental Combat Team 1, slaps an Iraqi child "hi-five" during a patrol through Fallujah June 9. Austin, a Lincolnton, N.C. native, took a few minutes with some transition members to play soccer with neighborhood childeren during the operation.
FALLUJAH, Iraq– Marines geared for war walk in tactical columns through the once mean streets of Fallujah, ready for what may lay around the next corner.
"Mister, mister shokalata! Shokalata!"shout exuberant children from a crowded neighborhood as Marines and Iraqi police pass out candy.
Marines with Company B, Police Transition Team 8, Regimental Combat Team 1, have been working diligently over the past few months to help train Iraqi police to take over their respective areas and become self-supportive in day-to-day operations in the city.
Recent increases in the number of Iraqi police have drastically subdued the violence in the city.
"These guys are going out on a daily basis by themselves and coming back with suspect arrests," said Lance Cpl. Andrew L. Walker, a 20-year-old police transition team member from Crane Hill, Ala. "For the most part, they are doing a really good job with many of the issues going on here."
Marines with the transition team spend time mentoring Iraqi police and work with them to control the Mauallimeen area. Joint patrols in the city work to strengthen relationships with the IPs and Marines, and offer Marines a chance to evaluate how the police operate in various situations.
Posted by Wild Thing at June 25, 2008 03:45 AM
---
Comments
Hey MSM! It's working. The Surge is working, as planned. I know that good news from Iraq is bad newa for the Leftist media but it is still news guys.
Like B Company Marines, other American troops and civilians are winning hearts and minds all over Iraq and Afghanistan. They have turned this war around and muslim radicals all over the MidEast have to be worried. Just maybe the next generation of Iraqis will be full of people who realize there is a big productive world besides dictators and radical imans.
Posted by: TomR at June 25, 2008 09:11 AM
---
Tom, Amen!
Last night they were discussing on Fox how the media does not tell any of the good news about our troops. I agreed with them except why can't Fox lead the way. Instead it was just something being discussed.
Posted by: Wild Thing at June 25, 2008 05:36 PM
---