« Checking In With Our Troops In Pictures | Main | Obama Too Stupid To Know What July 4th Means Or Does Not Care! »
June 14, 2008
Eagles Cheerleaders In Iraq, Kuwait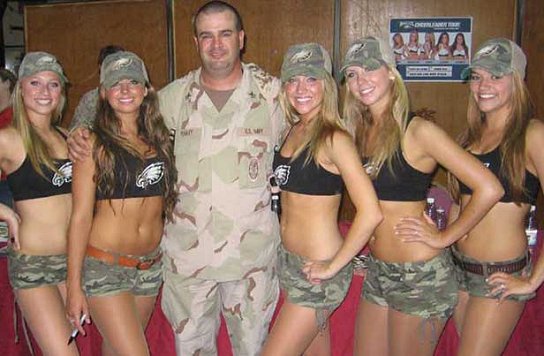 Five of the Eagles Cheerleaders - Kjersti, Laura, Madeline, Nikki and Rachel - left for a 12-day tour of Iraq and Kuwait where they are visiting troops at different U.S. military bases.
Petty Officer First Class Jeff Peasley of the U.S. Navy enjoyed his visit from Eagles Cheerleaders Laura, Rachel, Madeline, Nikki and Kjersti

The five were chosen from among the 38 members of the cheerleading squad and spent 12 days taking part in what they call a "life changing experience."
Cheerleader Rachel Washburn says, "Morale as a whole seems really high" and the troops were happy to see them. She says the cheerleaders "got a really good perspective of what life is like over there."
The cheerleaders prepared a special routine for the troops, which they performed over a dozen times at bases in Iraq and Kuwait.
Cheerleader Madeline Kane says the cheerleaders "actually got to sit down and know these guys" and ask them about their families and their children.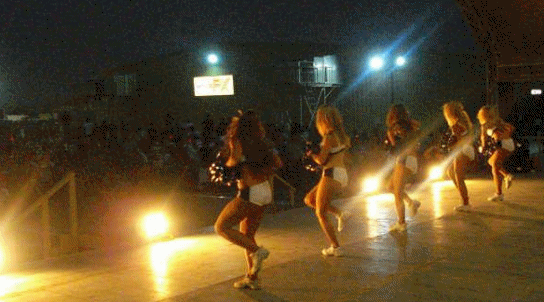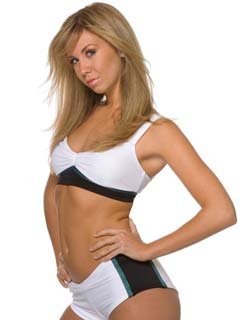 From Nikki's
"First of all, wow, this has been the experience of a lifetime. The men and women keep thanking us for coming, but really we should be the ones thanking them. I am learning so much, this has been a life-changing experience for me. What an amazing team this is, our country is so lucky to have these men and women out here and they work so well together. Everyone has a job they are given and without any one of them nothing would get done, so it is incredible to see how everything is intertwined.
We have been flying to around three bases per day, depending on the weather. I don't mean rain or shine, out here it's more sand or shine. When the wind picks up, it takes the sand with it. If the helicopters or planes don't have a good view that means we are staying put.
We had a chance to sit in a Cobra, which is an attack helicopter, and also in a Huey, which is a bit larger. The guys were great showing us around. We had a ton of fun with them. We got some great pics and went to the area where they spend most of their time which they call Dark Town. It looks exactly like you would imagine. A long, winding staircase can be found inside and it's pretty high up with a great view of the camp, probably the best I've seen. I'll talk to you all again soon, I'm over and out for now.
They say you have to work on your toes over here. It is only our second day and the entire schedule changed because of a "sandstorm" or so they say but we will never really know. We spent our first day at two bases an hour out of Kuwait City, which by the way is amazing. Saddam Hussein destroyed the city and now the people are rebuilding it. In terms of structure, this city really is one of the most unique places I have seen. We first went off to see Camp Freedom.
To get there, we drove down a highway surrounded by nothing except the sandy desert and camels. I found that funny because back home there are plenty of deer and cows, but camel? When we arrived, the place looked like it was abandoned except for some barb wire on the outside. But everyone who lived here were sooo upbeat and friendly. But reality set in when you look up in what was a small treehouse to find a man covered in green mesh with a rifle keeping an eye on unwanted visitors. All things considered, the camp had a very relaxed and friendly atmosphere and the men and women were so grateful we could be there.
After our trip to Freedom, we left for Arifjan. Both Freedom and Arifjan are considered "luxury" bases. Arifjan, however, was much larger than Freedom. The other amenities were the same.
Arifjan in size put freedom to shame, The base was huge, but all other aspect were the same. We met Col. Johnson which was wonderful. I learned so much about what Kuwait has done for us over the years. Things that has gone unnoticed. He, too, was very grateful for us coming over to visit. On Arifjan, we spent time at the hospital visiting the sick. It felt amazing to make them smile. Thankfully, most of them were only there with minor injuries. The visit inspired me as I prepared for our show in the evening. After our performance, we spent a few hours with the soldiers talking and getting to know them. I truly wish we could have stayed longer because I enjoyed hearing all of their fascinating stories.
I can't express how I am soo happy to be a part of this. I have learned so much and can't wait to learn more. This is and unforgettable experience and I'm so glad to share it with all of you. Oh, and just in case if you're wondering, Philadelphia holds its own out here! Talk to you again soon!"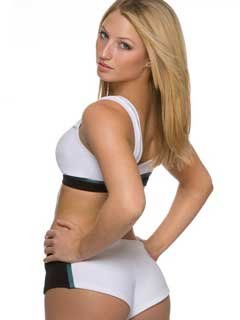 From Laura
Saturday was quite a day. We visited a couple of smaller bases before heading to the one where we slept. We went to one that was an old train station, Al Quaim. The soldiers were stoked that they could meet us and I even had the chance to save a Marine. We were taking pictures on a stage that wasn't against the wall and he was about to fall off when I grabbed his arm and leaned back to pull him back up. I felt pretty heroic. ;) I always hate leaving the bases we visit because we literally are there for pictures and autographs and don't really have time to sit and socialize before we are whisked away in the helicopter. I think they really liked us visiting though and they take great care of us.
Another base we visited was the Korean Village. This one was much different than the others in the sense that it was dirtier. There was sand everywhere: dusty, red sand. There were little shacks and a smaller DEFAC (dining hall). They always give us special treatment though, and we had an exceptional lunch in the "chow hall." Afterwards, they let us check out one of their tanks and take pictures with it. I love learning about what they do over here and how things work, it's probably one of my favorite parts of the tour.
On the way to our last base that we were staying at for the night, we were given the opportunity to sit out the back of the Chinook. At first I was a little timid, but then once I was strapped in and sitting with my legs flying off it was beautiful. We went from looking at sand and a Grand Canyon-like landscape to patches of green and rivers of teal blue. I never knew how many different landscapes Iraq had and it was a great opportunity to see that from this perspective. I just have to say that all the troops out here are amazing, and everything they do is just as important as the next guy's job. They take such pride in their work, and I respect them for that. I truly appreciate everything they are doing over here, and respect them so much more. Thank you guys!"
From Kjersti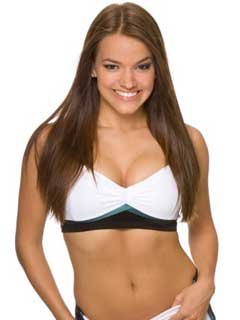 " I can't believe I am sitting in Kuwait typing a blog. It's so exciting to be here, and it's all so surreal. We left Philadelphia on June 1st and arrived in Kuwait late night of the 2nd. We pretty much lost a day due to the seven-hour time difference here in Kuwait. On Tuesday, we woke up at 7 AM and didn't get back until 11 PM at night. I don't think we were expecting such a long day, but we felt it around 2 PM. The lack of sleep and the heat made us a little tired, but we were so happy to be on the bases visiting everyone that we managed to keep a happy face and wide eyes.
During our day we were able to visit two bases: Camp Patriot (KNB) and Camp Arafjan. The servicemen and women were amazing. It was so heartwarming to hear them tell us how much they appreciate us for what we were doing, when we are there to tell them the exact same thing. We took a lot of pictures and signed a lot of autographs. We also had our fair share of Eagles fans, and of course some local Philadelphians. We even received certificates and coins from some of the high-ranking officers. I think those things will be some of the most treasured items I take back home with me along with the experience.
It was about 120 degrees, luckily most of our signings and visits were indoors where there was air conditioning and we were escorted around the bases in vehicles with air. It wasn't until we started prepping for our outside performance that we felt the heat. Our show went great! We got a great response from the audience, and they were so welcoming and happy to see us. I've never in my life danced in such heat, but we made it happen and we lost our voices a bit at the end of the show. Will I do it again? Yes, it was well worth it.
I think I've drank more water here in the past day than I have in the past month back in Philly. This day was long and hot, but I loved every minute of it. Just to see how happy we make the troops makes me feel like I'm doing the best thing in the world. They work so hard out here and it was nice to be able to see it first-hand and show them my appreciation. I definitely passed out that night as soon as my head hit the pillow. I'm still a little messed up from the time change, but we'll be well rested eventually. Drink your water! Till next time."

CLICK link below and there is a video there you can click on as well.
6abc.com has more coverage of the Eagles Cheerleaders trip to Iraq and Kuwait.
Posted by Wild Thing at June 14, 2008 03:45 AM
---
Comments
"WE Super Bowl Champion NY Giants want to know WHEN Filthadelphia will win their FIRST Super Bowl? And how many cheesesteaks daily does Coach Andy Reid partake of?"
Note: 42 Super Bowls have been played and the Eagles are 0-2.... And Dallas has won 5, Red Skins 3 and NY Giants 3!
Posted by: darthcrUSAderworldtour07 at June 14, 2008 06:17 AM
---
When are these cheerleaders going to visit me?? I have sent them all love letters with my phone number and address, but haven't heard back from them. Darn! Guess that must be a long line of dirty old men ahead of me. So many dirty old men, so few cheerleaders!
Posted by: TomR at June 14, 2008 01:52 PM
---
Darth, um er ah well I would have to ask the Eight ball those questions. hahaha
Posted by: Wild Thing at June 14, 2008 07:29 PM
---
Tom, LOL that is funny.
I love that you were Army and Airbourne, totally cool. Thank you sooooo much for your service and I was thinking of you when I saw this story. heh heh
Hey Mr.Mailman get those letter my friend Tom sent to their destination asap. giggle......
Posted by: Wild Thing at June 14, 2008 07:33 PM
---
Our Miss Blue State ? is giving up her crown soon, and will try out in Big D for a spot on the 2008 Dallas Cowboy Cheerleaders squad? She's to beautiful and talented for the Eagles. In old Veteran's Stadium, the artificial turf prevented the Eagles cheerleaders from grazing!
Posted by: drstrangeloveb52isok at June 15, 2008 12:33 AM
---
drstrangeloveb52isok, that is interesting, she will do great with the Dallas Cowboy cheerleaders.
LOL You are so funny about Eagles. giggle
They all have a lot of talented girls and I am thrilled they go visit the troops. I am not sure if they all do but I think so.
Posted by: Wild Thing at June 15, 2008 04:19 AM
---