« Matthis Chiroux US soldier refuses to serve in 'illegal Iraq war' | Main | Clear and Present Danger »
May 18, 2008
Vietnam Memorial For Residents of North County Dedicated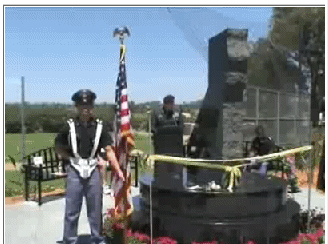 CARLSBAD: Vietnam memorial for residents of North County dedicated

You can WATCH THE VIDEO HERE

A memorial to North County service members who died in the Vietnam War was dedicated Saturday at Maffucci Field in Carlsbad, across from the Army and Navy Academy.
The brainchild of Jack Frazier, a world history teacher at Carlsbad High School since 1989, the dedication marked the end of a personal journey that lasted five years.
Frazier said his inspiration for the project came in 2003, when he attended a conference in Washington D.C., sponsored by the Vietnam Veterans Memorial Fund to help educators teach about Vietnam in the classroom. Frazier was encouraged to find creative ways to engage students and motivate them to honor the memory of veterans in their home town.
At first, his students started out researching the names of veterans from Carlsbad High School, Frazier said. They found the names of 133 men from all over North County.
So impressive was the project that it won the 2003-04 North County Educators Project of the Year Award.
More than 800 students from Carlsbad High including members of the community, business owners, family members of those honored and local civic organizations have helped by donating time and resources to bringing this project to fruition. Frazier said that people from as far north as Orange County have come down to help with the project.
Brig. Gen. (Ret.) Stephen Bliss of the Army and Navy Academy, a highly decorated veteran of the war himself, said that after being presented the idea of having the memorial placed on the grounds of the academy, he immediately took the idea to the board of trustees and got their approval. A location was found that everyone agreed was an ideal spot.
Five Army and Navy Academy graduates are among the 133 names on the memorial.
Jan Scruggs, founder of the Vietnam Veteran's Memorial in Washington D.C., said the memorial will help to keep history alive and honor those who have served as well as those now serving in the armed services.
"Jack Frazier is a great patriot who wasn't afraid to take action," Scruggs said. "He epitomizes the spirit of the veteran to sacrifice for others."
Frazier said many obstacles were overcome to complete the project. He said that at times he encountered resistance from local leaders, politicians, anti-war groups and individuals still angry about the conflict in Vietnam.
For many of the Vietnam veterans at the dedication, the monument represents an opportunity to heal. Having received less than a hero's welcome upon returning home, veterans of the conflict felt ashamed and as a result, buried the memory of their military past.
Norm Ream of Encinitas said, "The day I got back, I was headed to have my first legal drink in the United States, and I was spat upon."
Other veterans recalled being called baby killers and having been asked how many villages they burned down.
Frazier said his healing didn't begin until the final day of his trip to Washington D.C. in 2003.
After being urged by a friend to visit the wall, he found the name of a cousin who was killed in the conflict. He said that when he touched the name of his cousin, he nearly had a nervous breakdown. So moved was he by the experience that he cried for nearly an hour and had to be helped to his feet.
Now that the memorial has been dedicated, he said, "everything is going to be alright."
Some at the ceremony said the monument gives those who lost loved ones in the conflict an opportunity to honor their memory without having to travel all the way to Washington D.C.
Organizers said they expect the memorial to become a destination for people who wish to pay their respects to the those who gave their lives in Vietnam.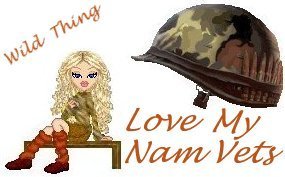 Wild Thing's comment.......

"At first, his students started out researching the names of veterans from Carlsbad High School,"
I love how they had the students do this. To get them involved, they will remember those who served more by the fact they did research to learn about them.
This would be great if this could happen across our land instead of how so many teachers want to re-write history and lie about the Vietnam War.
Posted by Wild Thing at May 18, 2008 10:45 AM
---
Comments
The history books in school are so wrong, it's not funny anymore. What I learned about something in history is NOT how my own kids learned it.
I am so glad to see that there still are teachers out there who are willing to show the truth.
This is very nice.
Posted by: Lynn at May 18, 2008 11:25 AM
---
What a great story. I watched the video of the news story. It is a beautiful black granite monument. The people looked like ordinary clean cut Americans. Also, there was no mention of any protests. This is the way America is supposed to work. Carlsbad California is sure different from Berkeley.
Posted by: TomR at May 18, 2008 11:48 AM
---
Lynn is so right about the history books and what kids are taught about history in schools today. The Internet with it's video, blogs, and email sharing of the truth is our only chance of survival as a democracy.
This story is refreshing and it is good to see that some of the current generation know and appreciate what went on in Vietnam and the sacrifices that their neighbors made so that they can live in a free and democratic country.
Posted by: Les at May 18, 2008 01:37 PM
---
Thank you WT.
You are so right Lynn.
When I was a youngster we ranched along a tract of the Oregon Trail, out hunting one day I found a pioneer's grave marked only by stones, no name, no date, no indication of the cause of the passing but to be discarded, unrecorded in an unmarked grave, only a memory by their family, it must tear at the hearts of all mankind.

Most of all thank you to Jack Frazier, the students at Carlsbad High School and the citizens of North County for the great honor bestowed upon a great generation.

Posted by: Jack at May 18, 2008 02:19 PM
---
Lynn, yes they sure have changed the history books. I was so naive the first time I heard about how they have been doing that. I thought it would be against the law to re-write history and make it lies like they have. But apparently it is ok and they sure have gotten away with it.
Posted by: Wild Thing at May 18, 2008 04:59 PM
---
Tom yes it is completely different then Berekley. It is also a really pretty area too.
This story could have made such a great story this week on the TV news for Armed Forces Day. Or ANY day actually.
Posted by: Wild Thing at May 18, 2008 05:01 PM
---
Les, I agree, I learn so much more from the internet then I do on TV. It is funny too because a lot of the time I will post about something and it might even be two days later it might be on Fox news. hahaha The internet is instant and has so many more resources for information to all of us.
Posted by: Wild Thing at May 18, 2008 05:04 PM
---
Jack wow what a story, thank you for sharing about that.
Posted by: Wild Thing at May 18, 2008 05:05 PM
---