« In Country With The Striker Brigade | Main | Democrat Vote For Sale $20 Million Askng Price »
May 08, 2008
Navy Names New Guided-Missile Destroyer USS Michael Murphy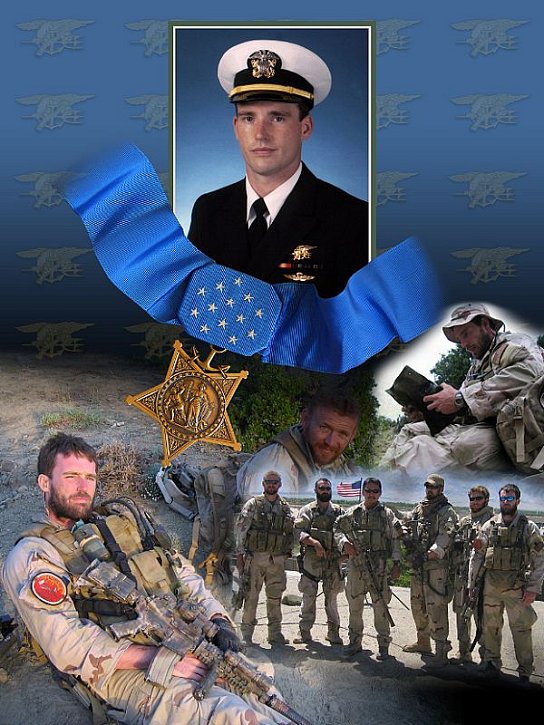 Navy Times
LAKE RONKONKOMA, N.Y.
Secretary of the Navy, Donald C. Winter announced on May 7 at a ceremony in Lake Ronkonkoma, N.Y., the name of the newest Arleigh Burke-class guided-missile destroyer will be USS Michael Murphy. Designated as DDG 112, the name honors Lt. Michael Murphy who was posthumously awarded the Medal of Honor for his heroic actions during Operation Red Wing, in Afghanistan on June 28, 2005.
"Michael Murphy's name which will be forever synonymous with astonishing courage under fire will now be associated with one of the U.S. Navy's most technologically advanced, most powerful and most capable warships," Winter said.
Michael Murphy's hometown of Patchogue, N.Y. held a dedication ceremony memorializing a park bearing Murphy's name. Michael P. Murphy Memorial Park contains a black granite wall dedicated to the men lost in Operation Red Wing with each member's name inscribed. In the center of the memorial, a black granite stone is embedded into the floor of the plaza bearing the picture of Murphy and his Medal of Honor.
"Every Sailor who crosses the brow, every Sailor who hears the officer of the deck announce the arrival of the commanding officer, and every Sailor who enters a foreign land representing our great nation will do so as an honored member of USS Michael Murphy," Winter said.
USS Michael Murphy will be one of the U.S. Navy's most advanced, state-of-the-art warships in the fleet. With the combination of Aegis, the vertical launching system, and advanced anti-submarine warfare system, advanced anti-aircraft missiles and Tomahawk cruise missiles, the Arleigh Burke-class continues the revolution at sea.
Utilizing a gas turbine propulsion system, USS Michael Murphy will be able to operate independently or as part of carrier strike groups, surface action groups, amphibious ready groups, and underway replenishment groups.
USS Michael Murphy will be the 62nd Arleigh Burke-class destroyer. She is 509.5 feet in length, has a waterline beam of 59 feet, displaces approximately 9,200 tons, has a crew size of 323 (23 officers and 300 enlisted) and she will make speed in excess of 30 knots.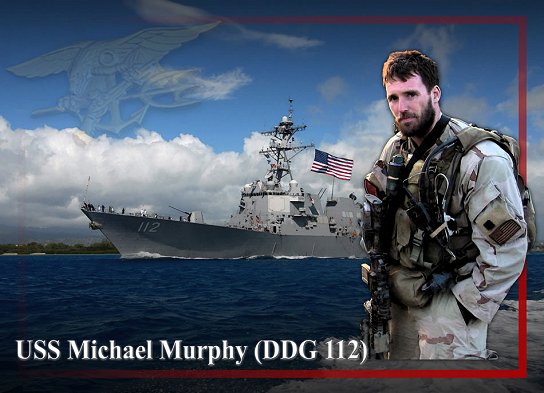 WASHINGTON (May 7, 2008) A photo illustration of the guided-missile destroyer USS Michael Murphy (DDG 112). The ship will be named after Lt. Michael P. Murphy (Sea, Air, Land) who was posthumously awarded the Medal of Honor for his actions during combat in Afghanistan on 27 and 28 June 2005. U.S. Navy Photo Illustration by Mass Communication Specialist 2nd Class Jay Chu
Murphy and three fellow SEALs were searching for a terrorist in the Afghan mountains on June 28, 2005, when their mission was compromised after they were spotted by locals, who presumably reported their presence and location to the Taliban. A fierce firefight ensued, with more than 50 anti-coalition militia firing on the outnumbered SEALs. Despite the intensity of the firefight, Murphy _ already wounded _ is credited with risking his own life to save the lives of his comrades by moving into the open for a better position to transmit a call for help. While continuing to be fired upon, Murphy provided his unit's location and the size of the enemy force. At one point he was shot in the back, causing him to drop the transmitter. Murphy picked it back up, completed the call and continued firing at the enemy who was closing in. Murphy then returned to his cover position with his men and continued the battle.
By the end of the two-hour gunfight, Murphy and two of his comrades were dead. An estimated 35 Taliban were also killed. The fourth member of their team managed to escape and was protected by local villagers for several days before he was rescued.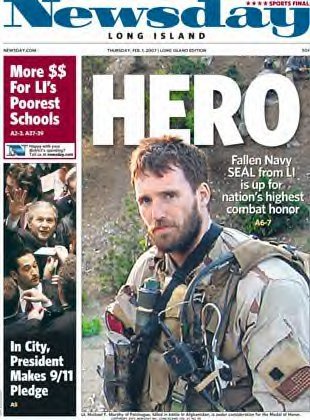 And this from The NewsDay article says:
" ...The unit was reported to be trailing a high-ranking terror leader near 10,000-foot peaks when they were ambushed and overrun by scores of insurgent fighters on June 28, according to Newsday interviews and media reports. The newspaper Navy Times reported in October that Murphy's actions -- "far outnumbered and surrounded by enemy" -- were being reviewed for the U.S. Navy's first Medal of Honor awarded since the Vietnam War.

A troop transport helicopter that sped to their rescue with eight Navy SEALs and eight Army commandos aboard crashed after being hit by a rocket-propelled grenade. All aboard were killed. A single member of Murphy's team managed to elude capture, and eventually was reunited with U.S. forces.

Relatives of the SEALS have said the lone American survivor told them that Murphy came to his rescue when he was trapped by insurgents during the battle, according to the interviews and reports.

The survivor also told relatives that Murphy was shot when he climbed to higher ground and into the open to send an electronic call for help. Wounded, Murphy completed the call, then continued fighting. It is this action that is believed to be at the heart of his consideration for the Medal of Honor.

Two of Murphy's colleagues who were killed in the firefight -- Sonar Technician 2/C Matthew G. Axelson and Gunner's Mate 2/C Danny Dietz -- were awarded the Navy Cross, second only to the Medal of Honor, during a posthumous ceremony in September.

The lone survivor, whom the Navy has not named because he has returned to covert duty, also received the Navy Cross in a private ceremony. "
Posted by Wild Thing at May 8, 2008 10:47 AM
---
Comments
Michael Murphy's story is an exciting story of heroism on the part of 20 Americans. Nineteen of them were killed.
I hope the USS Michael Murphy serves well.
Posted by: TomR at May 8, 2008 12:19 PM
---
This is so fantastic!!!
Love it!!!
That's who we should name Destroyers after--our great heroes.

Posted by: Lynn at May 8, 2008 12:27 PM
---
Tom,yes me too. A special Destroyer for another special destroyer of the enemy.
Posted by: Wild Thing at May 8, 2008 04:13 PM
---
Lynn I agree, that is just how it should be done.
Posted by: Wild Thing at May 8, 2008 04:14 PM
---
I am so proud to be part of a country with such patriots as Michael Murphy and his 19 other comrades in arms. They are the bright spots in the fabric of the nation outshining the chronic complainers and those like Michelle Obama and her pastor of 20 years, Jeremiah Wright, who are consumed with hate and only see the country as evil.
Posted by: Les at May 8, 2008 04:50 PM
---
The Murphy,A fast ship going in Harms way,a true
Gray hound of the Sea!!! Once a Tincan Sailor
Always a Tincan Sailor.I would give a years pay
to do a cruise on that "CAN"
Posted by: Tincan Sailor at May 8, 2008 06:25 PM
---
Les, yes America has such awesome people in our military.
Posted by: Wild Thing at May 8, 2008 10:20 PM
---
Tincan Sailor, well said!!
Posted by: Wild Thing at May 8, 2008 10:22 PM
---
Even Neptune and Poseidon have welcomed Salty Murphy into their realm...Murphy is the salt of the earth...FREEDOM ISN'T FREE! God bless DDG 112
and SAINT MICHAEL and his family! St. Michael was THE DRAGON SLAYER!!
Posted by: darthcrUSAderworldtour07 at May 9, 2008 12:07 AM
---
Love how you put that Darth.
Posted by: Wild Thing at May 9, 2008 12:02 PM
---
That is just so very very cool.
Posted by: cuchieddie at May 9, 2008 07:21 PM
---
Cuchieddie I am so glad you got to see this. Thank yo ufor coming by.
Posted by: Wild Thing at May 9, 2008 08:18 PM
---