« Children's Book Explains Why Mom Deploys | Main | A Special Lapel Pin For B. Hussein Obama »
May 11, 2008
Michelle Obama Says NO To Hill For Veep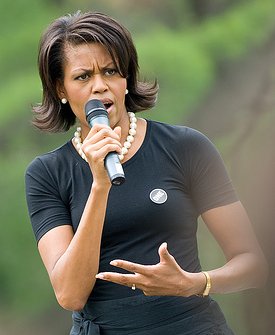 Michelle Says NO To Hill For Veep
by Robert Novak

May 10, 2008
CLOSE-in supporters of Sen. Barack Obama's presi dential campaign are convinced he never will offer the vice-presidential nomination to Sen. Hillary Clinton for one overriding reason: Michelle Obama.

Obama's wife didn't comment on other rival candidates, but she has been sniping at Clinton since last summer.

Obama sources say those public utterances don't reveal the extent of her hostility.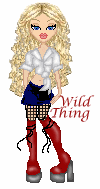 Wild Thing's comment........
I guess that's that. LOL The Michelle has spoken! Is she going to Veto the bills too?
Michelle is dumber than a bag of bricks - she never thinks before she talks - she can't tolerate Hillary. LOL
Posted by Wild Thing at May 11, 2008 03:50 AM
---
Comments
VP will be John Brylcreme Edwards... MO could be that stuntwoman from Planet of the Apes?
Posted by: darthcrUSAderworldtour07 at May 11, 2008 06:17 AM
---
What's she gonna do? Cut his food, too? Bathe him so his hands don't have to touch the soap?
I guess she thinks she's attached to him in other ways besides being married to him. Like she's in charge and he's well, just a puppet.
Posted by: Lynn at May 11, 2008 06:32 AM
---
She always looks so happy, I'm reminded of a French colloquial idiom for Michelle, Ordonnance or simply 'Batman', in this instance a mouthy one, look at the size of that Turd. Of course during my service we had something similar, those who burned the drums for the officers were our latrine orderlies, for the rest of us mortals they were the sanitation engineers, nobody liked that job either. Sorry Lynn, that image just popped into my itty bitty mind.
Posted by: Jack at May 11, 2008 07:29 AM
---
A USA TODAY article reminded it's readers that, "In 1992, when he was running for president, Bill Clinton bragged that his brainy lawyer wife would give voters "two for the price of one."" This year, voters are faced with a three for the price of one. Barack Obama, Michelle Obama, and Michelle Obama's not proud of the country, chip on her shoulder, racist, and forever the victim depressing mouth.
Posted by: Les at May 11, 2008 06:56 PM
---
Darth, thanks, let's see hmmmm I want to write in Winnie The Pooh. haha
Posted by: Wild Thing at May 11, 2008 07:39 PM
---
Lynn I think your right. She is horrible, bitter, mean and bossy. YUK
Posted by: Wild Thing at May 11, 2008 07:42 PM
---
Jack, Hahahahhaa well it is a fitting description.
Posted by: Wild Thing at May 11, 2008 07:43 PM
---
Les, well said and so true.
Posted by: Wild Thing at May 11, 2008 07:46 PM
---
I think we ought to get Hillary and Michelle in a room together, lock the door for a few hours, and see who survives!!!!!!!!! LOL
Posted by: John at May 12, 2008 12:03 PM
---
WoW.......How would you like to wake up every morning and see a face like that staring back at you?!?!?!?! And if Obama is a Muslim, can't he just tell her to shut up?!?!?! Jeesh.....these clowns need to join the circus!!!!!!
Posted by: John at May 12, 2008 12:05 PM
---
What a skanky whore. I'd love to smack those fat lips with a 2X4
Posted by: cuchieddie at May 12, 2008 06:55 PM
---