« To Those Who Gave Their All | Main | Harley Davidson Memorial Day Salute »
May 24, 2008
Memorial Day Weekend Events
There will be posts today (Saturday), Sunday
and Memorial Day Monday Tribute posts
.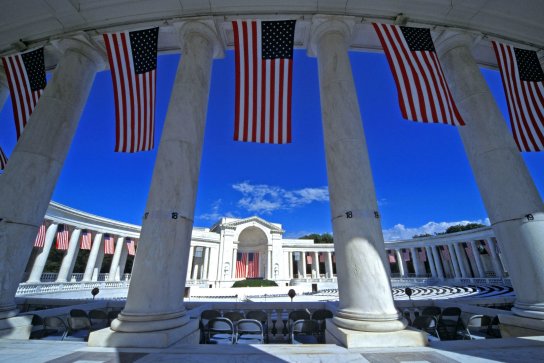 MEMORIAL CEREMONY - 5-23-08 - A patriotic ceremony honoring the service and sacrifice of America's military members is scheduled in the Amphitheater at Arlington National Cemetery for Memorial Day, May 26, 2008. The 140th observance of Memorial Day will be hosted by U.S. Army Maj. Gen. Richard J. Rowe Jr., commanding general, U.S. Army Military District of Washington and Joint Force Headquarters National Capital Region. U.S. Army photo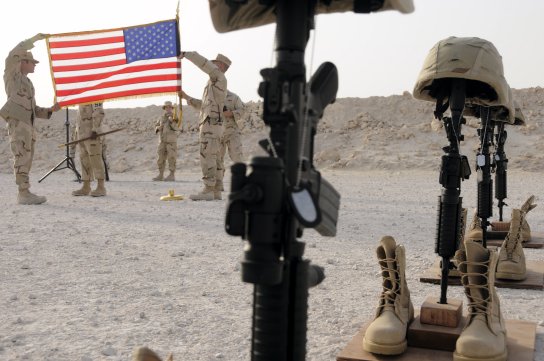 Paying tribute - Airmen at a base in Southwest Asia held a "final guardmount" ceremony May 15 to honor those who have fallen in combat. (U.S. Air Force photo/Senior Airman Domonique Simmons)
PBS unites our nation with the award-winning National Memorial Day Concert honoring the service and sacrifice of our men and women in uniform, their families at home and all of those who have given their lives for our country. The event, which has become the memorial service for our entire nation, is co-hosted by Gary Sinise (CSI: New York) and Tony Award-winner Joe Mantegna (Criminal Minds), two actors who have dedicated themselves to veteran's causes and supporting our troops in active service.
The top-rated show will be broadcast live on PBS from the West Lawn of the U.S. Capitol on Sunday, May 25, 2008
from 8:00 to 9:30 p.m. (check local listings)
before a concert audience of 300,000, millions more at home, as well as to our troops serving around the world on the American Forces Radio and Television Network.
The all-star cast includes Gladys Knight, Sarah Brightman, Idina Menzel, Denis Leary, Charles Durning, General Colin Powell and Rodney Atkins in performance with the National Symphony Orchestra under the direction of maestro Erich Kunzel.
Posted by Wild Thing at May 24, 2008 01:55 AM
---
Comments
Yesterday the new Russian President met with the Communist Chinese President in Beijing and signed a nuclear power agreement...And if we don't smell the coffee soon... Memorial Day will be a thing of the PAST! This is serious, and with islamofascist nations like Iran and Syria allying with them... Armegeddon will arrive sooner than we think. They will bring US down ECONOMICALLY first. And only a few of US get it....
Posted by: darthcrUSAderworldtour07 at May 24, 2008 05:21 AM
---
I hope C-SPAN covers Rolling Thunder's ride and event at the Vietnam Memorial. It is always inspiring.
The National Memorial Day Concert is also always a hit. I let other people run to the malls for special sales. Memorial Day has deep meaning to me and I stay home and reflect on the price America has paid on battlefields for freedom.
Posted by: TomR at May 24, 2008 08:07 AM
---
I wouldn't be surprised if sometime soon that there is a movement to do away with Memorial Day because it is offensive to some groups of people. I can see it led by someone who is not proud of the country and sees an opportunity in a friendly Socialist White House and anti-military Congress.
So, let's privately and publicly remember and honor those men and women who died in military service to their country while we still can on a national recognition day.
Posted by: Les at May 24, 2008 10:50 AM
---
Les is on to something. The Brits seem to have accepted that the era of monuments is over, and the recognition of empire and military success, even the flag itself, are obsolete as expressions of patriotism.
That kind of thinking is settling in here, too, as our "approved" wars are receding in time. Patriotism itself is condemned as nativist, and military service is ignoble.
Barack Obama represents a growing constituency for the belief that social action through politics, and the endless search for the next human needs, is the only true patriotism. Only a society or class that hasn't paid any price for its comforts can see life in this way.

Posted by: Rhod at May 24, 2008 05:45 PM
---
C-SPAN 5:55est Rolling Thunder.
Political correctness in America now is requiring all Confederate monuments be taken down.
Posted by: TomR at May 24, 2008 05:52 PM
---
We live in a small village. Every Memorial Day they have a parade. Sometimes it passes in front of the house, but more often we have to walk down to the corner to watch it. Small but nice. Never have taken any pictures but now may.
Posted by: Bob at May 24, 2008 05:57 PM
---
Darth your right only a few of us get it in our country. I am amazed how little people care.
Posted by: Wild Thing at May 24, 2008 06:46 PM
---
Tom thank you so much. I was hoping they would show it on C-Span. I hope to get some photos to post like last year.
We don't do the mall stuff either, I wish they didn't have the stupid sale things on this weekend. I wish so much I could make people see what Memorial Day is about.
Posted by: Wild Thing at May 24, 2008 06:48 PM
---
Les, that is really scary but you know what I could see them do that or try to. I hope and pray if they do there will be enough outrage that it will stop them from stopping Memorial Day.
Posted by: Wild Thing at May 24, 2008 06:58 PM
---
Rhod your right, like some places that will not allow the American Flag to be flown, it all has begun in our country and even parades and celebrations in many areas have been cancelled. The disrespect for our Flag, our military by the left is sickening.
They better not do it around me.
Posted by: Wild Thing at May 24, 2008 07:09 PM
---
Tom......"Political correctness in America now is requiring all Confederate monuments be taken down."....good grief they just won't leave things alone. grrrrr
Posted by: Wild Thing at May 24, 2008 07:11 PM
---
Bob, how wonderful!! I love parades and to have it so close that is fantastic.
Posted by: Wild Thing at May 24, 2008 07:12 PM
---
PC? GOD bless diXie and our four U.S. state flags of Alabama, Florida, Georgia and my favorite: Eli Manning's Ole Miss (St. Andrew's Cross)! Georgia has already seen THREE state flag changes over the past 9 years, eh? In 1860 we had the abolititionists and today we have the blame America 'PC' crowd of APOLOGIZERS...
Frau Vader, von Dusseldorf, say's "GOOD guys wear ...GRAY!"! Now ya'll know why our second home is in the Palmetto RED State.
Posted by: darthcrUSAderworldtour07 at May 24, 2008 11:42 PM
---
Darth thanks, love your comments.
Posted by: Wild Thing at May 25, 2008 01:02 AM
---