« What Do Vikings and Afghanistan Have In Common? | Main | Michelle Obama Under Fire for 2004 Letter Defending Partial-Birth Abortions »
May 22, 2008
GI Film Festival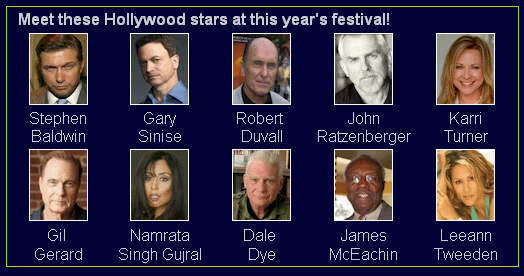 Great video......Please CLICK THIS LINK to see some awesome things about it and what our Veterans and supporters of our military are saying about the GI film festival.
The GI Film Festival, is the first film festival in the nation to exclusively celebrate the successes and sacrifices of the American military through the medium of film. The four-day festival will be held on May 14-18, 2008 in Washington DC.
The GIFF will present films from new and established international and domestic filmmakers that honor the heroic stories of the American Armed Forces and the worldwide struggle for freedom and liberty. Some of the films screened will be fan favorites. Others will be screened for the first time. All will in some way express the courage and selflessness of our fighting men and women and the value of their work.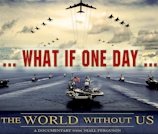 What if one day.....The World Without Us
Click title to see film clip
In a futuristic scenario, a fictitious presidential candidate is proposing a complete withdrawal of all US troops from around the world. This triggers an journalistic investigation that spans across three continents in search of 'What would happen?' should the US might and involvement be absent one day.
Would the world a better place, or worse without the US?
Filled with personal stories, the film switches from macro to the micro picture delivering a heart touching experience while staying true to the journalistic integrity. The presidential candidate is played by Roy Werner, veteran actor, (CSI Miami and many other TV shows).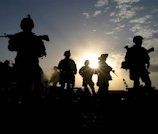 The Last 600 Meters
no film clip available
The two deadliest battles of the Iraq War occurred in 2004. The Battle of Najaf was fought in the South against the Shiite Mahdi militia. The Battle of Falluja was fought in the West against Sunni insurgents. These brutal urban conflicts were not the high-tech battles the military had prepared for after the first Gulf War in 1991--but they are the face of modern warfare. This film tells the story of these battles, not through narration, but through the words and deeds of those who fought there.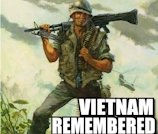 Vietnam - REMEMBERED
click title to see film clip
Vietnam Remembered, reveals the pride, honor and camaraderie these men
shared with each other on the battlefield and off. It truly is a moving tribute towards
those who have served our country and those currently serving.
.
Outside the Wire: Danger Close World Premier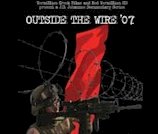 On March 26th, 2007 Al Qaida in Iraq attacked O.P. Omar, a small outpost in Al Anbar province manned by Army paratroopers from Blackfoot Company, 1-501st.
Al Qaida brought two suicide truck bombs, and more than 40 gunmen to the 20 minute battle.
Documentary filmmaker JD Johannes was embedded with Blackfoot Company and was nearly killed twice while filming the action.
From the combat footage, interviews with the soldiers who manned the walls and digital animations comes a in-depth look at the firefight and the paratroopers who fought it.
.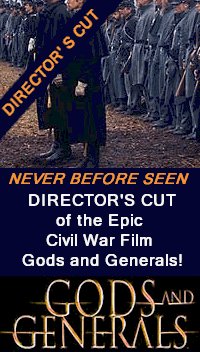 Gods and Generals
Click title to see film clip
""Gods and Generals is not only the finest movie ever made about the Civil War, it is also the best American historical film. Period." --Bill Kauffman, American Enterprise Magazine
Synopsis: This epic film from writer-director Ron Maxwell chronicles the early events of the American Civil War. It's a prequel to his earlier GETTYSBURG, with some of the same cast, and is part of a planned trilogy. Stephen Lang plays Thomas "Stonewall" Jackson, the famous (and deeply religious) Confederate general who, along with fellow General Robert E. Lee (Robert Duvall), must weigh the mighty consequences of his actions, as each battle costs the lives of thousands of men.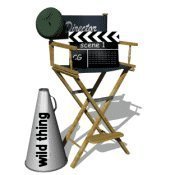 Wild Thing's comment........
With Hollywood making so many horrible unforgivable films lately negative about our military. I was so happy when I saw this, thrilled. Because they talk to our troops, their experiences and speak the truth in these films and NOT lies and slander of our troops and the war. So I just wanted to share what I found with all of you.
There are some good people in Hollywood, but it is like a needle in a haystack to know about them.
Posted by Wild Thing at May 22, 2008 03:47 AM
---
Comments
Hollyweirdoville is the problem NOW compared to the wonderful Hollywood of the 30's and 40's...
PROPAGANDA can win and lose wars - big time...
No different than the media! Thank's for this wonderful cinematic posting WT!! I adore 'Gods & Generals'!!! xxx XXX xxx !!!!!!
Posted by: darthcrUSAderworldtour07 at May 22, 2008 04:53 AM
---
Gods and Generals is a great movie! Being a cousin to Robert E Lee myself, I find myself captivated by our ancestral heritage. (He was a second cousin to my 6th great grandmother, Sarah Musick-Williams.) We are a truly great nation. We came from everywhere and found ways to get along and take care of each other. I think some have lost that ability to care. Maybe they haven't yet learned off our triumphant past or they just don't care, but it's time we taught our kids what America really is. If the schools ain't teaching it, then I am.
Thank God we still have some actors out there with the gumption to take up the cause of freedom and liberty.
Posted by: Lynn at May 22, 2008 08:14 AM
---
Great story. There may be hope for Hollyweird yet. Keep the good news coming.
Posted by: Les at May 22, 2008 09:56 AM
---
Oh, I wish PBS would do a special on the GI Film Festival. At last, a counter to the nightly news and the anti war Hollywood abuse.
I guess DVD will have to be the route to go. Thanks WT for bringing this to my attention. I did not know about thisfilm festival. We all hear about Cannes and Sundance where the most liberal films are promoted. How nice to find out there is a GI Film Festival.
Posted by: TomR at May 22, 2008 10:53 AM
---
I'm familiar with Dale Dye, Robert Duvall and Gary Sinise and their values but not the rest. Very nice and very thoughtful, thank you for posting this, although I never visit the theaters it might eventually make it to cable. I'm disappointed too that PBS doesn't portray a more positive light of our military, there just isn't much difference between the media outlets in that respect. Must be that 57th state eh?
Posted by: Jack at May 22, 2008 01:20 PM
---
Darth...."Hollyweirdoville"...that it is. Like you says it is just like the media.
Posted by: Wild Thing at May 22, 2008 11:49 PM
---
Lynn, thank you for sharing that, I am so glad I look forward to seeing it one day.
Posted by: Wild Thing at May 23, 2008 12:19 AM
---
Les, yes, it is like there are two Hollywoods. The bigger one of course being the bad one which is sad and very disappointing.
Posted by: Wild Thing at May 23, 2008 12:21 AM
---
Don't forget my favorites: Dr. Strangelove and How I Loved the Bomb... & Failsafe!!!
!!!!!!!! - H2o Bodily Fluids 2008
See what Hollywood can do... and how about '1941'?
Like the Jap sub captain said, "Horrrrywood!"
Posted by: drstrangeloveb52isok at May 23, 2008 12:35 AM
---
Tom me too I would love that so much. Oh sooo very much.
This is the second year for the GI film festival. I hope it gets bigger and bigger with more people knowing about it.
Posted by: Wild Thing at May 23, 2008 12:36 AM
---
Jack, yes your right, and the only film I heard of was the Outside the Wire and that was only on TV. So maybe the others are only on DVD or maybe the History channel. I was amazed that they had this GI film festival and so pleased about it.
Posted by: Wild Thing at May 23, 2008 12:40 AM
---

drstrangeloveb52isok, heh heh guess what I taped "Dr. Strangelove and How I Loved the Bomb" and Nick and I are going to watch it this weekend. haha
Posted by: Wild Thing at May 23, 2008 12:42 AM
---