« Biden: Bush's comments were 'bullshit' | Main | In Country With The 101st Airbourne »
May 16, 2008
Actor Bradley Cooper Comes to GITMO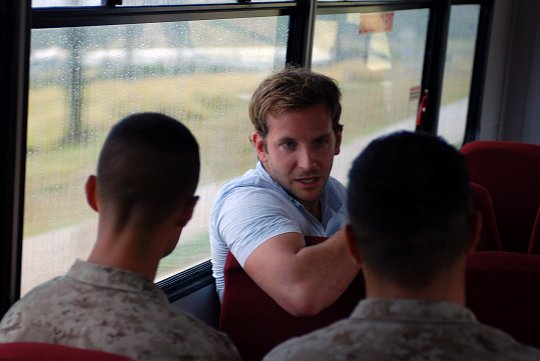 Actor Bradley Cooper chats with some Marines during a bus tour of Guantanamo Bay as part of his visit May 2-4.
Joint Task Force Guantanamo conducts interrogation operations to collect strategic intelligence in support of the Global War on Terror and supports law enforcement and war crimes investigations. JTF Guantanamo is committed to the safety and security of American service members and civilians working inside its detention facilities.
By Megan Burnham
Joint Task Force Guantanamo Public Affairs
GUANTANAMO BAY, Cuba
Some people may know him as Will Tippin, the best friend to Sydney Bristow on the TV show "Alias." Others may know him as the villainous boyfriend in "Wedding Crashers." However, when he visited the U.S. Naval Station in Guantanamo Bay May 2-4, he introduced himself with his real name and identity: Bradley Cooper.
Cooper, a Philadelphia native, currently resides in Venice, Calif. where he works and owns a little house with a couple of dogs. He moved from New York to Los Angeles, in 2001 to take the job for the Alias series.
Due to positive feedback from friends who went on tour in Afghanistan six months ago, Cooper requested to participate in a similar tour with the United Services Organization, an association that helps the American public show support to service members.
The actor had some free time and when USO asked if he wanted to go to Guantanamo Bay, Cuba, he jumped at the chance. This was his first visit to a U.S. Naval Station; in fact, this was his first visit to any military base.
"I'm here to show my support, say hello and learn more about the military and what they're doing, especially here in Guantanamo Bay," said Cooper.
The event, sponsored by the USO and Morale Welfare and Recreation, provided troopers (especially Bradley Cooper fans) the opportunity to meet with the star, take photos with him as well as acquire signed photographs.
Traveling with the celebrity was his buddy Dave Bugliari, USO Entertainment producer Tracy Thede, and Liberty Coordinator Jeffrey Shaw.
The "Handshake Tour" consisted of three busy days around the base, including a visit to Camp Delta, Camp 6, the Northeast Gate and Water Gate, and the Port Security Unit, as well as recreational activities.
"I am absolutely blown away; it's very educational," said Cooper. "Going into the camps definitely took it out of the TV and put it into real life."
Troopers and civilians attended scheduled site visits at the Marine Hill Liberty Center, the Navy Exchange Atrium, and the Deer Point Liberty Center to meet the actor.
"It's cool that he's taking the time out of his day to come down here," remarked Andrew Kolbek at the NEX visit. "It shows that he cares what we are doing and why we're doing it."
"He is setting the morale for the whole base," added Micah Howard, also in attendance. "It's a good thing he's doing – we really appreciate it."
The meet-and-greet event ran smoothly largely due to Thede's efforts, as well as Craig Basel and Jeffrey Shaw from MWR.
"The MWR folks, they're phenomenal," Thede said about Basel and Shaw. "They go above and beyond to make sure that as many creature comforts as possible are here for the service members."
Before Cooper left the island, he shared some parting words to everyone he came in contact with this past weekend.
"Thank you all so much for how generous you've been with your gratitude, and being able to talk to us," he said. "We're so happy to support you, and I hope that you all feel that from us and that anything we can do, we're willing to do it."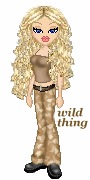 Wild Thing's comment........
I hope Cooper shared about his trip with others when he got back and told them to go visit our troops as well. Spread the word and show the support. Our military are America's true stars and heroes.
Posted by Wild Thing at May 16, 2008 05:45 AM
---
Comments
Those who don't go and don't support the troops or the war don't feel an obligation to do so. That's fine, but they also need to remember that it's the common man and woman who buy their CDs, DVDs, go to their movies and watch their tv shows.
The common American knows where their duty lies and they take that very seriously.
They don't even ask that they come for a visit to brighten their days. But, I would believe that those who have the means to do so, should. It's only fair. We make them famous, they make us happy. But those who consistently refuse on some sort of religious or political reason should be shunned and we should stop buying their products. Turnabout is fair play, you know.
Posted by: Lynn at May 16, 2008 09:15 AM
---
Thank you WT. I hope this actor is sincere. Like Lynn I'm acutely aware of whom I support in the industry and it sure as hell isn't 'Mr.' Barbara Streisand or Mrs. James Brolin.
Posted by: Jack at May 16, 2008 12:40 PM
---
Lynn yes your right! The USO makes it possible for any celeb that would like to do thank our troops in person can do so and they do all they can to make it happen. So those that do support the war and our troops have no excuse in how to do it that's for sure.
Posted by: Wild Thing at May 16, 2008 07:40 PM
---
Jack, Nick and I do the same thing. Money is one way to let them know we are not buying their music or going to their movies etc.
Posted by: Wild Thing at May 16, 2008 07:41 PM
---