« Gangster Kid Threatens To Kill President Bush! | Main | The Enemy Within Writes:FUCK the Troops »
April 28, 2008
Patriot Guard Welcomes Home SSG Keith Matthew Maupin ~ Rest in peace, faithful patriot!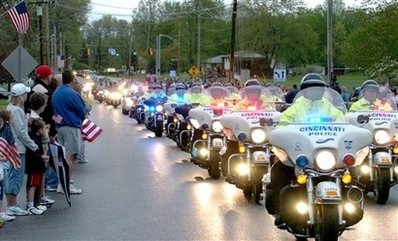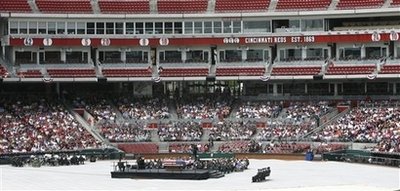 Thousands of people attend a memorial service for U.S. Army Staff Sgt. Matt Maupin at Great American Ball Park, Sunday, April 27, 2008 in Cincinnati.
Some notes from PGR:
"Just got home . It was a great experience to see the crowds that turned out for Matt . PGR PRIDE ... thats what we showed them today . I heard that Law Enforcement estimated 2500 bikes . I counted several long stretch limos & 24 Motor Patrolmen in the procession . When the bikes were parked downtown they streched five Cincinnati city blocks . What a sight ."
April 27, 2008
Cincinnati, OH
Video's of the Funeral Procession with the PGR and other supporters. You can see the many bikes going by.
http://uk.youtube.com/watch?v=YRuoJq3Mp-8
Staff Sergeant Matt Maupin was remembered in a public funeral ceremony at Great American Ball Park, April 27th,
.
Thousands attend Ballpark funeral held in Ohio for long-missing soldier (Staff Sgt. Matt Maupin)
Military workers and supporters from across the country joined in memorials Sunday for a slain Army reservist who had become a poignant picture of the war in Iraq after he was captured by insurgents.
Thousands walked past Staff Sgt. Matt Maupin's casket during a daylong visitation at a civic center in Clermont County, east of Cincinnati, where he grew up. Many of them headed to Great American Ball Park, home of the Cincinnati Reds, for an afternoon memorial service.
The crowd occupied the lower portion of the 42,000-seat stadium, behind home plate, stretching from first base to third.
Maupin's flag-draped casket was on a platform in the area of the pitcher's mound. The only people on the field were members of the 338th Army band and about 100 family members, military representatives and dignitaries.
"Matt Maupin was the all-American kid," said retired Lt. Gen. James Campbell, representing the Army at the service. "We are so proud of you. You have served your country with honor and distinction."
Maupin's remains were found in Iraq last month, nearly four years after he was captured when his fuel convoy was attacked near Baghdad on April 9, 2004. He became the face of the war for many Americans after the Arab television network Al-Jazeera aired a videotape in April 2004 showing him wearing camouflage and a floppy desert hat, sitting on a floor surrounded by five masked men holding automatic rifles.
Members of his unit, the Illinois-based 724th Transportation Co., were among those on the field Sunday.
"In his service, he became a son to all of Batavia and a son to all of Ohio," said Gov. Ted Strickland. "The Maupins heard the prayers of people from across the state and across the world."
Maupin, a 20-year-old private first class when he disappeared, was listed as missing-captured until a tip from local Iraqis led to the discovery of his remains on the outskirts of Baghdad, about 12 miles from where the convoy was ambushed.
The Army had promoted Maupin three times since his capture, to keep his military career on a par with his contemporaries in case he survived. At a private ceremony with his family on Saturday, the Army awarded Maupin the Bronze Star, Purple Heart, Meritorious Service Medal, the POW Medal and other commendations.

Posted by Wild Thing at April 28, 2008 04:47 AM
---
Comments
"The Lord is my sheperd, I shall not be in want. He makes me lie down in green pastures, he leads me beside quiet waters... Even though I walk through the valley of the shadow of death, I will fear no evil..."
- Psalm 23
Matt Maupin IS America! Freedom Isn't Free!!
Posted by: darthcrUSAderworldtour07 at April 28, 2008 05:39 AM
---
I wish I could have been in Cincinnati to attend his funeral, express my thanks and be in the company of thousands of American patriots.
We still have two men POW/MIA. Pray for them.
Posted by: TomR at April 28, 2008 08:21 AM
---
He paid the ultimate price--and he is home, with rewards beyond measure. God has blessed him and will continue to hold the Maupin family tight until such time as they will see Matt again. He is whole again and perfect.
Posted by: Lynn at April 28, 2008 10:54 AM
---
Rest in peace Matt, you have never been forgotten, the good people of Ohio and the rest of the nation for whom you served and died will not forget the circumstances of your death. A uniformed, unarmed soldier murdered while being held captive. Murdered by enemies who claim to be civilized, murdered by those who claim to be humane. Murdered by those who also claim that their's is a religion of peace. Worse yet are those who believe in that bullshit lie being spread by the leaders of islam and the leaders of this country.
Welcome home fellow American, this should have been the joyous homecoming of a heroic POW, your reunion with loved ones. Instead it's a sad requeim of where this nation has devolved, one where the citizens of the United States will respect the rights of the sworn enemy over that of their fellow patriot. Matthew was murdered while faithfully believing in the the auspicies of the 1949 Geneva Convention and it's rules for humane handling of prisoners. The enemy cloaks itself in civilian attire, indiscriminately kills civilian and military alike, then butchers their captives without any remorse. Safe in their knowledge that nobody will inforce the war crime. Matt's murderers are completely absolved from any outrage from the international community, nary a peep out of Geneva or from the lips of the Euroweenies and a eerily strange silence from his fellow Americans. I can't apologize for their behavior Matt, only mine.
For those who support and defend the troops thank you all, for all the rest I have utter contempt and disgust.
Posted by: Jack at April 28, 2008 12:17 PM
---
I don't know how many countries signed onto the Geneva Convention, but it seems like we and probably the UK are the only ones to respect it and follow it. If We, deviate from it in any way , We are held responsible.
Yet we are the ones acused to War Crimes, While our enemy is free to torture, maim and kill our soldiers as their POWs. Contrast that to Abu Ghraib. What a joke this convention is, and really the joke is on us.
May Matt Maupin rest in peace.
Posted by: Mark at April 28, 2008 03:01 PM
---
Thousands of people attended the memorial service for U.S. Army Staff Sgt. Matt Maupin to honor him and also the other service men and women who sacrificed for their country. Tens of thousands more honored all of them as they read stories and watched videos of the memorial on web sites like the PC Free Zone Gazette. This is the real America and what the country is all about.
When Ian Murphy of the "The BEAST: America's Best Fiend" dies his memorial service will be held at a Buffalo garbage dump attended by rats and DemocRATS.
Posted by: Les at April 28, 2008 03:24 PM
---
Like so many accords after WWII many of the same nations who joined the United Nations signed the Geneva Conventions of 1949, many more countries have joined since then with Montenegro being amongst the latest to sign on. Like those members of the UN there have been few who honor the aggreement and even less who pay their own way in either organization. Their out from adhering to the principals they have signed is to accuse and try their captives of war crimes, then hold them or execute them out of hand.
Posted by: Jack at April 28, 2008 08:51 PM
---
Thank you all so much for all your comments, thoughts and prayers for his family.
Posted by: Wild Thing at April 28, 2008 11:53 PM
---