« B.Hussein Obama on small-town PA: Clinging religion, guns, xenophobia | Main | China Olympic News »
April 11, 2008
Obama Logo ~ Make Your Own ~ LMAO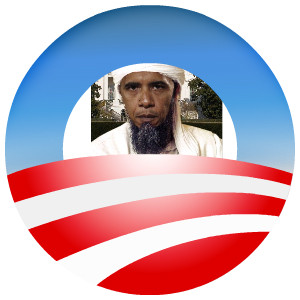 and this one .......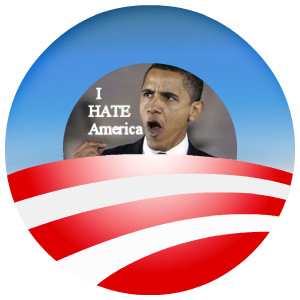 Wild Thing's comment........
LOL you can make your own B. Hussein Obama logo. hahahaa
I made the two that you see above.
It is funny because obviously THIS is not what they had in mind with their idea at their website to support the jerk Obama. heh heh


Here is what it says at their website:
"We've been noticing a trend of people displaying their support for Barack Obama's Democratic presidential campaign by using his logo as their avatar, or visual representation on the web. We thought, "what can we do to show our support?" So we created Logobama, a place for you to create your own custom Obama logo and use it wherever you want. As Obama says, "we are the change we have been waiting for." That's what Obama is representing... someone who wants all of us to participate in changing the world. And together, we can make this change, one logo at a time.
Posted by Wild Thing at April 11, 2008 07:35 PM
---
Comments
I'm the first one to leave a comment! Yippee! This is hilarious, WT. I'm gonna make my Obama logo as soon as I get back home and can use my own computer. Thanks for the laugh, and thanks for joining the boycott. I really appreciate your support.
PS
What does being tagged mean? Hope you don't think it's a stupid question.
Posted by: Seane-Anna at April 11, 2008 11:37 PM
---
How about the typical C* ... Muslim crescent moon in the design instead of a shining sun? Hitlery looks more '?' every day compared to Islam Rage Man, eh? Q-TIPS vs. HIPS in 2008?
Posted by: darthcrUSAderworldtour07 at April 12, 2008 12:07 AM
---
Hi Seane-Anna, Tagged means another blogger has sent you an invite to a post like the one I made.
Here it is here that explains it. giggle..... Good to see you.
http://www.theodoresworld.net/archives/2008/04/tagged.html
The Rules:
1. Write your own six word memoir.
2. Post it on your blog and include a visual illustration if you want.
3. Link to the person that tagged you in your post and to the original post if possible so we can track it as travels across the blogosphere.
4. Tag at least five more blogs with links.
5. Leave a comment on the tagged blogs with an invitation to play.
Here is mine: I am doing them in order of how my life has happened. haha
Pianist, Athlete, model, entertainer, blessed wife
Now I will tag:
Jack, Billy O'blog, Linda, ( she will kill me for this heh heh), LinkaZona, Poor Grrl Zone,
Posted by: Wild Thing at April 12, 2008 01:16 AM
---
Darth, good idea, thanks.
Posted by: Wild Thing at April 12, 2008 01:19 AM
---
OBAMA 08: THESE ZEBRA STRIPES DON'T RUN... unless lioness Ilsa is hungry, eh? - Born Free 1966!
Posted by: drstrangeloveb52isok at April 12, 2008 04:15 AM
---