« You Can Say Thank you General David Petraeus | Main | Hand Picked Crowd To Sit Behind Speaker Michelle Obama "get me more white people" »
April 09, 2008
National POW/MIA Awareness Day
National POW/MIA Awareness Day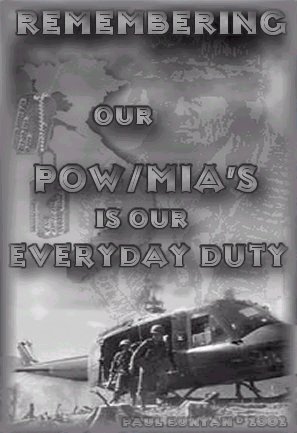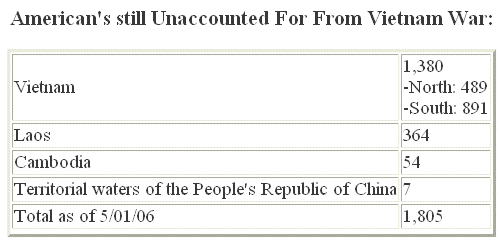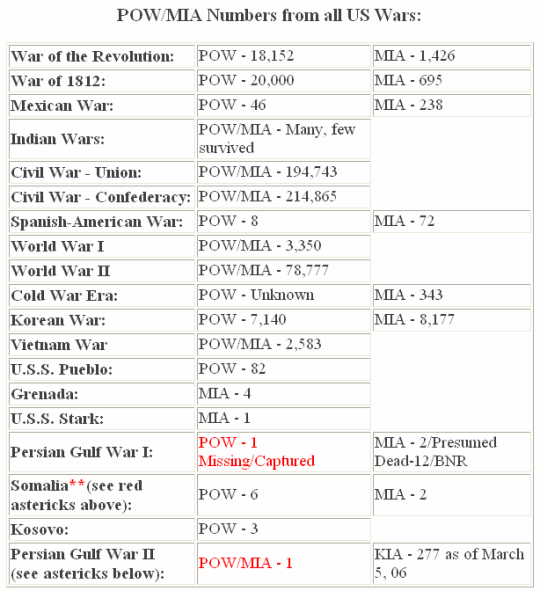 U.S. POW/MIA's Who May Have Survived In Captivity
This listing contains the names of 324 STILL UNACCOUNTED FOR U.S. personnel from the Vietnam Conflict. Approximately 300 of these personnel were last known alive in captivity in Vietnam and Laos, last known alive, out of their aircraft before it crashed, or their names were passed to POWs who later returned. A handful of the cases involves incidents where the aircraft was later found on the ground with no signs of the crew.
This listing is based on all-source U.S. intelligence and casualty reports, information provided by POWs who were returned, lists of POWs and/or last known alive personnel prepared by the Defense Intelligence Agency, and other information made available to the Vice-Chairman, Select Committee on POW/MIA Affairs. (The difference between 300 and 324 accounts for known incidents where one or more unidentified crew members were captured from a crew of more than one, or the aircraft was found with no trace of the crew.) Based on the high number of MIAs at the end of the war who are still unaccounted for (currently 1,170 persons for whom the USG does not know their fate), it is probable that a significant percentage of the MIAs NOT on this 324 list actually survived their incident and could have been captured. Apparently, only the Vietnamese and Laotians would know their fate, as the U.S. Governemnt does not. GIVEN THIS REALITY, THE LIST OF 324 NAMES WHICH FOLLOWS IS AT BEST CONSERVATIVE.
"We call your attention to this small table, which occupies a place of dignity and honor near the head table. It is set for one, symbolizing the fact that members of our Corps are missing from our ranks. They are referred to as POW's and MIA's.

We call them comrades.

They are unable to be with their loved ones and families tonight, so we join together to pay our humble tribute to them, and bear witness to their continued absence.

This table, set for one, is small, symbolizing the frailty of one prisoner, alone against his or her suppressors.

The tablecloth is white, symbolic of the purity of their intentions to respond to their country's call to arms.

The single red rose in the vase, signifies the blood they many have shed in sacrifice to ensure the freedom of our beloved United States of America. This rose also reminds us of the family and friends of our missing comrades who keep the faith, while awaiting their return.

The yellow ribbon on the vase represents the yellow ribbons worn on the lapels of the thousands who demand with unyielding determination a proper accounting of our comrades who are not among us tonight.

A slice of lemon on the plate reminds us of their bitter fate.

The salt sprinkled on the plate reminds us of the countless fallen tears of families as they wait.

The glass is inverted - they cannot toast with us this night.

The chair is empty - they are not here.

The candle is reminiscent of the light of hope which lives in our hearts to illuminate their way home, away from their captors, to the open arms of a grateful nation.

Let us pray to the supreme commander that all of our comrades will soon be back within our ranks.

Let us remember and never forget their sacrifices. May god forever watch over them and protect them and their families. "
Posted by Wild Thing at April 9, 2008 01:48 AM
---
Comments
Good! I'm glad to see we recognize POW/MIAs.
One of my relatives in the Civil War was in Andersonville Prison twice. (he tried to escape and was captured by the Confederate Indians and taken back.) But he continued to serve after his release and even won the Congressional Medal of Honor for his valor at the Battle of Saylor's Creek.
(his birth father was a cousin of my great great grandfather.)
Posted by: Lynn at April 9, 2008 05:35 AM
---
Thank you Chrissie.
I can't think of a more dismal fate than that of being a POW and being forsaken by your country and countrymen. It's appalling how many were left in Korea, thanks to the efforts of John McCain and John Kerry many will never be repatriated from Vietnam. My mother in law who is in her mid 80's still laments her first love. MIA, a crewman lost over Germany in WWII, I know that crewman's sister, also in her mid 80's both of those women still mourn the loss. I have been blessed to know a few WWI veterans, all had friends MIA, two WWII survivors I knew were POW's one on Bataan the other on Tarawa, their life was one of constant remembering the fate of their fellow MIA and those who were slaughtered by the enemy while held in captivity. There is a site where you can pick any day and find a list of Vietnam's MIA/KIA, the year they went missing and their disposition with links to other sites.
Posted by: Jack at April 9, 2008 09:48 AM
---
POW was a fate I feared more than death. Several American prisoners were held in the province I worked in the southern Mekong Delta. One of those men was Special Forces Major Nick Rowe. He escaped after 5 years of captivity by the Viet Cong. He wrote a book titled Five Years to Freedom, a tough, eye opening read. Major Rowe went on to design a course, SERE, designed to teach Special Forces and other special operations troops how to cope with captivity. It is really one of the most demanding courses anywhere in the military.
God Bless our MIAs including the two in Iraq.
Posted by: TomR at April 9, 2008 10:45 AM
---
"Day is done... Gone the sun... From the hills...
From the plains... From the sky... All is well... Safely rest... God is nigh."
- Taps
"Greater no love than a man lay down his life for a friend." - John 15:13
FREEDOM ISN'T FREE!
Posted by: darthcrUSAderworldtour07 at April 9, 2008 11:45 AM
---
I agree - Never Forgotten. And, I add - Words Are Not Enough but, Sacrifices Always Appreciated.
I also cannot forget that Sen. John McCain (member) and Sen. John Kerry (Chairman of the Senate Select Committee on Prisoners of War and Missing in Action) did all that they could to deny public access to POW/MIA files as well as having some of those files destroyed.
Posted by: Les at April 10, 2008 01:21 AM
---
Lynn thank you for sharing about your relative from the Civil War. Wow othat is really something.
Posted by: Wild Thing at April 10, 2008 02:23 AM
---
Jack, yes a big no thanks to Kerry and McCain for intentionally leaving our POW's.
Thank you for sharing about your mother in law's first love.
Thank you for the link too, what a great site that is.
Posted by: Wild Thing at April 10, 2008 02:26 AM
---
Tom oh wow what a story. Thank you for sharing about Special Forces Major Nick Rowe and the book too.
Being a POW would be my biggest fear and Nick has said that too many times.
Posted by: Wild Thing at April 10, 2008 02:29 AM
---
Posted by: Wild Thing at April 10, 2008 02:30 AM
---
Les, me too, I will never forgive them for what they did, never.
Posted by: Wild Thing at April 10, 2008 02:31 AM
---