« Democrats Already Threatening General Petraeus BEFORE His Report | Main | Charlton Heston - 1989 NRA Annual Meeting »
April 06, 2008
Monday in Washington:GOE and Others Support Rally for Gen. David Petraeus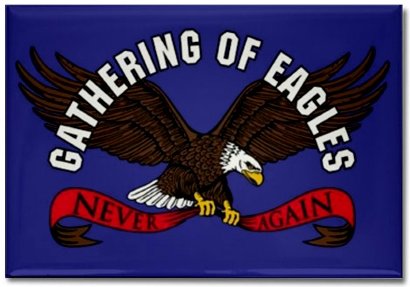 Gathering of Eagles to hold press conference supporting Iraq mission and U.S. military

Monday, April 7, 2008 at 10:00 am, members of Gathering of Eagles will hold a press conference at the west lawn of the U.S. Capitol in Washington, D.C.
This rally will showcase patriots from all over the country standing up in support of our military and their missions in Iraq and the War on Terror.
The conference is timed to coincide with Gen. David Petraeus' return to Capitol Hill. Chris Hill, National Director of Operations, said:
"The purpose of our actions on April 7th is to encourage our elected officials to provide full funding for the military's current mission in Iraq, and to continue to support the current mission of stabilization there."
After the conference, Gathering of Eagles will hold meetings with Representatives and Senators. Larry Bailey, the organization's chairman and cofounder, will be available for interviews along with Mr. Hill. Headquartered in North Carolina, Gathering of Eagles is a non-profit organization of everyday Americans united by a common love and respect for the United States and her military.
For more information, visit their website at www.gatheringofeagles.org. For more information, contact: Coby W. Dillard Assistant to the National Director Gathering of Eagles
The Band of Mothers will be on the corner of the Cannon Bldg in Washington, DC (Where Nancy Pelosi supposedly works) from April 7th, 8th and 9th to remind her and the Congress to support our Soldiers and the General. We will be among other supporters with Support our Troops signs.


Wild Thing's comment........
How sad that in the United States of America that anyone has to remind our elected officials to support our Soldiers and Gen. Petraeus, the mission and the war. It is an outrage!
Thank God for Gathering of Eaglels, our Veterans, Band of Mothers and other groups that will be there to let them know how the rest of us feel about our awesome troops.
Posted by Wild Thing at April 6, 2008 04:48 AM
---
Comments
SWOOP time and talons extended!
Posted by: darthcrUSAderworldtour07 at April 6, 2008 05:50 AM
---
Darth yes, God bless those able to do this. I wish so much I could join them.
Posted by: Wild Thing at April 7, 2008 12:13 AM
---
WT... You do MORE for Lady Liberty and Uncle Sam than you realize... Wanna bet C-SPAN, CNN and FOX barely won't even cover this wonderful gathering of eagles? Cheer for the Nj Devils now since Tampa Bay didn't make the NHL 2008 playoffs on VERSUS / VS channel! Nj vs. NY Rangers... WOW!
And VERSUS has the US MARINES and US ARMY promotions and sponsors during their telecasts in the US and around the world on AFN TV!
Posted by: darthcrUSAderworldtour07 at April 7, 2008 01:02 AM
---