« Warriors In Their Own Words | Main | Boneheads vs. Jarheads By Russ Vaughn »
April 20, 2008
Cleric Sadr Threatens "open war" On Iraq Government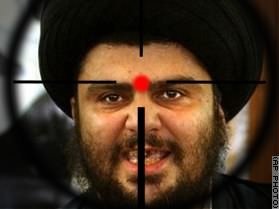 Cleric Sadr threatens "open war" on Iraq government
BAGHDAD
Shi'ite cleric Moqtada al-Sadr on Saturday threatened an "open war" against the Iraqi government unless it halted a crackdown by Iraqi and U.S. security forces on his followers.
The specter of a full-scale uprising by Sadr sharply raises the stakes in his confrontation with Prime Minister Nuri al-Maliki, who has threatened to ban the anti-American cleric's movement from political life unless he disbands his militia.
A rebellion by Sadr's Mehdi Army militia -- which has tens of thousands of fighters -- could abruptly end a period of lower violence at a time when U.S. forces are starting to leave Iraq.
"I'm giving the last warning and the last word to the Iraqi government -- either it comes to its senses and takes the path of peace ... or it will be (seen as) the same as the previous government," Sadr said, referring to Saddam Hussein's fallen regime, without elaborating.
"If they don't come to their senses and curb the infiltrated militias, then we will declare an open war until liberation."
Sadr's movement accuses other Shi'ite parties of getting their militias into the Iraqi security forces, especially in southern Shi'ite Iraq where various factions are competing for influence in a region home to most of Iraq's oil output.
Sadr launched two uprisings against U.S. forces in 2004.
His movement then entered politics and backed Maliki's rise to power in 2006. But the youthful Sadr split with Maliki, a fellow Shi'ite, a year ago when the prime minister refused to set a timetable for the withdrawal of U.S. troops from Iraq.
"Do you want a third uprising?" Sadr said, adding that he wanted Iraq's Shi'ite clerical establishment to set a date for the departure of American troops.
In Sadr's Baghdad stronghold of Sadr City, one Mehdi Army commander said he was "thrilled" about the statement.
"We will wait until tomorrow to see the response of the government. Otherwise they will see black days like they have never seen before i
Sadr's threat could not come at a worse time. On Friday, U.S. forces said they had intelligence suggesting Sunni Islamist al Qaeda, pushed out of Baghdad and western Iraq last year, was plotting a return to the capital to stage major bomb attacks.
ROCKETS HIT HOSPITAL
In Baghdad, police described battles between security forces and gunmen that began on Friday in Sadr City as among the heaviest in the capital since Maliki launched a crackdown on the Mehdi Army in the southern city of Basra late last month.
Police said 12 people had been killed in the Shi'ite slum. Hospitals said they received more than 130 wounded overnight.
Late on Saturday, Ali Bustan, head of the health directorate in the eastern section of Baghdad, said three rockets hit the Sadr Hospital in the slum. It was unclear if there were any casualties. The U.S. military said it was not to blame.
Bustan said the bodies of three women had been brought in along with 40 wounded people following fresh clashes.
Maliki has threatened to ban Sadr's movement from provincial elections this year if the cleric does not disband his militia.
In response, Sadr has threatened to formally scrap a ceasefire he imposed on the Mehdi Army last August, which has already been hanging by a thread given recent clashes.
In his statement, Sadr did not refer to the truce, but his spokesman in the holy city of Najaf, Salah al-Ubaidi, said the cleric was not bluffing.
"We mean every word," Ubaidi told Reuters.
Sadr issued his warning after Iraqi soldiers swooped on the Mehdi Army's stronghold in Basra. Iraqi officials said they now controlled the bastion, known as the Hayaniya district.
The dawn raid by government troops there was backed by a thunderous bombardment by U.S. warplanes and British artillery.
Maliki's initial crackdown on the militia in Basra last month was criticized by U.S. commanders as poorly planned.
It failed to drive the Mehdi Army from the streets and sparked battles across the south and in Sadr City, the cleric's Baghdad stronghold. The government dismissed 1,300 soldiers and police for refusing to fight in Basra, the port for most of Iraq's oil exports.
On Saturday by contrast, Harith al-Idhari, head of the Sadr office in Basra, said the militia had not put up any resistance, in observance of a ceasefire declared by the cleric.
Major-General Abdul-Karim Khalaf, an interior ministry spokesman, described the Basra operation as a major success.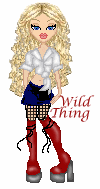 Wild Thing's comment........
Some people just need killing. Bye Bye Sadr!
Posted by Wild Thing at April 20, 2008 03:45 AM
---
Comments
Everything I needed to know about Islam, I learned on 911.
Mookeyman says Peace, but his heart says Death and Destruction.
I'm hoping that the Iraqi people will get rid of him themselves.
They are having more fun now than they've ever had in their lives and Mookey here is acting like the Meisterburger Burgermeister from Santa Claus is Coming to Town. No toys, only chores.
What happened to him? The town revolted against him and threw him out of power.

Posted by: Lynn at April 20, 2008 07:33 AM
---
Now that is a great 'sight picture'. The first thing that comes to mind is the BRASS System.
Breath, take a deep breath let it half way out
relax, stay cool concentrate,
aim, center the front site blade half way up and from right to left in the rear site aperture. ( In this case however we have a scope, center the red dot...ok done.
slack, take up the slack in the trigger, slowly.
squeeze, a steady even pressure to the rear, don't anticipate the shot, when the shot goes off it should almost be a surprise.
Follow the above and we will send Mookie to see to his just reward, empting and burning crappers.

Posted by: Mark at April 20, 2008 08:53 AM
---
I say we place a bounty on him so the US soldier/Marine who does cap this idiot will get a reward.
Posted by: PeteSuj at April 20, 2008 09:23 AM
---
Lynn....."I'm hoping that the Iraqi people will get rid of him themselves"......GREAT idea I agree. It would do a lot for the Iraqi people and their new military if they did this.
Posted by: Wild Thing at April 20, 2008 06:28 PM
---
Mark...ROTFLMAO GOSH I LOVE that! Love how you did that!
Posted by: Wild Thing at April 20, 2008 06:30 PM
---
PeteSuj, wonderful, they can use the extra cash too.
Posted by: Wild Thing at April 20, 2008 06:31 PM
---
WT, Oh that was easy, 3 months at Parris Island, daily repitition, it may have been 45 years but somethings you never forget.
Posted by: Mark at April 20, 2008 07:35 PM
---
Mark, thanks that is so neat, I really love things like that. I see what you mean about never forgetting.
Posted by: Wild Thing at April 20, 2008 11:45 PM
---
It's time for the Iraqis to WHACK this piece of camel dung... or assign the MOSSAD to do it:
"The Mossad are looking for a few BAD men!"
This scumbag is a walking dead man that really is uglier than the Geico Cavemen! Extermination time...
Posted by: darthcrUSAderworldtour07 at April 21, 2008 02:30 AM
---
Darth, I agree, it would be so perfect if the Mossad did it while Sadr is in Iran.
Posted by: Wild Thing at April 21, 2008 04:31 AM
---
I remember early on in the war when we had the chance to bring this pig to justice and the Bush Administration said, "No". I knew we would end up regretting it!
Posted by: George at April 26, 2008 09:57 AM
---