« Marine Light Helicopter Squadron 167 Celebrated Its 40th Anniversary April 1st | Main | In Country With Our Troops »
April 11, 2008
China Tells Olympic Boss To Stay Out Of Politics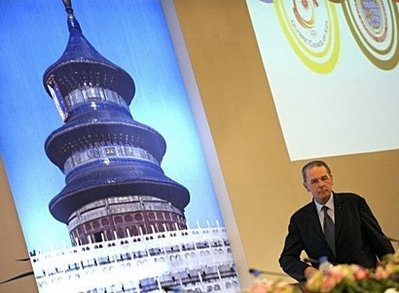 International Olympic Committee chief Jacques Rogge arrives at a press conference for a joint meeting between the Association of National Olympic Committees and the IOC executive board in Beijing. China bluntly told the world Olympics chief Thursday to keep out of politics, in a tart exchange on human rights following days of protests that have shadowed the Olympic torch around the world. (AFP/Liu Jin)
China tells Olympic boss to stay out of politics
BEIJING (AFP)
China bluntly told the world Olympics chief Thursday to keep out of politics, in a tart exchange on human rights following days of protests that have shadowed the Olympic torch around the world.
International Olympic Committee president Jacques Rogge said the Games were in "crisis" following the demonstrations, and urged China to respect its pledge to improve its rights record before the event begins in August.
China fired back that Rogge should keep politics out of the Olympics, which Beijing hoped would showcase its much-touted "peaceful rise" to power -- but which have instead become a public relations nightmare.
Separately, China's Ministry of Public Security said it had cracked a terrorist group in its Muslim-dominated northwest that was plotting to kidnap foreign journalists, tourists and athletes during the Olympics.
A taciturn Rogge, on a visit to the host country, admitted he was "saddened" that these Olympics, dogged by protests over Tibet and calls for a boycott, were not simply a global celebration of sport.
It was "not the joyous party that we had wished it to be," Rogge said in Beijing, nevertheless insisting that the torch relay -- disrupted by protests in Greece, London, Paris and San Francisco -- would go on.
He also told a news conference that China -- under fire over a crackdown in Tibet and a host of other issues -- had promised that winning the right to host the Games would lead to an improvement in human rights.

"We definitely ask China to respect this moral engagement," he added.
Foreign ministry spokeswoman Jiang Yu told reporters that Rogge's view of a "crisis" might have been exaggerated, and made it clear China would not engage in a discussion on its human rights performance.
"I believe IOC officials support the Beijing Olympics and adherence to the Olympic charter of not bringing in any irrelevant political factors," she said.
"I hope IOC officials continue to adhere to principles of the Olympic charter."
When asked later Thursday whether tension had surfaced between Rogge and the Chinese authorities, IOC spokeswoman Giselle Davies said: "No, not at all."
"Relations are very good," she said.
Attention to China's rights record intensified last month when protests in Tibet against Chinese rule erupted into violence and spread to other areas of the country.
Exiled Tibetan leaders say more than 150 people were killed in the ensuing crackdown by China. Beijing insists its security forces have killed no one while trying to quell the protests, but that Tibetan "rioters" killed 20 people.
However China sealed off the areas to foreign reporters and other independent monitors, and global rights groups have said they fear those detained could face torture.
Beijing has repeatedly blamed the Dalai Lama, the exiled Tibetan spiritual leader, for the unrest.
The Dalai Lama, on a visit to Japan, said China had the right to host the Games but blamed Beijing for the unrest, saying there was no freedom of speech in his homeland.
"They really deserve" the Olympics, he said. "In spite of the unfortunate events in Tibet, my position has not changed."
Pro-Tibet groups, human rights activists and other campaigners have shadowed the flame since it was lit in Greece on March 24, starting its 20-country journey across the globe.
Protesters disrupted the torch relay this week in London and Paris, where officials had to extinguish the flame several times.
There was no major trouble in San Francisco after organisers shortened the course for the only US leg and switched the route. Its next stop is Buenos Aires.
"The Olympic torch relay will continue in all sorts of weathers to spread the Olympic spirit ...," Jiang, China's foreign ministry spokeswoman, told Xinhua news agency.
Some activists have said they fear that, rather than improving the situation, China is using the Games to justify cracking down even harder on critics at home.
China's security chiefs said Thursday that they had broken two terrorist groups in its heavily Muslim northwestern region of Xinjiang, where there have lately also been reports of protests against the government.
The "violent terrorist group" plotted to abduct foreigners during the Games in a move "that would achieve the goal of wrecking the Beijing Olympics," Ministry of Public Security spokesman Wu Heping said.
Meanwhile, European lawmakers in Brussels urged EU leaders Thursday to boycott the Olympics opening ceremony unless China holds talks with the Dalai Lama, while Beijing refused a request by the top United Nations human rights official Louise Arbour to visit Tibet.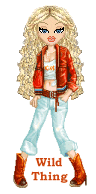 Wild Thing's comment........
Hey Rogge, you people created this monstrosity
"It was "not the joyous party that we had wished it to be," Rogge said in Beijing."..
You should have thought of that BEFORE you decided to put the Olympics in CHINA.
Posted by Wild Thing at April 11, 2008 02:47 AM
---
Comments
Pure Olympic competition is about SPORT and not politics! During old ancient times, WARS would have a cease fire so the Olympics could ensue. Jessie Owens ran to glory in front of the Fuhrer's moustache in the 1936 Berlin Olympics, and kept on running when the Gestapo pace car entered the track?
Posted by: darthcrUSAderworldtour07 at April 11, 2008 06:35 AM
---
Myself, I hope the games are disrupted and COMMUNIST China is embarassed. Yes the games are supposed to be apolitical, but in this case the location choice was a political move by the IOC.
I hope the athletes complain about all the closed society restrictions during the games including travel restrictions and the restriction on free interaction with Chinese people.
China has already banned free speech by athletes or coaches. If just a few participants speak out and are expelled from China for speaking out during the games, it will be a big public relations black eye for China. I am looking forward t the upcoming fiasco.
Posted by: TomR at April 11, 2008 09:19 AM
---
China has to provide minders for each of the contestants to keep them from making free contacts when speaking to their public. Whether you are a Communist oppressor, a cannon cocker or a pooper scooper, blowback is a very nasty business. The Chinese leaders are going to get some blowback.
The Chinese government announced early next month that Chinese mountaineers will carry the Olympic torch to the top Mt Everest as part of its 97-day domestic odyssey where the Nepalese Government has banned climbers from its side of Everest between May 1 and 10 while the torch makes its ascent, China has already announced it will block access to the Tibetan side of the mountain until May 10. I guess we'll just have to take their word for it since there will be no observers to witness the act.
This has turned into a sham before it has even begun, the Olympic torch is lit in Olympia, Greece with a "pure flame" by using a mirrored parabola and the sun. So when the Chinese deliberately extinguished and re-lit it twice in Paris, they broke with all tradition. Also since the Games resumed in 1896, the Games have always been awarded to a city, not a nation. Remember that the Communist nations of the world manage their state sponsored contestants as a business not as a sport. My disdain for the IOC goes back to 1972. I will support a high school game, no money, no politics, no pretenses. IOC shame on you.
Posted by: Jack at April 11, 2008 12:59 PM
---
'China had promised that winning the right to host the Games would lead to an improvement in human rights.'
Seems that China and IOC agreed to make the olympics political. Given that, Rogge has a right to complain. However I do not know exactly how they measure 'improvement in human rights'. For that both parties (China and IOC) are to blame.
I for one never trust promises of future good behavior. If the IOC cared about the politics, they should have waited unitl China had already proved themself. It's like loaning money to a bad credit risk.
Posted by: Odin at April 11, 2008 02:32 PM
---
They said they cracked a Terrorist group in NorthWest China, I would be will to bet that there were no prisoners, and of course No trials.
Hillary wants Bush to Boycott the opening ceremony, to make a point. What is the point ?
Why didn't Slick Willie refuse to sell rockets to the Red Chinese in 96, no too much money coming in for the Clinton. Again too much hypocrisy.
Posted by: Mark at April 11, 2008 05:15 PM
---
Darth, that is interesting, thank you.
Posted by: Wild Thing at April 11, 2008 10:25 PM
---
Tom, me too.
China should never ever been chosen and from the second I found out they picked China I was so angry. I agree with all you said and feel the same way.
Posted by: Wild Thing at April 11, 2008 10:27 PM
---
Jack, thank you for the information.
Nick is also furious and since his family is from Greece he is taking this whole thing personally as well as the anger that the rest of us feel.
You're so right Jack they have messed with even the tradition from the start.
Posted by: Wild Thing at April 11, 2008 10:32 PM
---
Odin, yes, China is really showing they have no desire to even follow some of the rules of the IOC.

Posted by: Wild Thing at April 11, 2008 10:45 PM
---
Mark LOL your right, Hillary and Bill did their dirty deals with China and they have no room to talk.
Thanks for the info. about the terrorists group in NorthWest China.
Posted by: Wild Thing at April 11, 2008 10:47 PM
---