« Rep.Kennedy ~ "Mental Health, Drug History Makes Him Stronger Advocate" | Main | Helping To Retire John Kerry! ~ 9 Years of Ineffectiveness »
April 16, 2008
CAIR Now Involved Regarding Minneapolis Tax-funded Muslim School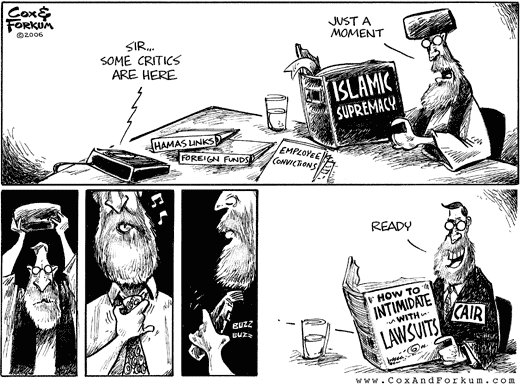 Muslim civil liberties group seeks FBI probe of school threats
The Minnesota chapter of a national Islamic civil liberties group has asked the FBI and local law enforcement officers to investigate reported threats against a Twin Cities charter school as possible hate crimes, while a Jewish organization deplored the threats.
The Council on American-Islamic Relations (CAIR) made the request Monday after the director of Tarek ibn Ziyad Academy in Inver Grove Heights told police that he and the school had received threatening and harassing phone messages and e-mails.
The group is concerned about the safety of the school's students, many of whom are Muslim, said CAIR chapter coordinator Chris Schumacher. Tagging the threats as possible hate crimes also makes it clear that prejudice could have prompted them, and "we wanted to bring that to light in case that wasn't already obvious to people," he said.
The Jewish Community Relations Council of Minnesota and the Dakotas also condemned the alleged threats in a statement released Monday.
As of Monday, the charter school had not filed a complaint with the Minneapolis FBI office, but agents will reach out to the school and get more details about the messages, said Special Agent Paul McCabe. Identifying the messages as possible hate crimes would put them under the jurisdiction of federal as well as local law enforcement authorities, he said.
CAIR members are talking with the school about follow-up action that could include a community meeting along the lines of a town hall forum held in Blaine after arsonists set fire to a convenience store owned by a Muslim man in January, Schumacher said.
The K-8 charter school has come under close scrutiny since Star Tribune columnist Katherine Kersten questioned whether the publicly funded academy promotes the Muslim faith.
The Minnesota Department of Education has begun an investigation of the school in response to Kersten's columns. Director Asad Zaman, who could not be reached for comment Monday, has said the school is nonsectarian.


Other posts at TW about this school:
April 10th, Minnesota Muslim Public School Paid For By Taxpayers
April 11th, Update On Sharia In U.S. Secondary Public Schools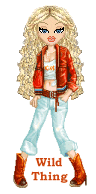 Wild Thing's comment........
This sure is even more proof that this is a Muslim school, even though the leaders there deny it. CAIR gets involved and they start to intimidate those telling the truth.
I have no knowledge of real threats made on the school. That kind of thing would not be necessary, but what should happen would be for the parents that are not Muslim to make a fuss and a loud one. Calls and complaints to those in with pull much higher up then the stupid Principle that didn't know how to raise the American Flag.
So many times CAIR has gotten involved when there were NO threats made at all. One thing and the only thing we do know is an article was written about the school. Now that is NOT a threat it is journalism and the woman did a great job writing about the school.

Posted by Wild Thing at April 16, 2008 03:48 AM
---
Comments
At least we are doing what Europe didn't--we're trying to fight back and they don't like it one bit.
They think they can just come over here, act like high and mighty and expect us to bend over and take it up the hind end like everyone else did.
They forget, our ancestors either left willingly or were kicked out of every nation on the face of the planet because of crap like this.
CAIR isn't helping. They're making more problems.
Posted by: Lynn at April 16, 2008 05:24 AM
---
The cartoon says it better than I can. CAIR is a lawsuit bully. It is a terrorist supporter. It is anti American. And it uses our freedoms and protections against us.
I do not think our government is taking CAIR's potential threat against America seriously enough. There just has to be enough dirt against that organization to close it down.
Posted by: TomR at April 16, 2008 10:47 AM
---
Wanna make your blood boil a little more - as if JUST having this school in the States isn't enough - check this out if you have a minute:
http://answers.yahoo.com/question/index?qid=20080410114904AAdvUAE&r=w&pa=FZptHWf.BGRX3OFPgTxVUMN1w0UK7Q1ULQbGS.N_C8EY9OP2lw--&paid=answered#FrBWOTvBL0K6EHNKHCOg
Don't bother reading it all if you don't have the time - just read the question - and the answer by "h."
I couldn't help but put my $.02 in. Had to. Didn't get banned or flagged - but did get a "two thumbs down" for my answer. Perhaps I should sue someone. CAIR? They'd be my first listed defendant. They are no doubt promoting this propaganda!
Ooohhhh. Just makes me sooooo angry. All of this - the school, the lawsuits.
Oh, and one final thing - does anyone remember sometime ago that some muslim group in the states was being threatened and they found out that it was the group doing it to themselves... Where / what was this? They were seeking protection from those jooos they so fear - when in actuality - it was the other way around.
Posted by: BT in SA at April 16, 2008 01:21 PM
---
Lynn I agree!!!! We are fighting back as best we can. Your so right too about our heritage, we are here because they fought back and so will we.
Posted by: Wild Thing at April 16, 2008 04:57 PM
---
Tom , yes I don't get that. CAIR is very much a their supporter and our government just seems to turn the other cheek or not want to stop them.
Posted by: Wild Thing at April 16, 2008 05:00 PM
---
BT in SA, oh wow double WOW I LOVE your comment you wrote there. Thank you so much for showing this to me and the link. You are absolutely right everything you said.
Posted by: Wild Thing at April 16, 2008 05:05 PM
---
The best way to fight Islamofascists is to shine the bright light of Democracy, Freedom, and the Internet on these savages and terrorists wherever they live and promote their Religion of Evil.
Posted by: Les at April 16, 2008 07:39 PM
---
The left is leaving themselves open for a slew of lawsuits. Now with this in place, the public schools should bring back a prayer in the morning and before school team activities.
But that is asking the NEA to go along with something that makes sense and would put America in the front. We all know that will never happen.
There certainly are alot of double standards. or maybe the left is just a bunch plane, garden variety cowards. That won't even stand up for there own country even in there own back yard.
Posted by: Mark at April 16, 2008 09:39 PM
---
Les that is true, too bad so many don't want to make waves, tell the truth about Islam and it agenda.
Posted by: Wild Thing at April 16, 2008 11:29 PM
---
Mark, exactly, the left and anyone I have ever talked to on the left in person as well could care less about standing up for America. I swear I never made a leftie that would take a stand for our country.
Posted by: Wild Thing at April 16, 2008 11:34 PM
---
"I don't give a ramadamn about cair and could cairless - Caliphate Arabs In Region?"
CAIR = ACLU
NAZIISM = ISLAMOFASCISM = TOTALITARIANISM
DNC = ALL OF THE ABOVE!
Posted by: darthcrUSAderworldtour07 at April 17, 2008 01:32 AM
---
Darth, all the above is right.
Posted by: Wild Thing at April 17, 2008 05:59 AM
---