« Boneheads vs. Jarheads By Russ Vaughn | Main | Hamas Says Carter Visit a Boost to Militants' Legitimacy »
April 20, 2008
Bush to Appear on 'Deal or No Deal' to Surprise US Soldier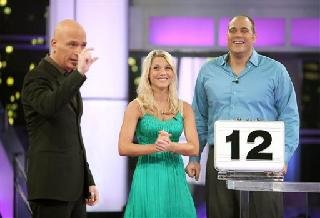 In this image released by NBC, "Deal or No Deal" host Howie Mandel, left, is shown with contestant Capt. Joseph Kobes, right, and his supporter Laura Johnson during the taping of the game show in Los Angles. The program, scheduled to air on Monday, April 21,2008, features Kobes, as he attempts to win enough cash to pay off his parents' home.
Bush to Appear on 'Deal or No Deal' to Surprise US Soldier
President Bush has taped a surprise "good luck" video for a U.S. soldier, Captain Joe Kobes, who is a contestant on the popular television game show, "Deal or No Deal," White House spokesman Tony Fratto said Friday.
The president's video will air on Monday's episode of NBC's "Deal or No Deal," and the network will be previewing clips from the video over the weekend.
The president's video will thank Kobes for his military service and wish him luck on the game show, in which he will compete for a top prize of $1 million. "It really is actually an emotional moment for Captain Kobes and his family," Fratto told reporters at the White House press briefing.
The president agreed to make the video when he learned from the producers of "Deal or No Deal" that he is one of Kobes' heroes.
Army Capt. Joseph Kobes was blown away when host Howie Mandel segued to a taped greeting from President Bush, who thanked him for his three tours in Iraq and wished him good luck in the game show.
"He was definitely speechless, which is rare for him," Ken Kobes said of his son.
The elder Kobes said Friday that he's under orders from NBC not to divulge his son's winnings from the show, taped last month at a studio in Culver City, Calif.
Kobes, 29, is a transportation officer in school at Fort Lee, Va. A few months back, he drove six hours to an open "Deal or No Deal" tryout in Philadelphia and got called back for a second audition. A month after that, the producers called again. He'd made the final cut.
The show put up his parents, Ken and Susan; his girlfriend; and his three brothers in a nice hotel for four days during the taping last month. The family enjoyed the impromptu reunion.
It was a nice departure from an intense past few years for the younger Kobes, a Sumner High School graduate who double-majored in nuclear physics and pre-med at West Point, Class of 2001.
He was in Iraq from March 2004 to March 2005. He led a transportation platoon in Iraq and volunteered for two other assignments from November 2006 to July 2007, a White House spokesman said Friday.
Kobes was twice awarded the Bronze Star for valor and has a Purple Heart for shrapnel wounds he suffered when his truck was bombed in 2004, his father said.
And what about that taped game show message from the president?
Kobes had an inkling something might be up, his father said, when he got a call from his assignment officer telling him his next job was on hold because the White House had been making inquiries about him.
Kobes thought maybe he was up for a White House fellowship or one of the other plum assignments there for military officers.
No such luck, but there's some consolation in his next duty station: Schofield Barracks in Hawaii.
The elder Kobes said producers at the taping told him they'd been trying to get the president on the show for a long time.
"They said, 'Your son must be somebody really special for the president to do that,'" Kobes said. "And I thought, 'Yeah, he is.'"

Wild Thing's comment........
What fun and how wonderful for Capt. Joe Kobes. I hope he wins the million dollars.

Posted by Wild Thing at April 20, 2008 03:50 AM
---
Comments
This is a selfless young man with a huge heart.
To ask only enough to pay off his parents home.
How nice. I hope he does well enough to do that.
His parents must be so proud of him--they raised their boy right--they did their best and he's trying to pay them back. I can only hope my children will be the same.
Posted by: Lynn at April 20, 2008 07:28 AM
---
Lynn, isn't it great. He really wants to do something for his parents.
Posted by: Wild Thing at April 20, 2008 06:36 PM
---
W's legacy is he did bring honor and respect back to the Oval Office, appointed two superb US Supremes in Alito and Roberts, and bombed the shiite out of the Taliban after 9-11-01... I am grateful for his tax-cuts and our son is too (soph in college) ... and W really loves HIS troops, NO DOUBT! Laura is a fabulous First Lady and as for those ... twins? The White House ceremony for Pabst Benedict XVI was wonderful and unforgettable, but as for enforcing our US borders - fahgettaboutit! Now we have to keep OUR Oval Office REPUBLICAN, especially in WAR with evil and homicidal islamofascist terrorists! I looked at Ground Zero today while Pope Benedict XVI was there and still welled up with tears. Papa XVI felt 'the terror from 9-11' as well.
Posted by: darthcrUSAderworldtour07 at April 21, 2008 02:20 AM
---
Darth, I agree, Bush has always shown respect to our troops. I have seen him with tears on his cheeks in photos and the look in his eyes when he is with them. That part about him I love it so much.
Posted by: Wild Thing at April 21, 2008 04:28 AM
---
I missed it when he was down to 5 cases. What happened, how well did it end for Capt. Kobes?
Posted by: cin at April 22, 2008 12:57 AM
---
According to the NY Post (www.nypost.com) he won ... $78,000.
Posted by: darthcrUSAderworldtour07 at April 23, 2008 01:28 AM
---
cin, Darth has put your answer in his commment.
Thank you so much Darth, I just noticed cin asked and I hadn't see this comment.
Posted by: Wild Thing at April 23, 2008 03:27 AM
---