« Happy Easter | Main | Attack On 507th Altered Training Of Support Troops »
March 24, 2008
Terrorists and Their Friends Might Want To Learn English ~ LOL
Most Syrians struggle to even read Arabic, much less have a clue about reading English.
So, how do a group of Syrian protest leaders create the most impact with their signs by having the standard "DEATH TO AMERICANS!" (etc.) slogans printed in English?
ANSWER:
They simply hire an English-speaking civilian to translate and write their statements into English. Very easy to do throughout the world.
HOWEVER . . . in this case, they were unaware that the "civilian" insurance company employee they hired for the job was a retired U.S. Army Sergeant! Obviously, pictures of this protest rally never made their way to Arab TV networks, but the results were PRICELESS!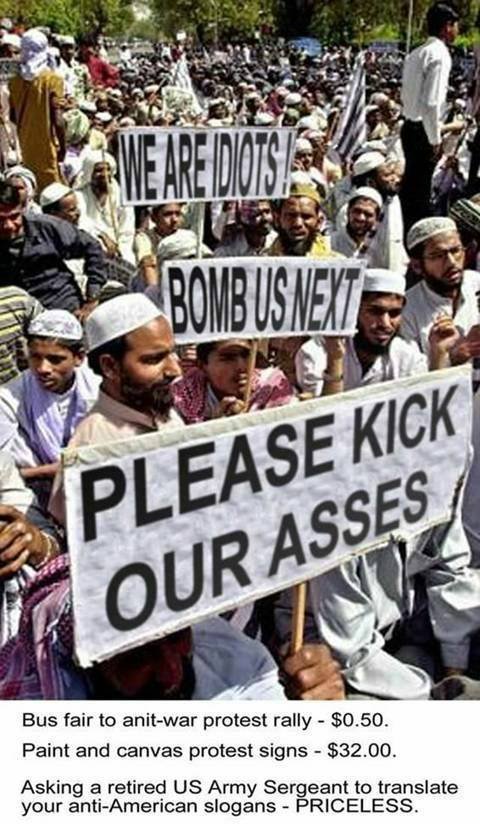 Wild Thing's comment.........
LOL I love this!

....Thank you Mark for sending this to me.
Posted by Wild Thing at March 24, 2008 02:45 AM
---
Comments
Oh my goodness, this is soooo good!

Posted by: Lynn at March 24, 2008 05:17 AM
---
Posted by: Jack at March 24, 2008 05:40 PM
---
Lynn, haha I agree it is so funny.
Posted by: Wild Thing at March 24, 2008 11:27 PM
---
Jack LOL that is funny too.
Posted by: Wild Thing at March 24, 2008 11:28 PM
---