« Raining McCain | Main | Mukasey 'surprised' by scope of terrorist threats »
March 23, 2008
No Escaping Granny For KFC Robbery Suspect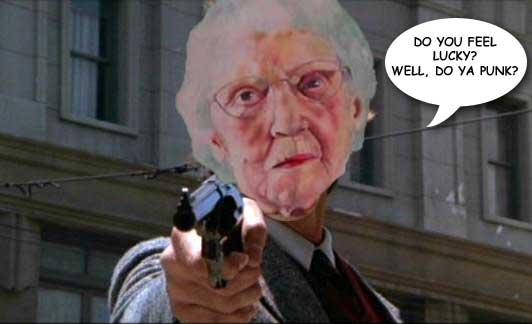 This is just a graphic and the Grandma in the story did not use a gun, but I just couldn't resist. heh heh
No escaping this granny for KFC robbery suspect
Thieves, robbers: Stay away from Camas, Wash. It's Mary Chamberlain's town. The 67-year-old had picked up a friend at a hospital Wednesday and was driving by the local KFC when an employee came running out, chasing a man and yelling "He robbed us!"
Many people might have called 911 and left it at that. Not Chamberlain. The employee gave up the chase, but Chamberlain started driving after the man. "I thought I'd slow him down, anyway," she said.
The suspect kept shouting "I didn't do anything!" prompting two men to come out of the local Kingdom Hall and ask what was up. They called police. Chamberlain stayed in pursuit.
"I followed him on down the road. He ducked into the yards. I couldn't find him. I figured he was going yard-to-yard-to-yard jumping fences."
She eventually spotted him trying to climb a fence.
"I jumped out of the car," she said with a casual air, like the grandmother of 12 she is. She said she didn't stop to think whether the suspect was armed.
"I pulled him off the fence. He didn't swing at me. I just told him, 'Just give it up. You haven't got a chance.' I had my arm around his neck, and I was going to try and bring his arm up behind him. It looks easy on TV. Believe me — it's not."
The suspect was about the same height as Chamberlain, 5-foot-6, with an average build. The pair ended up locked together in a slow dance moving toward the gate of the fence.
"I wasn't going to let go," she said. Both could hear sirens by now. "I told him, 'Just give it up,' then the police showed up and hollered at him to get down."
Police arrested Joshua G. Crowley, 22, of Washougal, Wash. He is accused of robbing the KFC at knifepoint, said Camas Police spokesman Mitch Lackey.
Lackey doesn't recommend acts of vigilantism such as Chamberlain's.
Chamberlain is retired from a job at United Parcel Service and, as a regular customer of the restaurant that was robbed, says she just felt the need to defend it.
"You're messing with one of my favorite places," she said.
Her four kids think she's crazy, Chamberlain said. But she wants them to tell this robbery story to the grandkids.
"They'll know they'll always be safe with Grandma."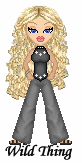 Wild Thing's comment........
Hmmmmm now look at that......so now.....a good citizen has become "vigilantism".
Hey Obama this is one of those "Typical white person granny's".
"You're messing with one of my favorite places," she said."
ROFL! "This is MY HOUSE, dogbreath!!"
Being nabbed by a granny will not go over well in the Big House.
Posted by Wild Thing at March 23, 2008 02:45 AM
---
Comments
That's good!! Way to go, Granny!
Now if we were all brave enough to be like her,
we wouldn't have such crime in this nation.
Posted by: Lynn at March 23, 2008 06:10 AM
---
Posted by: yankeemom at March 23, 2008 07:58 AM
---
Mary, Mary, quite contrary,
Don't let the crook get away!
How neat. This crook may just have to turn to a life of honest work.
Posted by: TomR at March 23, 2008 08:46 AM
---
Lynn, yes she sure was brave.
Posted by: Wild Thing at March 23, 2008 11:12 PM
---
Yankeemom, me too,she was very brave.
Posted by: Wild Thing at March 23, 2008 11:13 PM
---
Tom, LOL good one, yes, maybe this will turn his life around.
Posted by: Wild Thing at March 23, 2008 11:18 PM
---