« Thumps Up From Berkeley Commie For Anti-war Groups | Main | Via Dolorosa »
March 23, 2008
Motorcycle-riding Supporters of Marines Roar Into Berkeley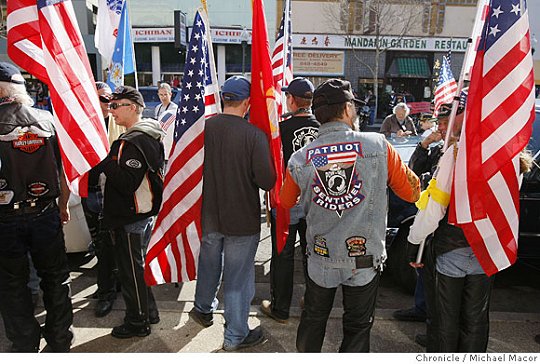 .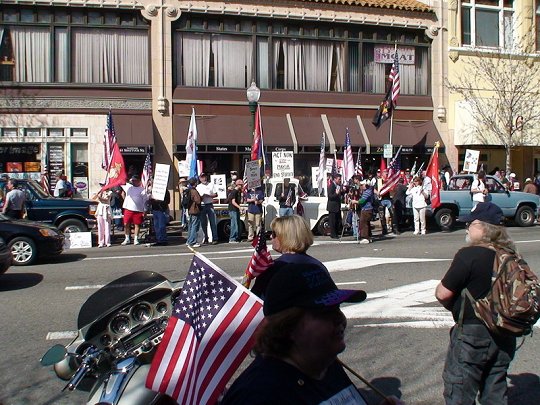 Singer Dana Nagy, right, joins hundreds of supporters of the Marines gathered in front of the Marine Recruiting office in downtown Berkeley and sang the "Star Spangled Banner".


.
This is a video of Diana Nagy singing ...."Where Freedom Flies"
.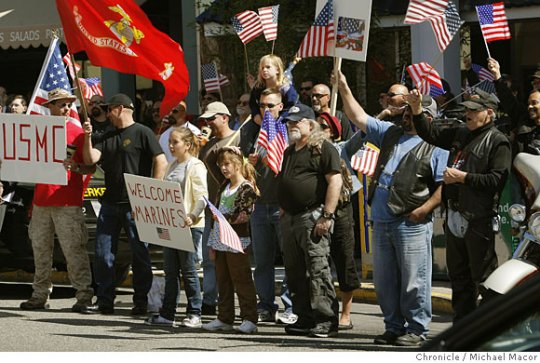 Hundreds gathered in front of the US Marine recruiting office in Berkeley.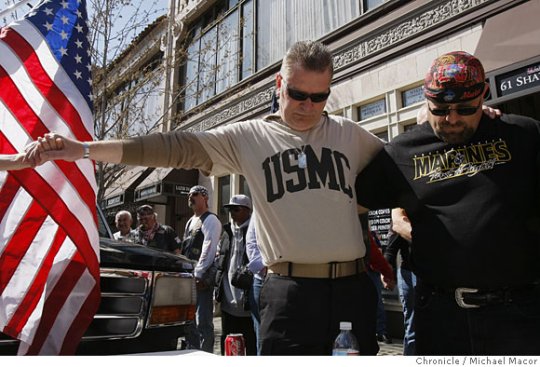 Mike Anderson, left, of Modesto, and Scott Conover, of Tracy, join hands during a prayer as hundreds gathered in front of the US Marine recruiting center in Berkeley.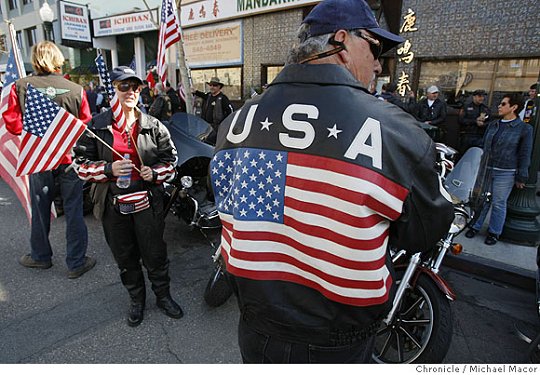 Babs and Jim Alexander of Lafayette, Calif., ride into Berkeley
Motorcycle riders with the group Eagles Up rode in Berkeley to show their support for the US Marines.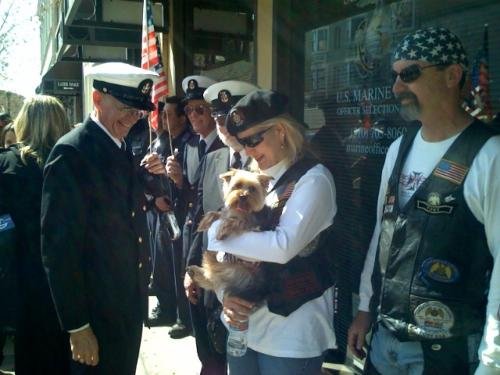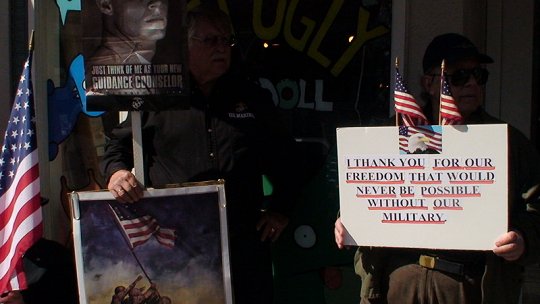 .
Motorcycle-riding supporters of Marines roar into Berkeley
Berkeley is hosting a decidedly different kind of protest today. A couple hundred flag-waving leather-clad pro-troop bikers have roared into town to show their support for the often besieged Marines recruiting center in the city.
"I'm here because I support my Marines," said Steve Bosshard, a retired San Francisco police officer who came from Santa Rosa. "I don't like what Berkeley's done. They don't realize the effect it has on the troops."
The center was criticized by the Berkeley city council and is often the target of protests.
Today's demonstrators, most of whom are military veterans, said they were protesting the Berkeley city council decision in February to waive the amplified-sound permit fees and provide reserved parking in front of the Marines' office for Code Pink, an anti-war group that stages protests at the recruiting center.
Saturday's demonstrators said they plan to boycott Berkeley businesses until the council is recalled, apologizes or grants free permits to a pro-troop group.
The group that organized today's protest, Eagles Up, had to pay for their permit.
More pro-Marines demonstrators were arriving shortly before noon, when a rally with speakers was scheduled.
These Heroes stood in front of the Office for quite some time. Brave warriors from wars past.
Marines, Marines and more Marines. I Love it!
.
From Eagles Up website
Grassroots group Eagles Up will muster Saturday in Berkeley to pushback against the anti-American antics of the City of Berkeley and its anti-military minions, while showing overwhelming support for U.S. Marines.

Hundreds of patriots on motorcycles are expected to roar into town from around the western United States, while other true Americans roll into Berkeley to stand with the bikers at the Marine Recruiting center on Shattuck Avenue.
"We expect a massive crowd to send a message to the city of Berkeley, Code Pink and any other anti-military group that Americans are sick and tired of their hateful, dangerous behavior," said Doug Lyvere, Eagles Up
The mayor has expressed a willingness to extend similar rights to other organizations, but only for recurring protests of the Marine office.
Move America Forward's request for similar rights to protest the city council were denied, and EaglesUp is paying for the permits for Saturday's events.

Many patriotic motorcycle groups are expected to attend and stage formal rides to and from the event, which will feature speakers at noon.

WHO: EaglesUp, Patriot Guard, MAF's Melanie Morgan, Catherine Moy, and an assembled crowd
WHAT: A patriotic rally with prominent speakers WHEN: This Saturday 3/22/08 with a crowd starting to form around 10 a.m. and speakers at noon
WHEN: This Saturday 3/22/08 with a crowd starting to form around 10 a.m. and speakers at noon
WHERE: the Marine officer selection office at 64 Shattuck Square in Berkeley
WHY: to support the Marines and their right to operate in Berkeley
.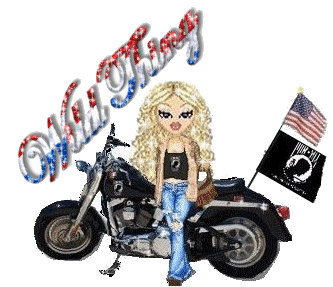 Wild Thing's comment........
For a brief shining moment today, Berkeley became part of America. What an awesome sight to see all those patriots with their American flags. God Bless everyone who showed up and made a difference for our Marines and for our country.
From someone that was at this event :
"An interesting event happened early on. I was talking with a guy running the sound system before the event. They were twirling dials, doing microphone checks and running wires from the back bed of a pick-up, parked just one spot up from the Marine station. Geek wires all over the place. Tie-downs and a soundboard, with a wireless system also. Flags and signs all over the truck. An event permit clearly on the front dashboard. A cop comes over and asks, "Is this your truck"? Oh-oh!

The truck owner gulps, says "yes" in a hesitant, quizzical tone to the officer. We both were wondering what this was all about???? GULP!!!!

The officer nicely asks if he had any tie-downs so he could attach some American flags to his bike! We both broke into large grins, and handed the office some tie-downs. LOL"
Posted by Wild Thing at March 23, 2008 02:48 AM
---
Comments
Oh the backlash is coming!!!!!!!!!!!
Isn't it just great?
I would love to have seen the expressions on the faces of Code Pinko and their ilk.
Posted by: Lynn at March 23, 2008 06:04 AM
---
Isn't that a beautiful sight!!
My friend (who is the last troop supporting "standard bearer" in Santa Cruz) went up to Berkeley yesterday and I'm waiting on her report that I'm going to post. She called me from there and was so jazzed! Said it went off beautifully! Hoo-frickin-Ah!
(I'll be linking to you ~;o))
Posted by: yankeemom at March 23, 2008 07:33 AM
---
Was this covered by the MSM at all? I don't watch much national news or read newspapers. I get most of my news from the Internet(my little boycott of the MSM!).
Pink dresses and peace signs just don't get your attention like roaring Harleys and American flags. So the protestors get a few dozen over the hill nags and truant high scholers and Eagles Up gets hundreds of patriots. Hooo Ahhhh!!
Posted by: TomR at March 23, 2008 09:06 AM
---
I don't recall any news about this but I don't follow the incredible media much any more. Thanks WT.
Thank you EaglesUp, Patriot Guard, MAF's Melanie Morgan, Catherine Moy and all the true Americans.
No man is entitled to the blessings of freedom unless he be vigilant in its preservation.
--Douglas MacArthur
Posted by: Jack at March 23, 2008 12:49 PM
---
Wow, you don't see many 'Super-Chiefs' in the Navy, that is about the 3rd or 4th I have ever seen.
And thank you to everyone who showed up.
Posted by: Mark at March 23, 2008 05:14 PM
---
Lynn, me too, I bet their where lots of deep frowns and angry faces.
Posted by: Wild Thing at March 23, 2008 10:35 PM
---
Yankeemom, that is fantastic, I look forward to seeing your post too.
Posted by: Wild Thing at March 23, 2008 10:36 PM
---
Tom, I didn't see it on any of the news shows. They are too busy not wanting to support the troops.
Posted by: Wild Thing at March 23, 2008 10:44 PM
---
Jack your right, I didn't see any of this in the news at all.
Thanks for the quote too that is perfect.
Thank goodness for the various groups that were there and their excellent reports on this.
Posted by: Wild Thing at March 23, 2008 10:49 PM
---
Mark, yes isn't that wild, I was so surprised when I saw that photo and what a big smile on their faces too.
Posted by: Wild Thing at March 23, 2008 10:51 PM
---