« Clinton Camp Raps Obama Over Photo ~ LOL | Main | Raining McCain »
March 22, 2008
Jeremiah Wright Met With President Clinton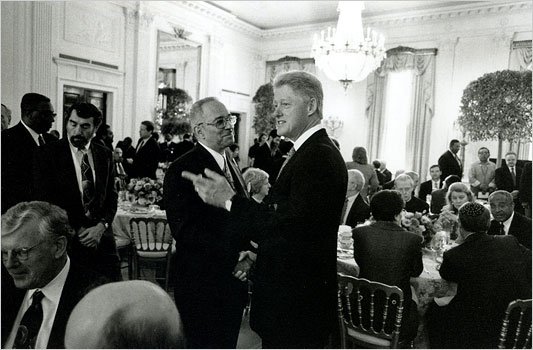 The Rev. Jeremiah A. Wright Jr. and President Bill Clinton at a prayer breakfast at the White House in September 1998
Photograph of Bill Clinton and Rev. Wright Surfaces
During one of the most difficult periods in the presidency of Bill Clinton, he addressed a group of clerics at an annual prayer breakfast in September 1998 just as the Starr report outlining his dalliance with Monica Lewinsky was about to be published.
Among those in attendance, was the Rev. Jeremiah Wright Jr., who is seen shaking hands with Mr. Clinton in a photograph provided today by the Obama campaign. Mr. Wright's relationship with Senator Barack Obama, as his longtime pastor, has been the subject of considerable controversy in recent days because of incendiary excerpts of sermons Mr. Wright gave at their church, Trinity United Church of Christ, in Chicago.
In providing the photograph to The New York Times, the Obama campaign appeared to be trying to divert some attention to the Clintons after a week in which Mr. Obama's relationship with Mr. Wright has left him facing one of the biggest challenges of his campaign. There is nothing in the picture or the note that addresses whether Mr. Clinton had met Mr. Wright prior to the White House meeting or whether he or Mrs. Clinton knew anything about Mr. Wright's views.
Asked for a response tonight through email, Howard Wolfson, a top aide to Senator Hillary Rodham Clinton, wrote, "Urgent indeed — a picture — oooooooo!"
Senator Clinton's spokesman, Phil Singer, sent along this reply to a request for comment:
In the course of his two terms in office, Bill Clinton met with, corresponded with and took pictures with literally tens of thousands of people.
Mr. Wright was invited to the 1998 prayer breakfast, and in addition, he received a thank-you note from former President Clinton for his expressions of support about six weeks later.
According to an account by James Bennet, former White House correspondent who has since left The Times:
With tears in his eyes, President Clinton told a roomful of clerics this morning that he had sinned, speaking just hours before the world was presented a painstaking account by prosecutors of when, where and how.

Addressing an annual prayer breakfast at the White House, Mr. Clinton drew on the New Testament, the Yom Kippur liturgy and Ernest Hemingway as he made his most abject confession yet of personal failure, while declaring that he would defend and redeem his Presidency.

''I don't think there is a fancy way to say that I have sinned,'' he admitted softly, saying that after resisting expressions of contrition he had reached ''the rock-bottom truth of where I am.''

For the first time, Mr. Clinton also asked for forgiveness from Monica S. Lewinsky, on the day that the details of their intimate relationship — details that he had denied and struggled to suppress — poured out through the Internet, whose wonders as a tool of communication he has so often extolled.
Mr. Wright is not mentioned in the article. Also visible in the photograph is Vice President Al Gore.
And according to the newly released schedules of Mrs. Clinton by the National Archives of her years as first lady, she was in attendance, too.
Her schedule reads:
Religion Leaders Breakfast (w/POTUS)" in the East Room from 9-10:30 a.m.
Format:
- The President and First Lady are announced into the East Room and proceed to their tables.
- The Vice President makes remarks and introduces The President.
- The President makes remarks and introduces Dr. Reverend Gerald Mann.
- Dr. Reverend Gerald Mann gives blessing.
- Breakfast is served.
- Following breakfast, The President opens discussion.
- Upon conclusion of the discussion, The President introduces Dr. Reverend James Forbes.
- Dr. Reverend James Forbes gives benediction.
- The President, First Lady, and Vice President depart.
PARTICIPANTS: Approx. 130 guests to attend.

The wording of Mr. Clinton's thank-you note to Mr. Wright, dated Oct. 28, 1998:
Dear Pastor Wright: Thank you so much for your kind message. I am touched by your prayers and by the many expressions of encouragement and support I have received from friends across our country. You have my best wishes. Sincerely, Bill Clinton
UPDATE: The Clinton campaign is not happy about the release of this photo:
"The Obama campaign put this photo out? How pathetic," he said. "Less than 48 hours after calling for a high-minded conversation on race, the Obama campaign is peddling photos of an occasion when President Clinton shook hands with Rev. Wright.." .....from the Clinton's campaign.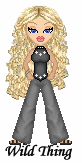 Wild Thing's comment........
How wonderful how Obama and the Clinton's are all connected. So Wright is popular with the left, LOL, and now they all can fight over who knew him first or better yet who does not want to admit to knowing Wright.
I wonder if we will also find out that Wright also went for dinner with Saddam or Osama Bin Laden. That Wright sure does get around. Free food must be a strong pull on the ole hate monger. LOL

....Thank you Mark for this article.
Posted by Wild Thing at March 22, 2008 02:55 AM
---
Comments
I think he just likes to get involved with powerful people so he can spread his message of HATE.
And the Dummycraps really lap it up like hungry dogs.
Posted by: Lynn at March 22, 2008 07:02 AM
---
Release of this picture will rile up the Clintons. Actually, the picture means little as Clinton probably did not even know who Wright was. Wright was just one of thousands who were shuttled through White House ceremonies and promos. But release of the picture infers that Clinton and Wright may have been close.
Obama. Do not piss off Bill. He has ways to get you.
Posted by: TomR at March 22, 2008 07:57 AM
---
Sounds awfully religious for a party that is so worried about Right-wing fringe Christians.
Thats what I heard too, Tom, there are an awful lot of bodies around the Clintons, Vince Foster is just one of the many. From Arkansas all the way to the White House.
Posted by: Mark at March 22, 2008 12:08 PM
---
Lynn, I think so too. Too bad the office of any of our President's don't take more care in checking out more about the people they include in events. For sure the Clinton's didn't care.
Posted by: Wild Thing at March 22, 2008 12:40 PM
---
Tom, I agree, hahaha now the photo is coming back right in their face.
Posted by: Wild Thing at March 22, 2008 12:43 PM
---
Mark, yes that is something I just can't get over how all those people are dead that knew the Clinton's. That list is so long and they may not have done it themselves, but the connection is there and they didn't get punished for their many crimes.
Posted by: Wild Thing at March 22, 2008 12:45 PM
---
The adage that you are known by the company you keep is so telling. Can't put that Jinn back in the bottle eh, Bubba. Just keep on bumping those gums. How Ya Gonna Keep 'Em Down On The Farm?
Posted by: Jack at March 22, 2008 02:45 PM
---
Jack love the video thank you.
Yes they sure don't pay much attention to "known by the company you keep" haha
Posted by: Wild Thing at March 22, 2008 03:55 PM
---