« Obama and Rezko - Match made in heaven | Main | Seattle Diners Have Sweet Surprise for Christopher Yanez a Machine-gunner and His Girlfriend »
March 16, 2008
Demonstrators Face Off Outside Tacoma Mall ~ For The Troops Outnumber Hippies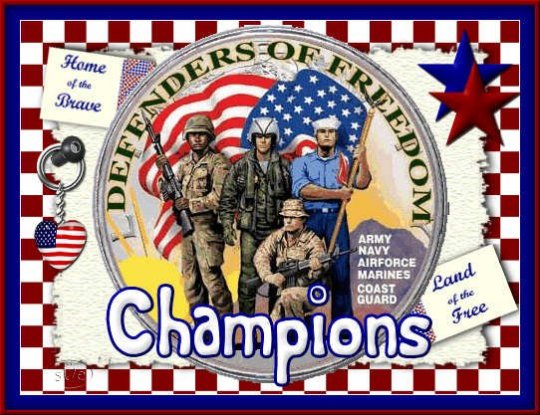 Demonstrators face off outside Tacoma mall
TACOMA, Wash.
About 150 people -- those opposed to the Iraq War and those supporting it -- gathered noisily outside a Tacoma Mall office building on Saturday.
A group known as World Can't Wait had organized an anti-war protest to mark the coming fifth anniversary of the Iraq War. But long before their protest was scheduled to begin, counter-protesters arrived.
The counter-protesters surrounded an office building that houses military recruiting offices, which anti-war protesters had said they planned to "shut down." They shouted "God bless our troops" and waved American flags.
As the two groups faced off, dozens of police officers, including some in full SWAT gear, served as a buffer zone. They formed a human line to divide the groups.
But there were no arrests or injuries.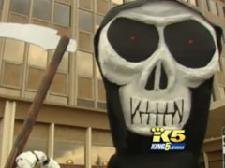 The demonstrators shouted insults at each other and each side attempted to out-yell the other side.
"They don't appreciate our soldiers and what they do for our freedom," said Cheryl Ames.
"I am on this side because I do not agree with the way the war started," said Tommie CeBrun.
Protesters held up photos of Iraq detainees tortured at Abu Ghraib prison in Baghad. They also laid out 281 pairs of shoes on the sidewalk in front of the building, including 81 pairs of combat boots that carried tags bearing the name of a U.S. military member killed in Iraq who listed Washington as his or her home state.
The protesters said the 200 pairs of shoes represented the 200-to-1 ratio of the Iraqi-to-American death rate. But the act was met with a volley of insults.
Warnings for military families to avoid the mall had been circulating for days, since some recent protests, including one at the Port of Olympia, have seen increased violence.
Meghan Tellez and her children planned to avoid the mall. Her husband is in the Navy Reserve.
"I love that mall, but I don't want my children around that," she said.
From KOMO TV
Dozens of police officers, including some in full SWAT gear, served as a buffer zone separating the two sides.
The protest targeted the office building because of U.S. military recruiting stations located in it and because of its proximity to Fort Lewis, wihch has sent thousands of troops to fight in Iraq.
Protesters held anti-war signs and banners, while counter-protesters waved American flags.
Shelley Weber, a counter-protester who supports the military, wasn't persuaded.
"We're not going to put up with this (anti-war protest)," she said. "We see what they're doing around the nation in recruiters' offices down in Berkeley, New York and elsewhere. It's a disgrace to our military."
There is a VIDEO HERE YOU CAN WATCH

And this was from a one of the comments sent in about what happened in Tacoma:
" I was with the Support the Troops people today. What a pathetic turnout the anti-military protesters had. They at best had 50 people, all college age punks, probably from Evergreen State Col the most liberal campus on the west coast. The Support the Troops side had at least 3 or 4 times their number, including about 25-30 of the coolest leather clad bikers I ever saw. At The mall it was business as usual, full of shoppers stimulating the economy with their hard earned dollars. If the protesters goal was to interrupt commerce, they failed miserably. They also failed to shut down the recruiting office. The office they were in front of was closed anyway. The Army recruiter around the corner of the building was open for business, and even gave out donuts and coffee for the Support the Troops people. And for the military being ordered to stay away? No Way! There were many many young men walking around with military haircuts, many of who walked over and thanked us for what we were doing, several even staying with us. Many more of their families honked as they drove by our line of flags. And the Police did a fantastic job keeping the ant-war goons confined to a small area near the recruiting station, making sure they could not block access to the opened office or cross onto Mall property. My message the anti-military punks is this: Tacoma is a Military town, and damn proud of them. Go protest some place else you losers. Be sure to watch the King5 video on the link. The news did a fair job, except when they said there was no real difference between the two groups - That was BS. Few of them looked like normal decent people. Many went for the anarchist look, with scarves over their faces and black hooded sweater shirts, that sort of thing."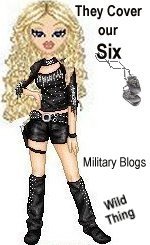 Wild Thing's comment........
I wish I could fly acorss our country and go to every pro troops rally there is. It would be impossible for many reasons but in my heart I sure would love to show support by being there.
It is so wonderful how so many showed up to show support for our military.
Posted by Wild Thing at March 16, 2008 02:48 AM
---
Comments
IF - GOD FORBID - the islamofascists established their caliphate here, these hygienically challenged godless hippies would be the first ones executed... and only a few of US get it!
Posted by: darthcrUSAderworldtour07 at March 16, 2008 06:31 AM
---
More troops than protesters? Yippee!!! Maybe this is finally turning the tide. We're sick of the protesters crap and we aren't going to take it anymore.

Posted by: Lynn at March 16, 2008 07:03 AM
---
Chrissie wrote, "I wish I could fly across our country and go to every pro troops rally there is. It would be impossible for many reasons but in my heart I sure would love to show support by being there."
You are there thanks to blogging every day. You will never know how many hearts you warm and how much hope you instill in those of us who discourage easily as I did when I read that this protest was going to go on near my Washington State grandchildren. The bikers and other patriots showed up and represented us and America and turned the protest into an affirmation of all that I love about this country. I pray you and the counter-protesters will live long and prosper!
Posted by: Horace at March 16, 2008 10:04 AM
---
Tacoma is a little more conservative and Patriotic when compared to Seattle. It is a Working City. My Mother-in-Law still lives there. I did over half of my career at NAS Whidbey Island. I would have loved to have been there for this one. Being and old retired sea dog, it could have been fun.
Posted by: GM Cassel AMH1(AW) USN RET at March 16, 2008 10:09 AM
---
Didn't make it Chrissie, thanks for covering it though. I spent too much time at Ft. Lewis to be tolerant of the idiots and I'm not constrained by a uniform, BS rules of engagement and I don't harbor a warm and fuzzy attitude toward anarchists.
I stayed home and melted up 80# of lead, afraid that I might need a hacksaw if I'd have attended. I'll probably be pouring hot lead into a mold today. Local TV covered the event but I ignored their liberal drivel too!!!
Posted by: Jack at March 16, 2008 03:24 PM
---
I was one of the pro-military supporters at the recruiters offices on Saturday, and I was totally blown away by the turnout! Almost two weeks ago my close friend received a call from a Navy recruiter that we are both friends with to tell us that the protesters were planning on targeting the building and vehicles. We started e-mailing people right away, and the message ended up reaching the Port Orchard Veterans Motorcycle group (all the leather clad guys), although it was actually almost 50 of them at one point.
The message reached more than I ever expected, and the protesters actually left early because of the unexpected opposition! I was there from 11am till 5:30pm (the protesters left at about 3), waving the flag proudly. God bless our troops!
Posted by: Emily at March 16, 2008 09:26 PM
---
Darth, you are soooooo right!!!!!
Posted by: Wild Thing at March 17, 2008 12:14 AM
---
Lynn, double Yippee I agree. giggle

I hope all this counter protests will start to sink in to the lefties and show them they are not going to get away with their vile protests.
Posted by: Wild Thing at March 17, 2008 12:17 AM
---
Horace, you are so kind, thank you.
Can you imagine the sound of those bikes pulling up. heh heh I love thinking about that.
Posted by: Wild Thing at March 17, 2008 12:18 AM
---
GM Cassel AMH1(AW) USN RET, giggle, my husband is a Navy Vet and he said the same thing. Thank you so much for sharing about being at Whidbey Island.
Posted by: Wild Thing at March 17, 2008 12:20 AM
---
Jack, wow that is interesting about the lead. That is a lot of it, you did good!!!
Posted by: Wild Thing at March 17, 2008 12:24 AM
---
Emily, nice to meet you. Thank you so much for sharing about it, I really apreciate it. That is fantastic.
Posted by: Wild Thing at March 17, 2008 12:25 AM
---