« Visiting With our Troops | Main | China Wants Troops To Guard Olympic Torch In Australia »
March 26, 2008
Bill Clinton Voodoo doll very funny ~ Oldie But Very Funny
Bill Clinton Voodoo doll very funny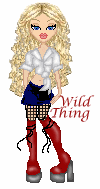 Wild Thing's comment.........
I remember seeing this back when Bill Clinton was President and just saw it again. It is very funny.
Posted by Wild Thing at March 26, 2008 12:47 AM
---
Comments
It's still funny, thanks.
Posted by: Jack at March 26, 2008 06:53 AM
---
Now if somone would do one like that on Obama all
I can say is ROTFLMAO!!!
Posted by: Tincan Sailor at March 26, 2008 10:22 AM
---
Thanks Jack and Tincan Sailor. LOL yes I wish someone would do one of these on Obama too. hahahaha
Posted by: Wild Thing at March 26, 2008 04:45 PM
---