« Death To The Emeny From The Sky | Main | Obama Survey Says »
March 31, 2008
SSgt Matt Maupin Remains Found ~ Rest in Peace, Brave Warrior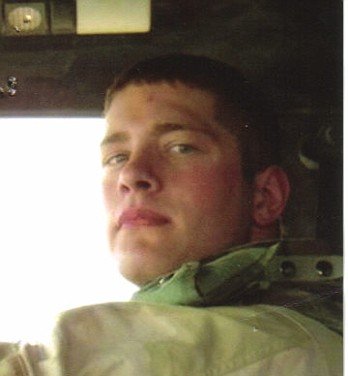 REST IN PEACE.......SSgt. MATT MAUPIN
Brave Soldier .........You will never be forgotten
The nightmare began on April 9th, 2004
U.S. soldier captured in Iraq
Name: Keith Matthew "Matt" Maupin
Branch/Rank: U.S. Army Reserves / Pfc - Spc - Staff Sgt
Unit: Army Reserves 724th Transportation Company, Bartonville, Ill
The insurgents ambushed a convoy guarded by the 724th and took Private First Class Maupin, then 20, captive. The attack on Maupin's convoy came Friday near the village of Abu Ghraib. They were ambushed by attackers using rocket-propelled grenades and small arms.
Arabic television station Al Jazeera broadcast a video tape that showed U.S. Private Keith Matthew Maupin held by masked and heavily armed guerrillas after being captured in an attack on a convoy last week.
"A group of mujahideen (holy fighters) has succeeded in taking an American soldier prisoner...and he will be treated in the Islamic tradition of treating prisoners and he is in good health," one guerrilla read from a statement.
The poor-quality tape showed Maupin dressed in military fatigues sitting on the floor.


Something about Matt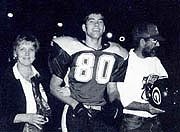 By all accounts, Matt Maupin was a highly regarded young man in the small western Clermont County community.
"Matt is a great kid, and he comes from a great family," said Dennis Ashworth, the principal of Glen Este High School, where Maupin graduated in 2001. "All of us here are extremely concerned about his well-being."
The young man was a scholar-athlete in high school who maintained a 3.5 grade-point average while playing three years of football, mostly as a wide receiver.
.
From October 31, 2005
Fort Drum Soldiers Search For Sgt. Maupin (only American soldier listed as captured in Iraq)
They kept low to the ground, their backs hunched, inching over the terrain. Some crept on hands and knees. They sifted sand in their fingers, overturned rocks and probed the scraggly bushes that survive in a desert.
The sun battered them. Out here, they seemed to move as slowly as the hours. They sought a scrap of clothing or a fragment of bone. Some really weren't sure what to look for, but kept to the search, clinging to the faith that, somehow, when they saw it, they'd know it.
So it went Saturday, in the ceaseless search for Sgt. Keith "Matt" Maupin, a 20-year-old Army Reservist from Batavia, Ohio, who remains the only American soldier listed as captured in Iraq.
In April 2004, insurgents attacked Maupin's convoy in the Abu Ghraib area west of Baghdad. Soon after, a grainy video turned up on the Al-Jazeera television network showing a man being held at gunpoint. The man identified himself as Maupin.
"I am married with a 10-month-old child," he said, apparently reading from a sheet of paper. He was not heard from again.
To the soldiers of the Army's 10th Mountain Division, who have studied his picture and read his story, finding Matt Maupin has become a quest that transcends war and peace; it is a mission that defines their values as soldiers.
"He needs to go home to his family," said First Sgt. Joseph Sanford, 38, a native of Poughkeepsie. ". . . And there needs to be closure for his family. Those are the two things we're trying to bring: closure to his family, and a way to send this young man home."
Sanford's Alpha Company of the 2-22 Infantry the "Triple Deuce" combed a stretch of land between two highways in the Abu Ghraib section. A recent tip suggested that Maupin's body might lie here, so they parceled the tract into sections and moved systematically through them.
Thirty-two soldiers went out Saturday, 30 the day before, and 28 on the day before that. The soldiers formed a line and inched forward, scouring the ground for clumps of hair or bones or subtle mounds that might suggest movement of dirt 18 months earlier.
"The physical search is the key," Sanford said. "It's all hands-on. It's picking up every rock, it's looking under every bush, it's turning over every piece of clothing or trash that we find out there. And we've found many indicators."
They had dug 45 holes and bagged and tagged 10 items that could hold the answers to Maupin's fate a scrap of military clothing, a clump of hair and several pieces of bones. Each will be shipped to a lab for analysis.
"They could be anybody. They might be Sgt. Maupin." Sanford cited the Warrior Ethos, in which a soldier vows never to leave a comrade behind. Sanford said he learned the meaning of the creed from his sergeant, during the invasion of Panama in 1989.
"When it comes down to it, it's not about fighting for your country," Sanford said. "It's not about fighting for their freedom over here. When it all comes down to it, it's about the man on your left and the man on your right. It's all about protecting their flanks and making sure they get home."
"In the back of your mind, he said later, as the search wore on, "you're always hoping. And the search does get stressful after you dig for three or four days, and every hole you dig comes up dry. But you keep going back. . . . You're hoping that this is the one, and you'll bring closure to his family and send this boy home."
Sanford never knew Matt Maupin. He has never met Maupin's family. Still, he thinks of them often. And among his men, most of whom are near Maupin's age, the fate of their lost comrade is always in their minds.
Some say the tedium of the search mirrors the day-to-day grind of the war. "This is a very patient war," explained Sgt. Bryan Hatfield, 27, of Oklahoma City, Oklahoma. "I mean, you may go 15, 20 patrols like we've been doing, and you may not see anything. Then comes that one time that you do. "
"So we may go out there day after day, time after time, scouring the grounds . . . Then comes that one time, you might find something, and it'll be worth it. The hope is always there that, yeah, he could be here. So I'll go and look."
.
March 5, 2006 ....more searching and with more troops
Marines assist in search for Army Sgt. Keith M. Maupin
Marines from 3rd Battalion, 5th Marine Regiment, Regimental Combat Team 5, assisted recently in the search for Army Sgt. Keith M. Maupin remains. The recovery team consisted of U.S. Army and British soldiers.
Test results confirmed that several partial sets of remains that were recovered were not American. Still, Marines and soldiers were proud to take part in the search to recover Maupin.
"It is the noblest of missions," said Gunnery Sgt. Brett A. Turek, a 37-year-old Mobile Assault Platoon commander from Hinsdale, Ill. "Fifty years from now, when we're bouncing our grandkids on our knees and they ask what we did in the Marine Corps, we'll be able to say this is what we did to make a difference."
Marines searched several possible grave sites south of Fallujah. Maupin was taken captive by insurgents April 9, 2004, when his convoy was attacked near Abu Ghraib, south of Baghdad. He was shown on insurgent propaganda films and insurgents later claimed to have executed him, although the video was never authenticated.
"We exploit every single one as if it's the one," said Army Sgt. 1st Class James Haftmann, a 37-year-old from Charleston, S.C., assigned to Multi-National Corps Iraq's Personnel Recovery Detachment. "But we don't stop searching."
The recovery team was comprised of Marines from 3rd Battalion, 5th Marine Regiment, 1st Marine Logistics Group, as well as soldiers from MNCI's Personnel Recovery Detachment and British soldiers from the Joint Forces (United Kingdom) Explosive Ordnance Disposal Group, 32 Engineer Regiment.
Maupin is the only U.S. servicemember listed as missing in Operation Iraqi Freedom. Navy Capt. Michael Scott Speicher is still listed as missing from Operation Desert Storm.
Efforts to find Maupin have been ongoing since June 2004, shortly after his capture. A total of 72 grave sites were excavated, unearthing remains. Still, the search for Maupin continue.
Haftmann said hundreds of servicemembers behind the scenes have been dedicated to recovering Maupin. Intelligence gatherers and analysts down to infantrymen and engineers pored over multiple sites, hoping each hole would yield the answers for which they searched.
British engineers 1st Lt. Chris Elworthy, Cpl. Iain Hammond and Lance Cpl. David Berry dragged a ground-penetrating radar over the protruding mounds of sand and confirmed that anomalies – disturbances – lay beneath the sand. This was the proof they sought that remains might actually lay beneath the ground.
Marine engineers were called in and began digging the sand away, scraping away the sand and shards of limestone. Marines and soldiers searched each bucket for signs of remains.
Nearly an hour into the digging, the first bones were unearthed. Marines and soldiers crowded closer, carefully combing through sand. The chugging of the diesel engines from the construction equipment nearly drowned out the Marines' whispers and they bent closer, examining nearly every grain.
.
August 9th, 2006....Matt Maupin Promoted
Keith "Matt" Maupin, the only soldier listed as captured in Iraq, has been promoted to staff sergeant, the Army announced Tuesday. Maupin was a private first class when he was captured.
The Army, in announcing Maupin's promotion, said it is "unwavering in its commitment to find Maupin.
Until he is found, Maupin remains on active-duty status with all rights and privileges for pay and promotions, the Army said.
March 30,2008
Maupins Confirm D-N-A is from Body of Son, Missing Soldier Matt Maupin
Union Township, OH
Keith Maupin, the father of Matt Maupin, confirmed Sunday afternoon that the remains of his son, Matt Maupin, have been identified by the army in Iraq.
In a statement Keith said "We are proud of the continued efforts of the military and the army to return Matt to us. We must now work on efforts to return Matt.'
"Please keep the military and our family in your prayers."
Carolyn Maupin, Matt's mother said, "Thanks to everyone for their prayers and continued strength of the family."
"It hurts after four years of hope and this is what happens it is like a let down for me and I'm trying to get thru that right now."
"Pray. This is going to be very difficult and stay by our side in support."
Keith says that the family was informed this afternoon about 1p-m by a three star general. The body was identified by the D-N-A remains.
n a Sunday evening press conference, Staff Sergeant Maupin's parents Keith and Carolyn said they were told of the news around around 1 p.m. Sunday.
"My heart sinks, but I know they can't hurt him anymore," Keith Maupin said.

* Here is the website his parents have had

* This is their Gusetbook where you can leave a message

Posted by Wild Thing at March 31, 2008 02:55 AM
---
Comments
Greater love has no one than this, that he lay down his life for a friend. - John 15:13
Freedom isn't free and Matt is AMERICA!
Posted by: darthcrUSAderworldtour07 at March 31, 2008 04:39 AM
---
He is with the angels now.
May God bless and keep his family in the
hollow of his hand during this, their darkest
days.

Posted by: Lynn at March 31, 2008 05:11 AM
---
This is the scum we are dealing with. No quarter given no quarter taken. Just kill the bastards.
Posted by: Mark at March 31, 2008 08:10 AM
---
That's what they do to our soldiers and marines but the A-holes in this country are all concerned because a couple GI's put woman's panties on the heads of a few prisoners. When are the idiots here going to realize our enemy is a sub-human animal?
Posted by: BobF at March 31, 2008 09:06 AM
---
May God Bless the Maupin family.I am glad the ordeal of waiting and wondering is over for the family and all of us who remembered Keith.
It riles me to my bones that we treat terrorist prisoners better than we treat our own citizens, and some people still complain(mostly just to interrupt the war effort). The muslims torture, execute . Some will say we are more civilized. I wish we were more barbaric. The enemy understands that.
Posted by: TomR at March 31, 2008 09:41 AM
---
I am happy that there is closure for Matt's family and that another American patriot will finally be brought home to rest. Yesterday I observed a large bald eagle being harrassed and chased by three seagulls at the seaport, I didn't say anything to my family but thought at the time of how that Eagle was like our Democrats being driven off by a few shitbirds very much smaller and of lesser intelligence where most of them walk amongst us.
Pray for America's survival under the custody of jellyfish like those in Congress, Matt died to protect our freedom, in an honorable attempt to liberate and protect undeserving Satanists, never forget nor never forgive the Satan worshippers that murdered him.
Matthew Maupin stands as a mute testimony to our POW's and how they are treated, John Sidney McCain you and your Massachusetts Comrad John Kerry can't sweep this maltreatment and murder under the rug like you have done so many of the Vietnam POW's. We won't let you.
Posted by: Jack at March 31, 2008 12:06 PM
---
Darth, Matt sure is America.
Posted by: Wild Thing at April 1, 2008 12:23 AM
---
Lynn,yes it has been a long 4 years, he can rest now.
Posted by: Wild Thing at April 1, 2008 12:27 AM
---
Posted by: Wild Thing at April 1, 2008 12:28 AM
---
Bob that is exactly what the enemy is, perfect description of them.
I used to think the left was jsut stupid, but it is much more then that. They just don't love America or care at all about our troops.
Posted by: Wild Thing at April 1, 2008 12:32 AM
---
Tom I do too, I wish we had zero PC in this war and that's just for starters.
Posted by: Wild Thing at April 1, 2008 12:36 AM
---
Jack, yes this is one soldier that McCain and Kerry did not get to mess with.
Posted by: Wild Thing at April 1, 2008 12:41 AM
---