« McCain and Connections To Soros ~ Ugly Stuff | Main | Nicolas Sarkozy offers French troops To Fight In Kandahar »
February 08, 2008
Huckabee Vows To Press On ~ No Surprise There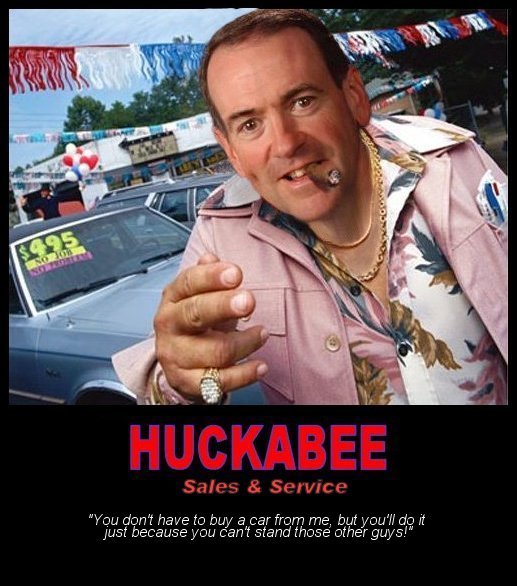 Huckabee Vows To Press On
Former Arkansas Gov. Mike Huckabee's campaign said Thursday the former governor will continue his campaign for the Republican nomination even now that former Massachusetts Gov. Mitt Romney has left the race.
A spokeswoman for Huckabee said the campaign plans to "press forward."
"We know it's an uphill climb, but we knew that a year ago when we announced," said Kirsten Fedewa, a Huckabee spokeswoman.
With Romney out of the race, Sen. John McCain (Ariz.) is considered by most to be the presumptive frontrunner.
That said, Huckabee strung together an impressive slew of Southern victories on Super Tuesday, winning contests in his home state as well as West Virginia, Alabama, Georgia and Tennessee.

Wild Thing's comment........
So, he's going to force McCain to choose him for VP.
Great.LOL McCain isn't going to be forced to pick Huckabee, and he isn't going to be forced to sincerely reach out to conservatives. Huckabee won West Virginia, but only because McCain gave it to him. Yes, Huck vows to press on.
Anybody with half a brain knows this charlatan has no chance of winning the nomination. He's gathering bargaining chips for his self-aggrandizement and a position in the McCain presidential campaign.
Posted by Wild Thing at February 8, 2008 04:55 AM
---
Comments
I wouldn't be surprised to see McCain pick Lieberman as his VP (in an effort to stretch across party lines.)
It's really sad that all those states who haven't voted yet will have no choice.
Huckleberry is a spoiler, just like Georgia Tech is to Notre Dame Football.
Maybe Huckleberry will get a cabinet position.
There HAS had to have been some underhanded, under the table wheeling and dealing here. Nasty, but legal.
Posted by: Lynn at February 8, 2008 08:24 AM
---
Huckabee is slime.
I wonder if all those evangelicals in the Southern states realize that they gave away the last glimmer of avoiding a truely socialist government. Sometimes the evangelical right bloc vote is as blind as the Black bloc vote.
Posted by: TomR at February 8, 2008 12:39 PM
---
The only thing worse than McCain being the Republican presidential nominee is a McCain/Huckabee ticket. Talk about LOSERS.
Posted by: Les at February 8, 2008 05:25 PM
---
Lynn, I wonder too, since they are really good friends he might pick him.
Posted by: Wild Thing at February 8, 2008 06:01 PM
---
Tom I agree, I noticed a lot of the answers from the audience for both parties had no real reasons to vote for Obama or Huck. Not alll but a lot of the peoople. They were just votiong for their guy because of evangelical or black vote. Too bad peoople don't look further then the obvious there is more to a person then that.
Posted by: Wild Thing at February 8, 2008 06:04 PM
---
Les, yes, McCain has a real problem. LOL
He needs to look conservative but he is also up against a woman and a black man. Does he go with a women VP or a Black Vp or a conssrvative from the south. Or another dem like he is.
Posted by: Wild Thing at February 8, 2008 06:07 PM
---
If Huckabee was hanging from a ledge by one finger, McCain would pry it loose. He doesn't need Hucklebuck any longer, and has no use for Evangelicals to boot.
His only chance in a McCain Presidency is Ambassador to Chipping Sodberry in England, the town right next to Dorking.
Posted by: Rhod at February 8, 2008 06:25 PM
---
Rhod, LOL oh gawd that is sooooo true!!! You nailed it.
Posted by: Wild Thing at February 8, 2008 06:57 PM
---