« McCain's Radical Hispanic Outreach Director | Main | Troops Having Fun And Visits With Our Awesome Military »
February 12, 2008
Hillary's New Campaign Manager Maggie Williams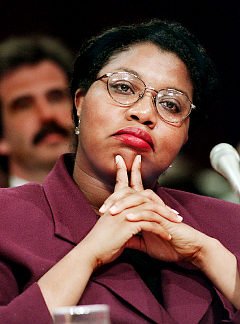 Meet Maggie Williams, Hillary Clinton's new campaign manager
WASHINGTON
Among Billaryland's inner circle, Maggie Williams is renowned as the ultimate Hillary loyalist, fierce and unwavering in her devotion for nearly 25 years.
As the First Lady's chief of staff, her office was in the West Wing, right next to Hillary's.
Her title gave away the extent of her clout: assistant to the President as well as Hillary's gatekeeper and chief enforcer.
Even detractors agree with her admirers that Williams would go to the mat for Hillary.
A Kansas City native, Williams, 53, was a central player in the Clinton damage-control machine during the White House years.
In 1995, a uniformed Secret Service officer swore under oath he saw her leave White House lawyer and Hillary confidant Vince Foster's office carrying documents after Foster committed suicide. Williams denied it.
She ran up more than $100,000 in legal bills defending Hillary in various investigations.
A former aide to Reps. Morris Udall of Arizona and Robert Torricelli (later senator) of New Jersey, Williams' ties to Hillary date to when they both were at the Children's Defense Fund in the 1980s.
After the Clintons left the White House, Williams was named president of Fenton Communications, a leading public relations and consulting firm.
When Bill and Hillary Clinton made remarks before the South Carolina primary that offended African-Americans, the campaign put her on the airwaves to try to quell the uproar.
"She's never run a political campaign, but she has run a staff and isn't afraid to crack heads," a Democratic booster said.
And also this............
She was knee-deep in the Johnny Chung scandal.
She was knee-deep in the Johnny Chung scandal.
Flashback: March 17, 1997, Time mag:
Sometimes," President Bill Clinton mused on Friday afternoon, "there is a difference between what is legal and what ought to be done." And with that he offered a guided tour of Washington's favorite hideaway–the fertile, foggy valley that lies somewhere between what is wrong and what is illegal. You don't have to be a lawyer to get in, but it helps to think like one.

Hillary Clinton's top aide, Maggie Williams, was spending the day there in March 1995, when California businessman Johnny Chung walked into her White House office one morning and handed her a check for $50,000. It was just "a rather unusual circumstance," Clinton explained last week. She didn't actually ask Chung for the money as the price of admission to sit in on the President's radio address two days later. She wasn't "receiving" contributions on federal property; she was just passing them along. And she certainly didn't "solicit" them, which federal law forbids.

Or does it? Or did she? Chung's lawyer, Brian Sun, told TIME that Chung had approached Williams' aide Evan Ryan the day before, hoping to arrange a cozy lunch in the White House mess for some Chinese businessmen and a later meeting with the First Lady. Somehow the subject turned to Democratic Party needs. Ryan remarked that the President's party had to cover the costs of political events held by the First Lady at the White House, although Ryan "does not recall" that conversation. So Chung came back the next day and handed Williams that "unsolicited" $50,000 check for the Democratic National Committee. According to Sun, Chung did so with the understanding that it would help him gain access for his guests, who indeed dined in the mess and had their pictures taken with Hillary the next day.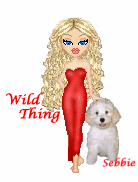 Wild Thing's comment........
Hillary must think she's in real trouble to bring in a fixer like Maggie.
Maggie was also allegedly the "bag lady" for unlawful campaign contributions delivered to the White House, including Chinese funny-money in clear violation of the FEC.
Her involvement in Vince Foster's unfortunate mishap in a remote DC park is also malodorous. She was apparently involved in sanitizing Vince's office of all White Water evidence, and had at least a minor role in the mysterious "suicide" note caper.
When asked at the White Water hearings why she took them home, her reply was she had to do laundry in the middle of the day. This is also the women who lived in France after the White Water hearings until the dust settled.
Posted by Wild Thing at February 12, 2008 02:47 AM
---
Comments
That's the face of a cold blooded killer, if I ever saw one.
You will note, I made no reference to the word "woman".
Posted by: Steve, Holder of the "Ugly Stick" at February 12, 2008 07:26 AM
---
She's banking on getting the female black vote back over to her with this bitch.
Vince Foster didn't kill himself--blood don't run uphill.
This woman is cold, heartless, conniving and doesn't care about what happens to America. She's been paid extremely well and that's all she cares about. The money.
Posted by: Lynn at February 12, 2008 08:21 AM
---
Is she the one from I da ho...
Yeah, she looks like the type you really want to keep your distance from. Dats a mean lookin Mamma. Yo mamma so ugly, she has to sneak up on the mirror in the mornin.

Posted by: Mark at February 12, 2008 10:52 AM
---
Anybody who wants to go against her best remember Vince Foster.
Posted by: BobF at February 12, 2008 03:36 PM
---
Steve, Holder of the "Ugly Stick, LOL it sure is, she is one scary looking person. Like they say if looks could kill and I wonder if she did the hiring of whoever took out Vince Foster. Yikes
Posted by: Wild Thing at February 12, 2008 11:19 PM
---
Lynn I agree, blood doesn't run up hill. Great way to say it too and the truth.
Yes it is all about the money and power.
Posted by: Wild Thing at February 12, 2008 11:21 PM
---
Mark, LMAO
"Yo mamma so ugly, she has to sneak up on the mirror in the mornin."
Posted by: Wild Thing at February 12, 2008 11:22 PM
---
Bob, I agree, this woman is dangerous.
Posted by: Wild Thing at February 12, 2008 11:23 PM
---